Agnelli speaks to the media after shareholders' meeting
Agnelli speaks to the media after shareholders' meeting
Agnelli speaks to the media after shareholders' meeting
Like every year, President Andrea Agnelli met with journalists at Allianz Stadium at the end of the annual shareholders' meeting. 
This year it was a virtual meeting to respect the protocols and rules established to prevent the spread of the COVID-19 virus, and Agnelli wished "to spare a personal thought for all the people who have been affected by the virus and the healthcare personnel working to help them".
The president covered an array of topics during his meeting with the press: from reviewing last season to assessing the future, discussing the club's new organisational set-up and setting targets for the coming campaign.
This is what he had to say:
A BITTER-SWEET YEAR
"The past year is one that I can only describe as bitter-sweet both on and off the pitch, as we achieved some great results but also experienced some unexpected disappointments. 
"In January we completed a capital increase of €300 million with three main objectives: to ensure the team remains competitive, to increase our operating revenue and visibility of the Juventus brand in the wake of a series of investments, and to consolidate our economic and financial balance. This laid the foundations for a strengthening of the balance sheet that we wouldn't have expected to use for other reasons.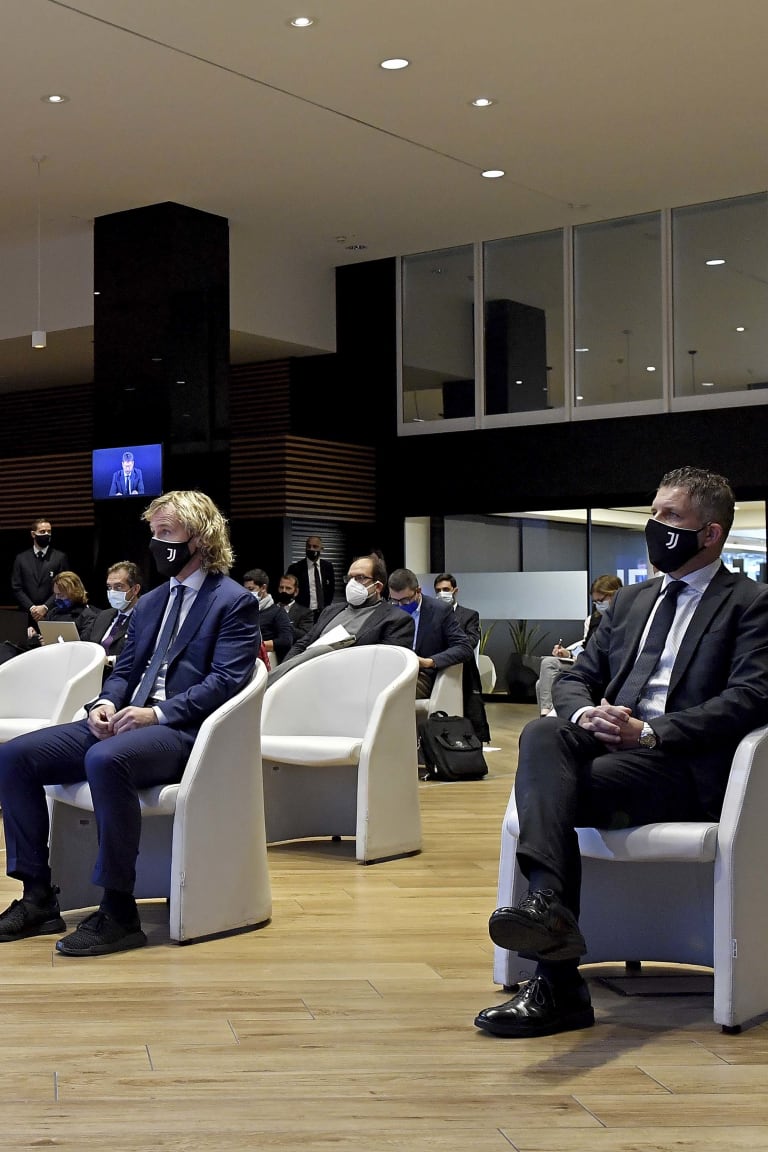 "With regards to our results on the pitch, I have nothing but praise for Pavel Nedved, Fabio Paratici and Federico Cherubini. Winning the title in the circumstances we had to deal with last season was a tremendous achievement – and one I don't think we, the fans or the media gave due credit to.
"Our Women won their third consecutive Scudetto and for that praise must go to Stefano Braghin – the best women's football official in Italy – and Rita Guarino. Our Under-23s won the Coppa Italia and I would like to thank Fabio Pecchia – who is no longer at the club – for such an extraordinary achievement. 
"We display that trophy with great pride at Juventus Museum because winning it just two years after the team was set up means we exceeded all possible expectations. We are continuing to develop the project with the aim of bringing through youngsters for our first team, the professional game in general and the national team. 
"However, there were disappointments too. We lost two finals – the Coppa Italia and the Italian Super Cup – and we were knocked out of the Champions League by Lyon in the last 16. And these are things that we are not happy about.
"Off the pitch, our results were in line with the expectations of our medium-term plan. Revenue from sponsorships reached €130 million – an increase of around €20 million on the previous year. This means our commercial revenue is 30% higher than what we received from domestic TV rights, breaking away from what was an over-dependence on the main source of revenue in recent years. 
"Juventus is also now the most popular Italian brand on Instagram – a tangible sign of how big we have become."
CLUB REORGANISATION
"We have rationalised and improved the different organisational areas within the club. Previously we had three main areas and now there are two: Football and Business. The former is headed up by Fabio Paratici and the latter by Stefano Bertola, with both acting as Managing Director.
"Giorgio Ricci will continue in his role as Chief Revenue Officer, while Federico Cherubini is now our Football Director. Nedved and I have split the Sports Area and the Business Area. Our aim is to keep growing, with greater organisational and operational agility, and to create fertile ground to develop young talent in all areas.
"Pavel and I, together with Fabio and Federico, Stefano and Giorgio, will draw up a medium-term plan in the coming months to best deal with the challenges that lie ahead – the most important of which is winning a 10th consecutive Scudetto. I think it's great that we are a team where 'we' prevails over 'I'.
"As for our long-term targets, clearly there will need to be adjustments in terms of our investments and payroll. However, this is a situation which applies to everyone, not just one or another club.
"When resources are lacking, we have to increase our creativity. We need to identify talented individuals at different stages of their lives, with different salary expectations, so that we can find a new economic and financial balance. And of course this must be done without neglecting Juventus's competitiveness, because we want to carry on winning in Italy and being competitive in Europe."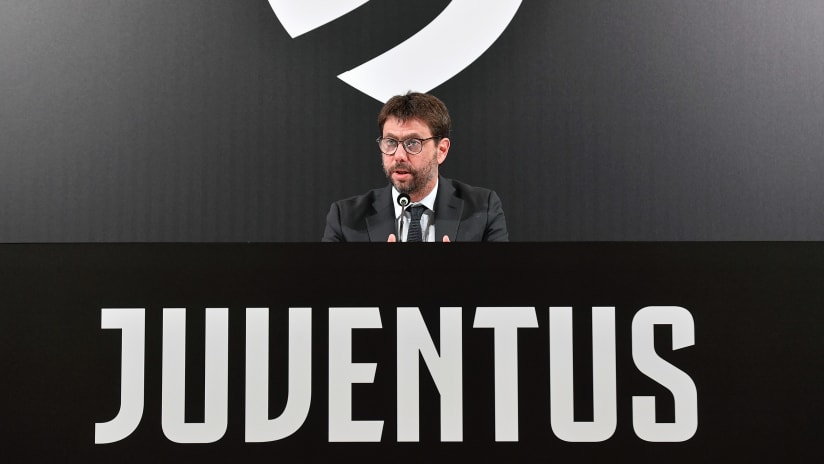 The 2020 Shareholders' Meeting | Press conference
MANAGING THE PANDEMIC
"In the spring I was involved in managing the pandemic. In my role as chairman of the ECA, a member of UEFA's executive committee and Juventus president, I was part of discussions about football's regulations, as well as the measures required to resume competitive action.
"Football deserves credit. Serie A alone sees 4,000 people constantly monitored and should anyone test positive for COVID-19, they are immediately required to self-isolate. This requires significant investment from clubs in order to respect the domestic and European protocol but that is the way in which we protect our industry. I would therefore like to formally thank all of the ministers involved: minister of sport Vincenzo Spadafora, minister of health Roberto Speranza, minister for regional affairs Francesco Boccia, FIGC president Gabriele Gravina and the league associations. I thank everyone that has worked together to develop a protocol which has allowed us to go on playing.  
"It was a huge achievement to return to action and complete all of the major leagues, except in France, the Netherlands and Scotland, and the two international competitions.
"I see no need to revisit the format of sports competitions. If you start one way, you must finish with the same format. It would be a different story if alternative formats proved to be more commercially viable. I believe that if the protocol is properly applied, we should be able to finish the season without any hiccups. We simply must be fastidious in applying it."
THE IMPACT OF THE PANDEMIC ON FOOTBALL
"We will only be in a position to assess the impact of this situation on the football industry come autumn 2021, given that it will partly affect the 2019/20 financial year and partly the current one. The best-case scenario would see an estimated loss for European football of €5.2-6.3 billion. The worst-case scenario would be €6.5-8.4 billion.
"Revenue in football has dropped sharply for the first time after 20 years of constant growth – that is clear to everyone. This is due to external factors but it is the reality of the situation. We estimate that 360 top-flight clubs in Europe, without taking into account second-tier sides where the problems will be presumably more serious, will require a total of €6 billion in capital increases over the next 12 months to two years.
"In spite of that, there are still opportunities, technological innovations and the game has plenty going for it. We should build on all of that. There are opportunities by cutting out the middleman, transforming B2B into B2C via OTT platforms and mass distribution. Take UEFA TV and Liga Sports TV for example, two systems which are beginning to get results. The new generations are both an opportunity and a potential threat for the future of our industry but I believe we can hang on to them and they can become future spenders in the sector.
"We must manage this year and the next by revisiting our growth strategies. However the industry is still extremely valuable and that is borne out by the interest from big-name financial groups keen on acquiring the intellectual property and governance of sports organisations. This is hugely comforting in this current crisis. We came together with professionalism in the spring both domestically and internationally where the FIGC, league associations, clubs and players' association did everything in their power to get the game up and running again. If we can once again club together in the coming months, I am sure that we will come through this stronger with an even more appealing product for our current fans and above all our supporters of the future."
MAURIZIO SARRI
"I have great memories of Maurizio the man. He's cultured with a good sense of humour and several interests outside of football. The game is his main passion though and he is all in. I am happy that he won the Scudetto with us. Over the years I've seen how team spirit develops, allowing a side to overcome hurdles which appear insurmountable. I don't believe that spirit ever developed between Maurizio and the club. However, we still won a Scudetto together. I was the one that suggested he take the trophy to the museum and he will go down in Juventus club history as a coach who won silverware."
ANDREA PIRLO AND HIS STAFF
"Over the course of the first few weeks, I've sensed that people outside the club can't wait to jump on a couple of defeats. In his first coaching job, Andrea Pirlo has had to do without an entire pre-season. We should support him at the start of this process. There will be bumps along the road and I am sure that as soon as we hit one, the outside world will look to criticise Juve for the choice we have made. However, I believe that our coaching team is the first modern staff I have seen, where everyone has a specific role and they know exactly what their job is."