ALLEGRI & DI MARÍA: "We want another European final"
ALLEGRI & DI MARÍA: "We want another European final"
ALLEGRI & DI MARÍA: "We want another European final"
With the first leg of the Europa League semi-final drawing nearer, Massimiliano Allegri and Ángel Di María spoke to the press gathered at the Allianz Stadium for the pre-match conference. The coach and forward highighted opponents Sevilla's pedigree in the tournament and commented on the Bianconeri's expectations ahead of the home leg that kicks off tomorrow evening at 21:00 CEST.
MASSIMILIANO ALLEGRI
"Sevilla have won the Europa League four times and the UEFA Cup twice - they've got bags of experience and never lie down. We'll need to put on a great performance.
"We've matured so much this year and we've come through the experience stronger. We now have four league games left as well as these two legs of the semi-final. We need to do what we've always talked about: give everything on the pitch and see where that takes us.
"The whole squad will be important tomorrow, especially those coming off the bench, just like in Bergamo. We need to show the same approach as in our last couple of matches by respecting our opponents and exploiting their weaknesses. Recent training sessions have been a real pleasure. We head into the tie with a buzz about us.
"Ángel [Di María] knows exactly what's needed of him tomorrow. When the result matters, he's always come to the fore and his career speaks for itself. [Arkadiusz] Milik is so cool-headed. I've been surprised by him as a person. Bremer won't play tomorrow due to a strain. The rest of the players are fine.
"Juventus have played in two European finals in recent years and we want to reach this one too. The three most important weeks of all lie ahead of us now."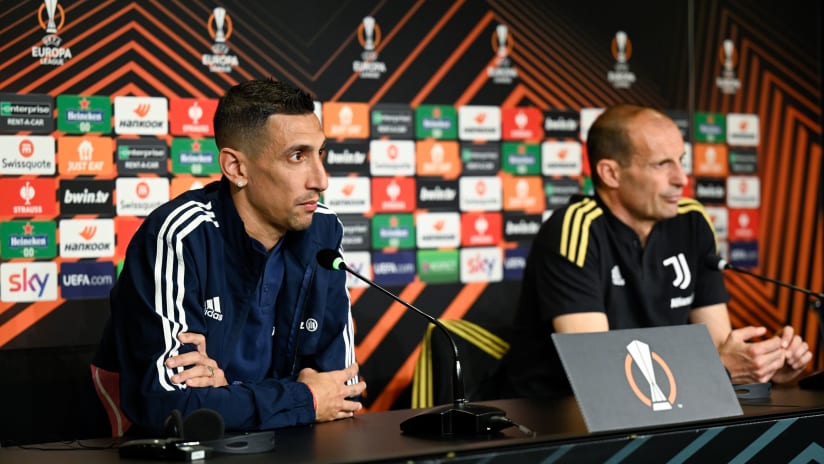 ÁNGEL DI MARÍA
"We're heading into the game off the back of an important win at Atalanta, which has given us a big boost. In training I've noticed that we're all in good shape.
"We stuck to our work ethic without taking notice of the events off the pitch and we're doing the same thing now. We want to win games so that we can achieve our goals. Our youngsters have so much quality and they've really improved, also in terms of confidence, which is down to the coach for picking them. Although every trophy is important for me, playing in a European final would be huge for them too.
"I've worked with great coaches and Allegri is an exceptional coach. He makes us work a lot but differently from what I was used to. Now I've got the rhythm and I've reached a good level, which I think I've shown over the last few months. Serie A is difficult, it's a physical, tactical league with less focus on keeping possession - you don't get much space. I've had to come to terms with this and speeded up my game in training and out on the pitch.
"We know there have been many problems this year, but I've been part of a brilliant squad since day one. I'm happy here and so is my family. We're in talks with the club but right now I'm only focused on Sevilla."