Allegri: "I am excited"
Allegri: "I am excited"
Allegri: "I am excited"
It's a new era with a familiar face in the crowd: Massimliano Allegri. Today he was officially presented as the Club's new head, and alongside him during his presentation was President Andrea Agnelli who also shared his thoughts on the appointment and the forthcoming season.
ANDREA AGNELLI
I want to congratulate, first of all, the Federation and the Italian National Team for the great victory at the European Championships, a triumph for a great group.
I won't dwell on Max's presentation. We took a potential risk together, but every expectation contains a prejudice, which takes for granted the results obtained. Anyone who thinks that the trophies of recent years are less appreciated are wrong, because behind them, there is always sacrifice and the desire to obtain them. No victory is ever taken for granted, winning costs effort and work. As Max says, 'winning is not for everyone'.
The objectives are the same as always: to be competitive in our objectives. We got back together not out of friendship, but because Allegri has the credibility to write a new chapter, and he believes in the new management team. I don't want to talk about the past anymore, but only about the future. His contract is for four years, because it is a sign of trust, and also because there is a medium-term plan at the base.
I really want to lead Juventus, both on and off the pitch. There is great concentration.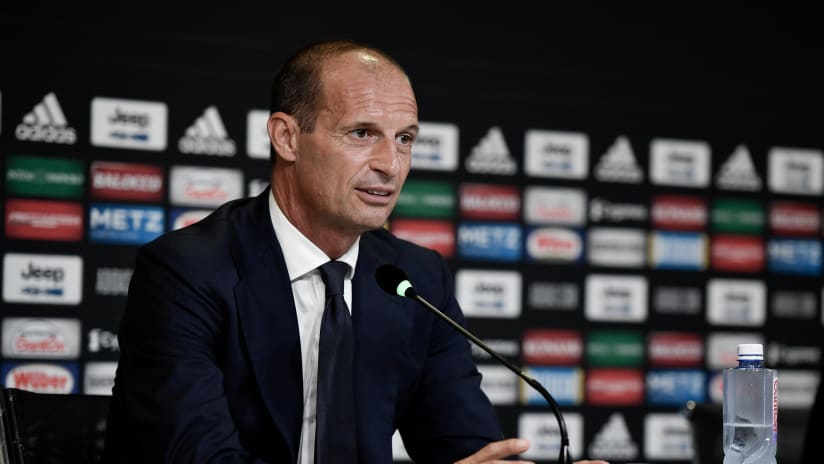 MASSIMILIANO ALLEGRI
For me it's a new first time, I'm excited. I've started again with lots of emotion and fun, like when I first started coaching. I am with a group of good and quality young people, who are joining the first team. It's a new cycle here, let's think about the future.
There are many youngsters here, they will be an added value and the future of the Club. Then there are the more experienced, like Chiellini, Bonucci and Ronaldo, who will be examples for the youngsters.
A new cycle of work begins what has been done belongs to history. There are new goals to hit. I am proud that Juve called me back and that the fans showed affection. But from 22 August, it will be necessary to score points. Juve have a DNA made up of daily work. I join a team that has won three trophies in the last two years - a good job has been done.
Cristiano is a great champion and an intelligent guy. Yesterday I spoke to him - as I did with everyone else - I told him that this is an important year and he has a greater responsibility, because the team is young. I can only imagine how difficult it was to work during the Covid emergency. We will have to manage everyone well, it will be an important year also for Dybala, who has presented himself very well, both physically and mentally: he is very motivated.
I found a lot of enthusiasm and a great desire to work: these are the conditions for a great season. Players who intrigue me? Rabiot has important qualities, McKennie has the instinct for goals. I'm lucky: many players have goals in their legs.
There are many great potentials, on which we will work every day. I chose Juventus, and for me it is a great responsibility. I am very grateful for the Club, which has given me the opportunity to return to coaching and to win.
Dybala arrived when he was a kid. Now he is a man who realises that this is an important year for him. He has extraordinary plays, I expect a lot from him.
I needed to switch off, then I started watching many games again. The next championship will be very balanced, in addition to Inter and ourselves, there are Milan, Napoli, Roma and Lazio. The important thing will be continuity in the results.
Kulusevski is an excellent player, with an important engine, who needs to improve in the execution phase. For me, one goal will be to create value and improvement on all players in the squad, and that's one of the reasons why I was called.
In Serie A there are many good coaches, Inter are the favourites because they are reigning champions. We must build a path that will lead us to win the championship. The Champions League must be everyone's desire. In the meantime, we must pass the first round. The best defence won this year too, so it's important to concede fewer goals than the others. The feeling is that the Scudetto odds are 87/88 points, then we'll see. The calendar fixture? We play when they tell us to play, no problem.
From next Tuesday I will have the whole team available. Then, from that point on, I'll have to find the balance between playing well and getting results, in the various phases of the season.