Allegri: "We're going to Udine to win"
Allegri: "We're going to Udine to win"
Allegri: "We're going to Udine to win"
Massimiliano Allegri has spoken of the difficulties his side can expect when they kick off their Serie A campaign against Udinese – and stressed the need for consistency if they are to reclaim the Scudetto.
The boss was speaking to the media the day before Sunday's 18:30 CEST kick-off at Dacia Arena.
"The first game is always difficult," he began. "Udinese are a strong, powerful team and they had one of the best defensive records last season in terms of chances conceded. They didn't concede from corners and they're dangerous on the counter with fast, skilful players. 
"We must play very carefully tomorrow. If we want to come away with all three points, we must be solid defensively and technically and bide our time."
RONALDO & DYBALA
"[Cristiano] Ronaldo didn't play in our friendly on Thursday because I gave him half a day off to recover after a week of intensive training. He's available for tomorrow. He gives us an extra gear and means guaranteed goals. We must work as a team to get the most out of him. 
"[Paulo] Dybala turned up for pre-season looking like it was his first year at the club. He's working with desire and intensity every day. Paulo hasn't lived up to his potential in the last two seasons and he knows that."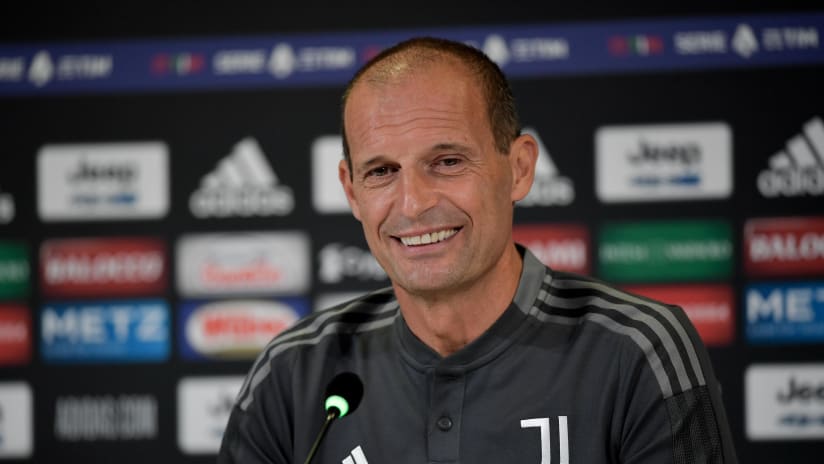 RAMSEY, LOCATELLI & BERNARDESCHI
"[Aaron] Ramsey has improved a lot in the holding role since the first few games, but he still tends to get sucked into the action and needs to run a bit less. 
"As for [Manuel] Locatelli, I'm very happy he's joined us. He's come on in leaps and bounds in recent years and grown into a great player. He''s not in peak condition yet because he hasn't trained much. He'll need a bit longer. He'll come with us to Udine and could play 15 or 20 minutes if we need him. He'll be in good shape after the international break.
"[Federico] Bernardeschi is an excellent player with great ability – as they all are at Juventus."
SERIE A 2021/2022
"Serie A will be a very balanced league this season. To win it you need to go like a cruise ship – no fits and starts, just a good steady pace. The title favourites are normally the team that won it last but we're one of the six or seven contenders. 
"If you want to come out on top, you need to work on fitness, technique and mentality every day. Football is about balance and solidity: if you don't get that right quickly, it becomes a roller-coaster ride, and you can't challenge for the title like that. I'm working to achieve results, to get to the finish line first and win it."