Amazon series 'All or Nothing: Juventus' presented
Amazon series 'All or Nothing: Juventus' presented
Amazon series 'All or Nothing: Juventus' presented
'All or Nothing: Juventus' is the title of the new docu-series about Juventus' 2020/21 season by Amazon, available on Prime Video from 25 November 2021. The Amazon Original show was presented during a press conference at Allianz Stadium on Wednesday morning, with Juventus Vice-president Pavel Nedved and Chief Revenue Officer Giorgio Ricci, Nicole Morganti (Head of Italian Originals, Amazon Studios) and Dante Sollazzo (Head of Unscripted Originals, Amazon Studios, Italia) in attendance.
PAVEL NEDVED
"Lots of things happen during a football season – it's a roller-coaster of emotions taking you from one game to the next," Pavel Nedved explained. "Last season was an unusual one in which we won two of the four competitions we were in. We want to continue to lead the way in Italy and Europe. Juventus was born to win and we're planning for the future by bringing in talent youngsters alongside more experienced players."
RICCI: "FABULOUS, EXCLUSIVE CONTENT"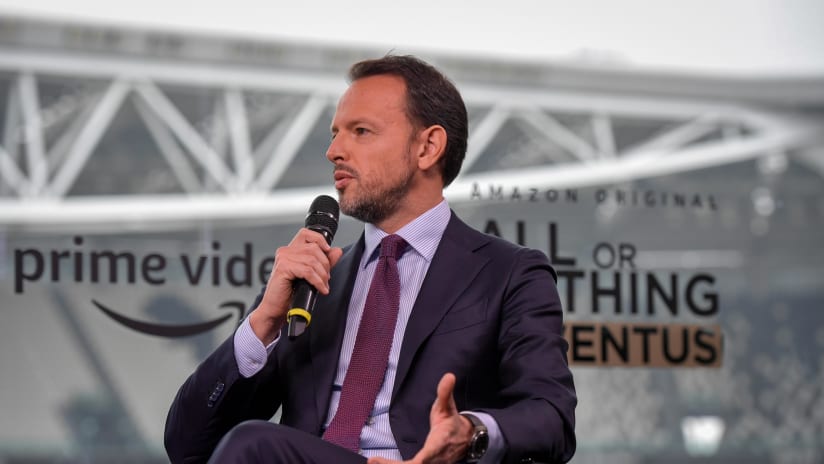 Giorgio Ricci spoke about the overlap of sport and entertainment. "Everything is entertainment nowadays – it pervades our every activity. We measure ourselves on a daily basis and we're fully aware of the duel role we play. Look at where we are now: in a football stadium not to watch a football match but to talk about this fabulous, exclusive content, which sees us step into a new world for the first time. The younger generations are radically changing the way they consume football and we're adapting with them. We're opening up to a way of consuming football that is different to in the past."
AMAZON'S CHALLENGE WITH "ALL OR NOTHING: JUVENTUS"
"Making this docu-series was an enormous challenge," revealed Nicole Morganti. "We wanted to show that it's possible to create an international-level product in Italy. This is a very popular format but no one had ever done anything like it in Italy before. What Prime Video are looking for is to tell something that's not been told before. Juventus is the story of a country, a team that represents Italy's finest and is recognised across the globe."
Dante Sollazzo went on to highlight some of the numbers relating to the production: "We spent over 40 weeks filming, gathering more than 7,000 hours of material and each episode took at least 40 days to make. Juventus welcomed us in right from the start and every single frame in the series offers a unique viewpoint. This is a historic production that can be watched today, just as it can be watched in five or ten years' time."
EXCLUSIVELY ON PRIME VIDEO FROM 25 NOVEMBER
The docu-series launches on 25 November, taking viewers behind the scenes like never before. The Amazon cameras have had exclusive access to Allianz Stadium and the Juventus Training Centre Continassa in Turin, zooming in on many unique aspects of the club away from the pitch – both in its identity, so deeply rooted in Italian culture and history, and in the way it is constantly looking to the future.