Black & White Stories | When Juve helped Italy defeat England
Black & White Stories | When Juve helped Italy defeat England
Black & White Stories | When Juve helped Italy defeat England
Italy-England opens the qualifying action for the next European championships on Thursday evening. It is nevitable to think back to the triumph at Wembley two years ago, when so much black and white influenced the sky blue - perfectly summed up in this photo with Leonardo Bonucci and Giorgio Chiellini on their lap of honour.
Before then, however, there was a period, from 1973 to 1980, when Italy-England was even more dominated by Juve players, crucial in the Azzurri obtaining three wins out of three.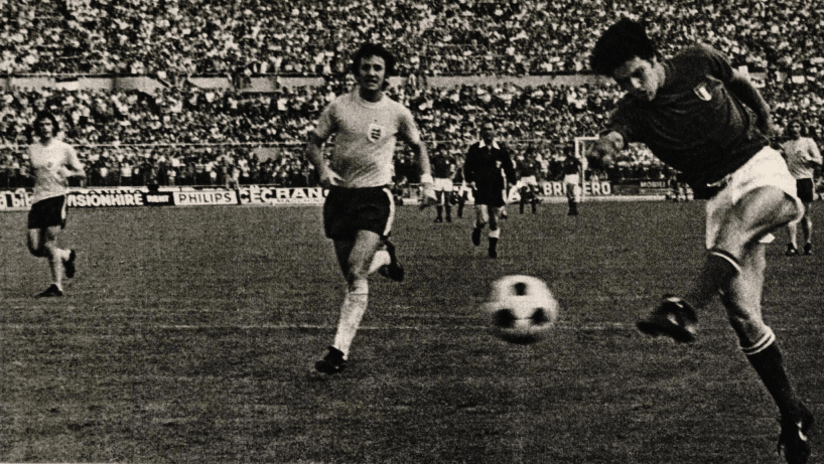 A GAME OF TABOO
Italy and England first met in 1933 and for 40 years the Azzurri were caught in a spell, never managing to get the better of those who consider themselves the inventors of football. In 1973 the curse was broken at the Comunale in Turin thanks to the goals from two Juventus players: Pietro Anastasi in the first half and Fabio Capello in the second half.
In the national sport newspaper Tuttosport, journalist Giglio Panza awarded the Juventus playmaker a vote of 7.5, writing that "Capello has truly become a cornerstone of the blue team".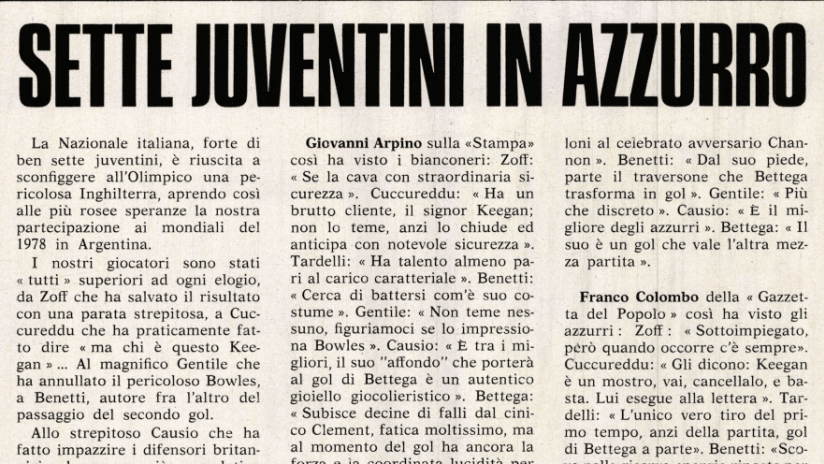 THE MAGNIFICENT 7
Another memorable match was played the World Cup qualifier in 1976. It was held in Rome and Italy won 2-0 thanks to the goals of the Fiorentina star Giancarlo Antognoni and Juve's Roberto Bettega with a trademark header.
The club magazine Hurrà Juventus captured the sense of pride dervied from the fact that the Italy side that accomplished the win boasted seven Bianconeri on the pitch. Other than Bobby-goal on the pitch that day were Dino Zoff, Antonello Cuccureddu, Marco Tardelli, Romeo Benetti, Claudio Gentile and Franco Causio.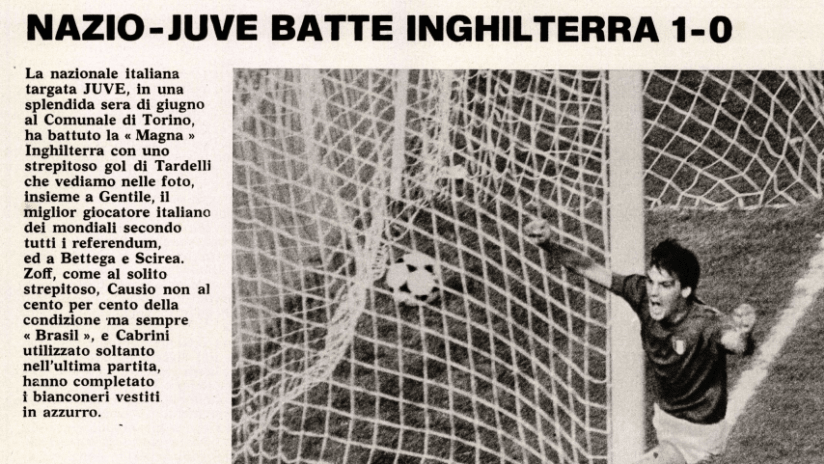 BIANCONERI FOR ITALY IN TURIN
This week's showdown will be the first between Italy and England in European Championship qualifiers. There was, however, an important clash in the finals of Euro '80.
Played once more at Turin's Comunale it was decided by a Marco Tardelli tap-in. Once again the Juventus monthly praised a team that was more than half from Juventus, calling it "Nazio-Juve" due to the presence of Zoff, Gentile, Scirea, Causio, Bettega and the match winner.