BREMER: "Joining Juve was the right thing"
BREMER: "Joining Juve was the right thing"
BREMER: "Joining Juve was the right thing"
Already with a US Tour under his belt and into his fourth week as part of the Juventus squad, Gleison Bremer finally met the press as a Bianconeri player. The Brazilian defender, who moved across the city, first thanked all those at Torino for his four years there before commenting on his new adventure in the black and white stripes.
IMMEDIATE IMPACT
"We are concentrating on starting the season strongly against Sassuolo on Monday. This year we are all focused on putting the club back on track. We want to win at Juventus - this is a club where I can compete for important titles.
"It's a club that aims to win, to be at the top, so it was the right thing to join Juve."
SETTLING FACTOR
"A three-player defence is different from playing four at the back. I consider myself one of the best defenders in Italy but now I'm learning to adapt to this new playing system. I've spoken to Coach Allegri, we share the same winning mentality.
"It won't be simple here because it's not easy to play for Juventus, but I knew there were Brazilians here and this helped me make my decision. I spoke to Danilo and Alex Sandro and they were helpful in making up my mind, and they have helped me settle in straight away. Also, playing for Juventus will help me aim for the World Cup."
OLD GUARD
"I spoke with Giorgio Chiellini - he has been one of the best Italian defenders He told me I could take his number three shirt, so I followed his suggestion. Since I arrived I have looked to Leonardo Bonucci for advice, and as captain he has certainly been helping me out." 
CONTINUOUS IMPROVEMENT
"I am my own sternest critic. When I arrive home after a match I look back on my performance and analyse what went right and what went wrong. I'd been looking to change clubs for two years, to take a step up, because I want to win and to always improve my game.
"Being at Juve means setting your sights high. We want to do well in the Champions League, but we must first focus on Serie A."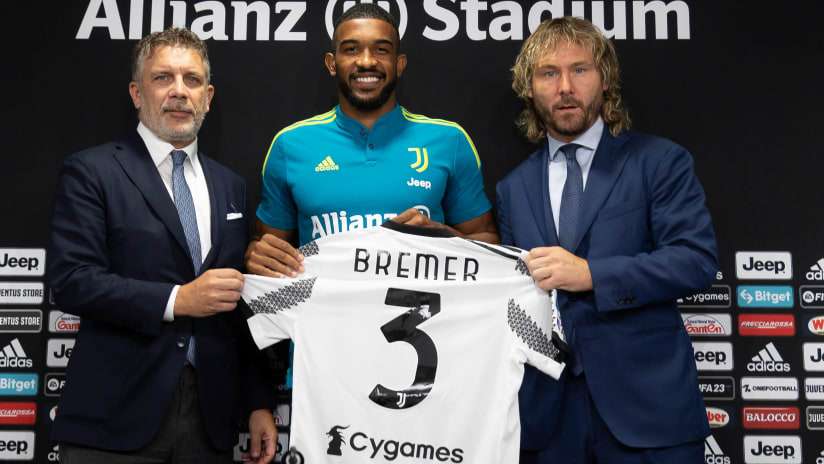 Gleison Bremer's Presentation