Buffon: "Respect and self-belief"
Buffon: "Respect and self-belief"
Buffon: "Respect and self-belief"
Everyone dreams of winning the Champions League but there's one man who perhaps covets it more than anyone else: Gigi Buffon. It's the one trophy that has thus far eluded him and he's desperate to put that right tomorrow.
The Bianconeri skipper said as much, in no uncertain terms, during Friday's media conference ahead of the Champions League final against Real Madrid.
"Winning would give me immense joy because there's nothing better than getting your hands on the prize after craving it and grafting for it, and there's nothing better than being able to share success with your team-mates and everyone else after giving everything you have and perhaps more to achieve it."
THE BUILD-UP
"The build-up to games like this are always the same: you're focused, you have the right amount of fear and respect for your opponents and you're aware of your own ability and strengths.
We need all of those things if we're to get our approach spot on tomorrow."
UNIQUE FEELINGS 
"This final will feel different for me to what it feels like for the younger lads or others who have won this competition before and have another four or five years ahead of them.
"That's something I don't have so it will be a special game for me and I want to make sure I have no regrets afterwards.
"I hope we can pull it off because everyone works hard for each other in this team. I know that by playing well I can do my bit for the team and that would be the best thing I can do for my team-mates."
CONFIDENCE 
"We do feel confident but not arrogant because we're up against a side with a long history of winning finals. We, on the other hand, have lost a few. Juve v Real is the perfect opportunity to invert both those trends in one fell swoop.
"Nerves? When you start feeling nervous you think about who you are and what you're capable of and it helps to settle the nerves."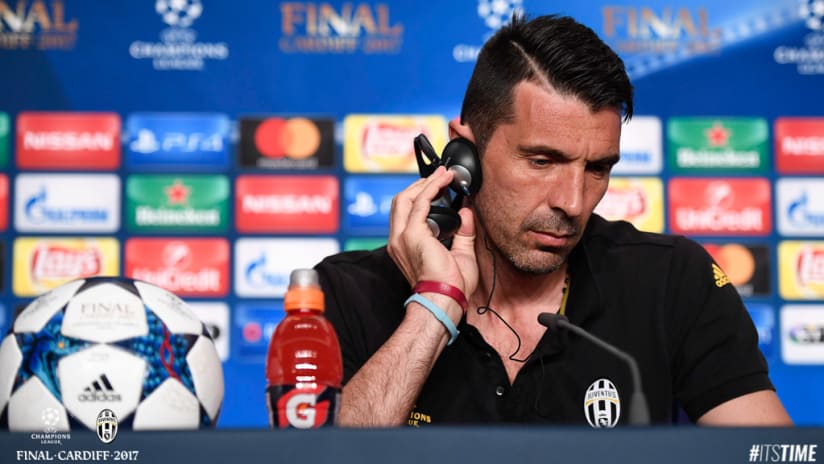 DANI ALVES
"Dani is an example to us all. Having reached the age of 39 I didn't think I had much left to learn from my team-mates, but I've gleaned so much from talking to him this season. I find him motivating because people like Dani, Messi or Ronaldo never tire of winning.
"If you want that, you must be humble enough to keep pushing yourself and keep learning.
When it was announced that Juve were signing Dani I sent him a message asking him to teach us how to win the Champions League: being the optimist he is, he replied saying he'd show us how it was done!
"He's really surprised me – not as a footballer, because we all knew what sort of a player he was, but with his input behind the scenes. That's far more important and decisive than what people see on the pitch."
COMPARISONS WITH RONALDO
"People like to compare players as it stokes the imagination and the media are right to pen articles like that. However, Cristiano and I are two such different players that you can't really compare us: I defend the goal and he attacks it.
"Apart from keeping the ball out, I can't do a lot, whereas he can have a much bigger influence on the outcome of a game."
On talk of a head to head for the Ballon d'Or: "It's nice that people should say things like that but it's really of secondary importance. All that matters to me is trying to win tomorrow."
ZIDANE
"[Zinedine] Zidane was a winner as a player and he's a winner as a coach. He hasn't won on every occasion, though, and I hope he doesn't tomorrow.
"Losing tomorrow wouldn't take anything away from his coaching career."