Chiellini: "Crunch time in our season"
Chiellini: "Crunch time in our season"
Chiellini: "Crunch time in our season"
Another win, this time at the expense of Luciano Spalletti's Roma, another reason for optimism and positivity for Massimiliano Allegri's men as they arrived at the club's Vinovo training base this morning.
Among those stretching off Sunday night's exertions in the gym was Giorgio Chiellini, fresh from yet another typically committed and solid showing at the heart of the Juventus defence.
Chiellini was back to his best on a night in which the home side gave nothing away to their visitors, with the 31-year old's superb sliding tackle on the run to dispossess Edin Dzeko drawing one of the loudest roars of the evening, Paulo Dybala's winner aside of course.
Giorgio's timely interception on the Bosnian was one of many moments of unerring composure and calm demonstrated by the Bianconeri, an aspect of the game that went a long way in pleasing one of the dressing room's leading figures as he sat down to discuss all things Juventus with the Sky cameras this afternoon.
"We kept our composure all over the field very well yesterday," he began. "Pehaps we should have been a little more ruthless and clinical in breaking the deadlock, particularly in the first 15 minutes when Roma were unable to cope with us but as all good teams do, they recovered and stopped us from scoring.
"We continued to dominate the game without really creating any chances as the risk was that we might over-commit and leave spaces into which they could break on the counter attack, but we were clever in keeping things tight, not giving them any opportunities and we were rewarded for that with Paulo Dybala's goal. The result was the right one."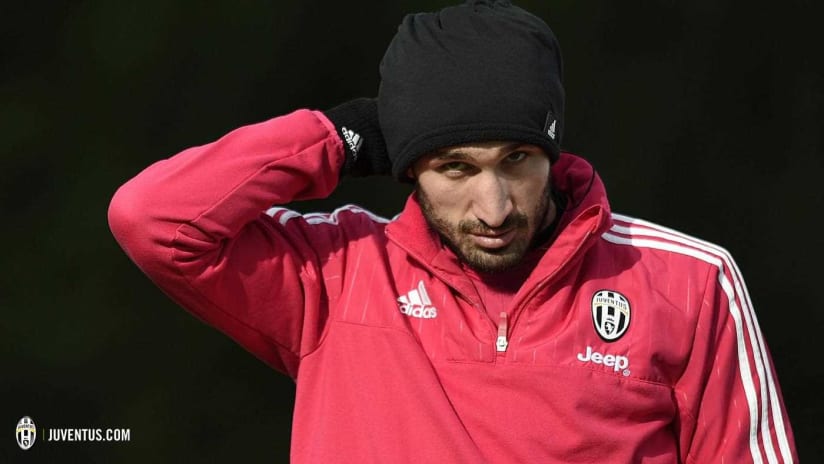 "We are playing with real identity at the moment and you could see that in last week's win in the capital too: we've shown we can roll with the punches and emerge victorious.
"The best thing about Juve at the moment though is the depth of our squad and the great contributions from all corners of the dressing room from guys like Daniele Rugani and Hernanes. We have great cover in every position and we are improving.
"There's a great atmosphere in the dressing room at the moment. The other new arrivals like Juan (Cuadrado) and Simone (Zaza) have settled in very well too despite arriving from completely different clubs and have raised their levels both in training and on the pitch.
"Juan has gone from strength to strength defensively and his and Simone's efforts in training are remarkable. When you see them every day, it's no surprise that they are growing with every session."
A strong 23 then, but how does Chiello rate it compared to the previous four Scudetto winning groups, all of which have seen the Italy international feature prominently alongside fellow defensive schemers Leonardo Bonucci, Andrea Barzagli and Gianluigi Buffon?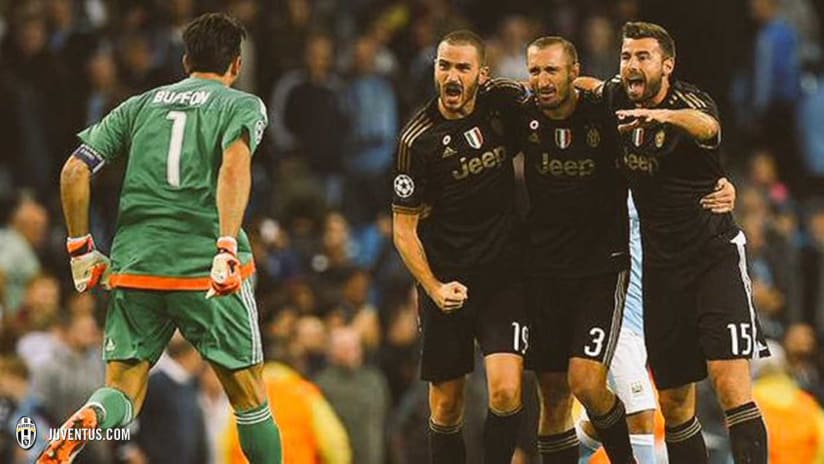 "Man for man, our best side in five years? That's not an easy question! We had a terrific run in the Champions League last season that we all want to repeat again this time around. We came within inches of what would have been an historic and unforgettable treble that was unthinkable at the start of the campaign.
"Even sitting here now talking about Juve fighting on all three fronts after our poor start to the term shows how well we are doing to have fought back and progressed as we have."
In fact, Juve's stunning recent form and consistency, in the eyes of Chiellini, has launched them into the very heart of this season's title race - a notion that seemed impossible a little over three months ago - that now counts one fewer competitor following Sunday night's result at Juventus Stadium.
"A five-horse race seems unlikely now, for those still in it, the competition is very tight. Napoli are top at the moment and are seemingly favourites while writing Inter and Fiorentina off would be a huge mistake. The Viola have a great team spirit and are capable of beating anyone on their day.
"Roma showed their potential to be contenders when they defeated us back in August but with a ten-point gap between them and us and three other teams ahead of them, it would be a miracle if they hauled themselves back into contention."
The final word of the warrior of well over 300 battles in the black and white of Juventus would however go to one of his other new and youthful colleagues, the in-form and seemingly unstoppable Paulo Dybala.
"Paulo is a humble and genuine guy who had no desire to steal the spotlight when he arrived," he concluded. "He got his head down and gave everything from day one to improve his own game and to help the team.
"We struggled as a group in the beginning but his and our performances in the last two months or so have been superb. From Paulo's point of view, it's remarkable what he has already achieved as a young player in his first season with Juventus.
"We could see how good he was last season when he faced us with Palermo. There's not much in the way of advice to give him to be honest besides keeping up his great form!"