Derby day deciders
Derby day deciders
Derby day deciders
There is one thing you can be sure of when two rivals face off as many times as Juventus and Torino have down the years – 141 at the last official count – and that is that there will be inevitably be winners and losers.
Registering 65 victories and scoring 212 goals since the first ever Serie A Turin derby on 24 November 1929, a goalless draw at the city's old Stadio Filadelfia, Bianconeri fans still hold a firm grip of the bragging rights over their claret neighbours.
Spells in the 1940s and 1970s aside, followers of the Old Lady have consistently enjoyed the lion's share of the joy over their burgundy neighbours and each passing generation has brought with it not only a healthy supply of memories but also its own derby stars to celebrate.
While football is of course a team game, every local rivalry thrives off the stories of individual brilliance and virtuoso performances.
And so, as Juve and il Toro prepare to face off once more on Sunday afternoon at the Stadio Olimpico, from Giampiero Boniperti to Paul Pogba, here are five Juventus stars to have made their own indelible marks on Derby Della Mole history.
Both chronologically and in terms of his importance, there can be no doubting that Giampiero Boniperti leads the way for derby day heroics.
Fifteen years a Bianconero between 1946 and 1961, few rose to the occasion of facing off against Torino, at the time at the peak of their** powers, as well as Boniperti whose total of 13 league goals against the Granata is unrivalled by any other player of either side.
Surprisingly, the quick-heeled and predatory forward would have to wait three years though for his first ever strike against il Toro in a 3-1 away victory in the November of 1949 but from then on, Giampiero was quite simply unstoppable.
Not only did his goals always result in Juventus victories in the derby but they would often come in pairs, the striker scoring two goals or more in five different cross-city clashes in 4-3, 5-1, 6-0, 4-2 and 3-0 victories in 1950, 1951, 1952, 1953 and 1954.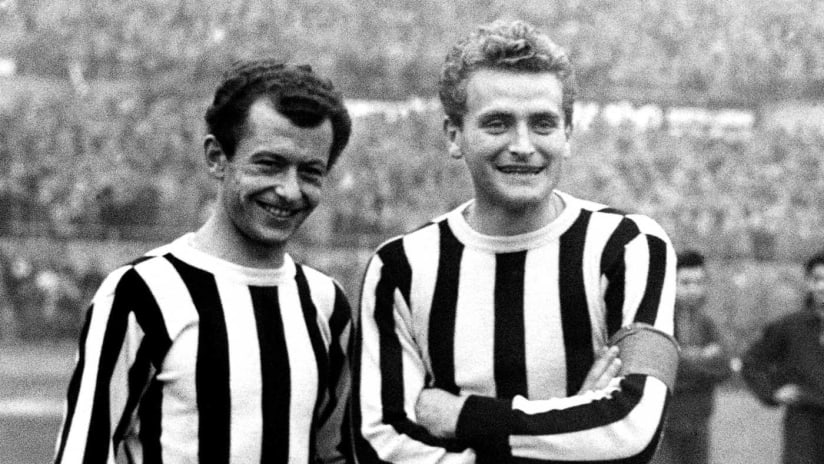 Yet it would be the emotion felt by Boniperti for the derby that would continue to distinguish him as an icon of the fixture to this day. Famous of course for his slogan, "winning is not important but it is the only thing that counts," the legendary frontman had this to say on the eve of last season's encounter at the Stadio Olimpico:
"This time like all the others I will sit myself down in front of the television and curse fate for making me suffer the way I do for every derby match."
For the longevity and scoring consistency required, it seems unlikely that Boniperti's record will ever be broken.
Although a scorer of seven league goals against Torino, Michel Platini will perhaps be better remembered on the derby day front for one very special afternoon in particular, one to which the quote above refers to.
Entering the tie as league leaders and with their visitors still harbouring Scudetto hopes, Giovanni Trapattoni's Juventus could not afford any slip-ups against a high-flying Granata side at the Stadio Comunale on 26 February 1984.
And sure enough, after an evenly matched and keenly contested first 45 minutes, it was the away side that took the lead, Franco Salvaggi capitalising on a rare defensive error to smash past Stefano Tacconi from just inside the penalty area.
For the remaining half an hour however, it was all about Platini.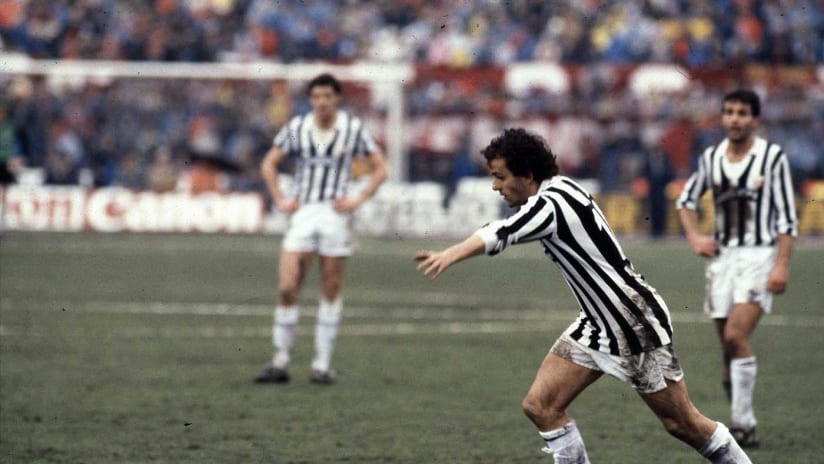 If the Frenchman's excellent jump and thumping header to leave defenders Luigi Danova and Giuliano Terraneo on the ground and equalise was a sight to behold, his strike to complete the Juventus comeback was something else altogether, curling a superb free-kick from the left edge of the box into the top corner 14 minutes from time to send the home crowd into hysterics.
Commenting immediately after the full-time whistle, coach Trapattoni stated that it was a goal that may have just set his team on course for the Scudetto and he was to be proved absolutely right, as Juve were crowned champions a matter of months later.
Platini's derby double that day were to be his third and fourth strikes against Torino and by far his most valuable. One of the most exciting derbies, fittingly decided by one of its most exciting participants.
Joining Platini on a total of seven is Gianluca Vialli whose first-half heroics in December 1995's meeting with Torino saw him achieve what no other Juventus player had done before: to score a derby hat-trick.
A feat managed previously only by Toro pair Giuseppe Virgili in 1959 and Nestor Combin in 1967, Vialli's magical 40 minutes at the Stadio delle Alpi more than guaranteed his place in derby folklore for plenty of time to come.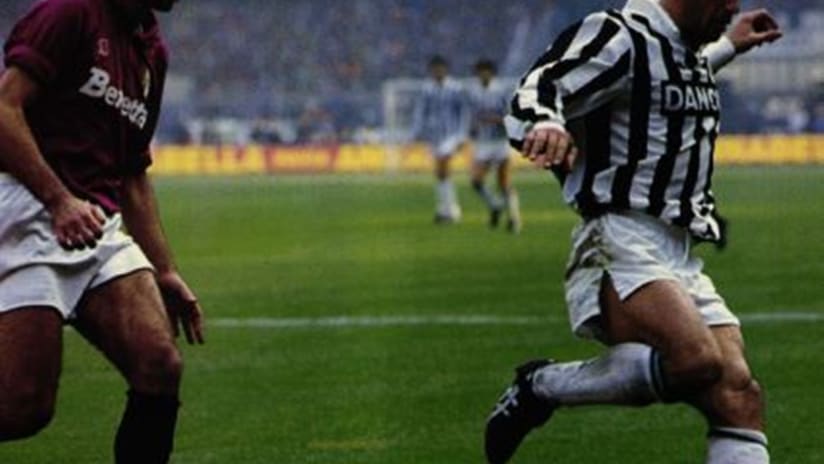 Scorer of a brace earlier in the year in a 3-2 defeat, the Juve forward was not to see his goals scored in vain for a second time in the same year, as his thrilling first-half triple set his team on the way to a comprehensive 5-0 victory and break Torino's two-match winning run in the fixture.
Netting his first from Angelo Di Livio's cross with just three minutes on the clock, the skipper would soon find a second midway through the half, capitalising on a defensive mix-up and firing in off the post to put the Bianconeri in the driving seat.
Vialli would however save the best until last, striding onto Fabrizio Ravanelli's perfect low cross to blast past Doardo and make Juventus history and inflict a crushing defeat on the soon-to-be relegated Granata.
Simone Zaza came close in December's 4-0 triumph Coppa Italia but Vialli's record still stands strong.
Like compatriot Platini and fellow forward Vialli, David Trezeguet's derby legacy did not match that of Boniperti but it will be forever remembered for one last-gasp winner at the Olimpico in September 2007.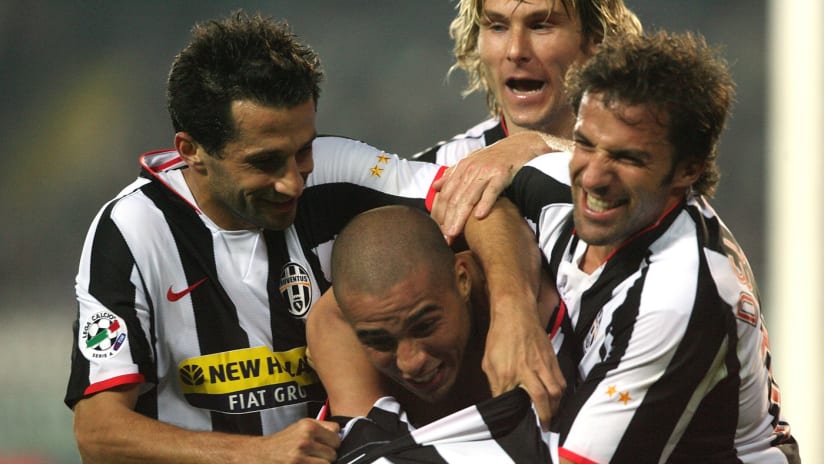 Timed almost to the same moment as Juan Cuadrado's strike on Halloween night earlier this season, the Frenchman's instinctive turn and volley 15 seconds from time must go down as one of the most spectacular and dramatic in the fixture's history.
It would prove to be Re David's second and final effort against Torino but one that was undoubtedly well worth the wait
From one Frenchman to another, Paul Pogba already has three derby goals to his name and, as one of the club's active leading scorers against Torino (tied with Claudio Marchisio), still has time to add yet more to his tally.
While Paul's match-winning strike in September 2013 at the Stadio Olimpico had more than a touch of luck about it as the ball smashed fortuitously into his path after Carlos Tevez's header had hit the crossbar, the same could not be said about his two decisive efforts at Juventus Stadium earlier this term.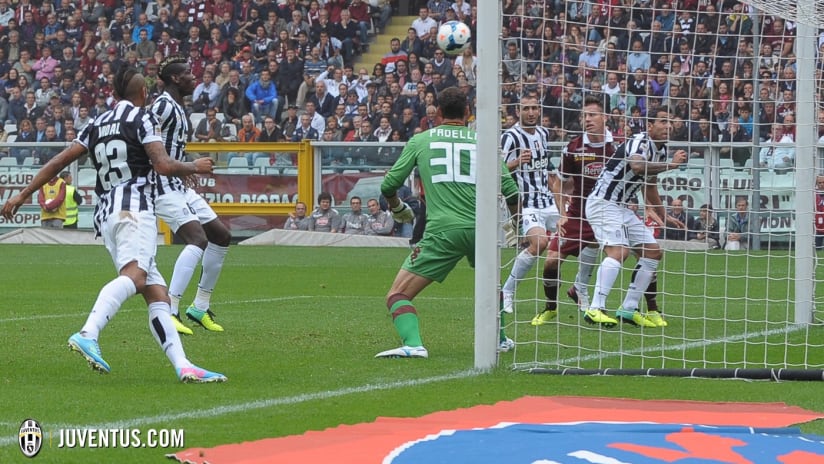 Both contenders for goals of the season and both for different reasons. The first, an astounding half-volley on the run over Daniele Padelli in the Torino goal, perhaps edging the comparison for its importance, the second an inch-perfect free-kick to cap off a stellar 4-0 Coppa Italia victory a couple of months later.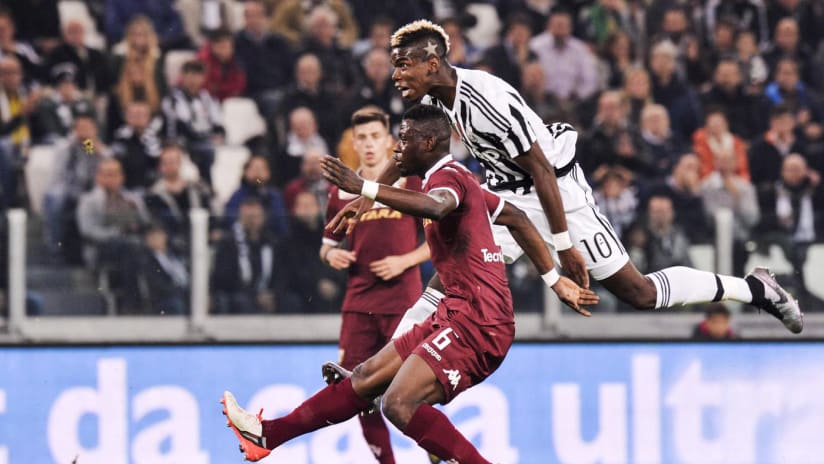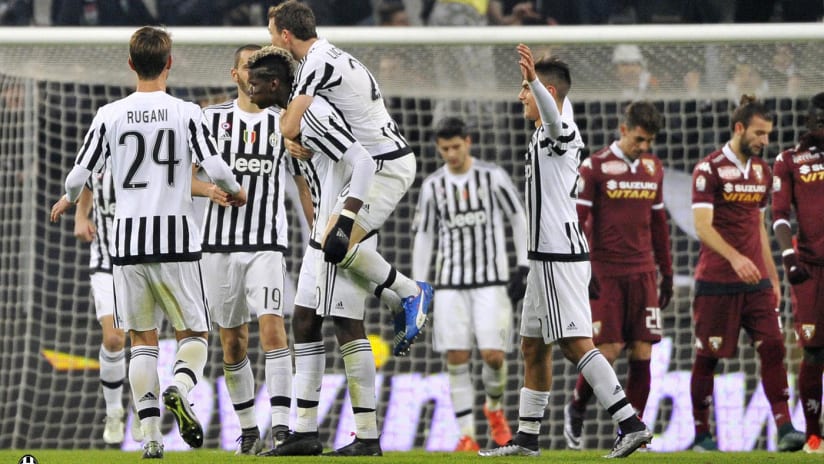 A third derby goal of the season, and second in his career in il Toro's backyard on Sunday afternoon would surely be of even greater significance.