First Juventus Academy opens in China
First Juventus Academy opens in China
First Juventus Academy opens in China
Juventus Football Club has chosen Shanghai as the location for its first Juventus Academy in China, heralding the beginning of a project with lofty ambitions and high expectations.
The fact that the Chinese government has made football part of the school curriculum and set an objective of opening 20,000 football schools around the country by 2020 makes this the perfect opportunity to further develop the Juventus Academy project, with the support of local representatives and Juventus Football Club itself.
The Juvenuts Academy project will convey the values and the very essence of how Juventus intends to teach football to young people in China.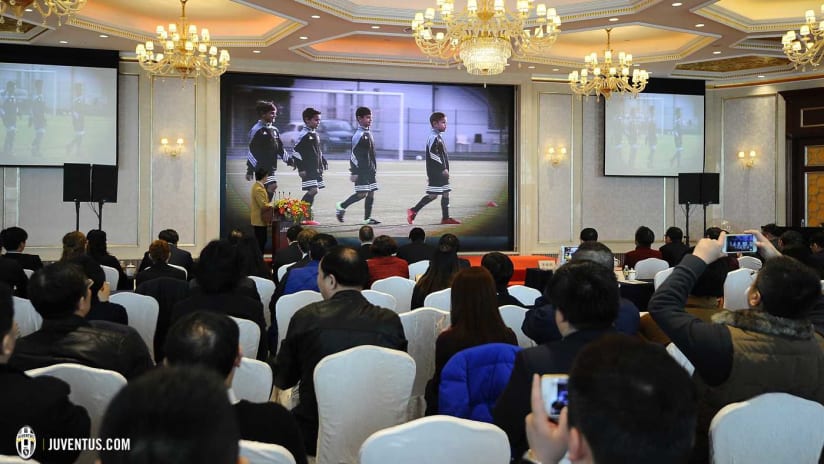 The close bond between the Bianconeri and China is nothing new. Juventus have contested many matches in the country, most recently the 2015 Italian Super Cup, which the club won in Shanghai.
There are over 58 million Juventus fans in China and it is hoped that this figure will further swell thanks to the new J-Academy project. Indeed, the Shanghai Juventus Academy will constitute Juventus' first outpost in China, with an initial cohort of 150 youngsters participating in its programmes and activities. The Academy will be open to children of between 5 and 14 years of age who wish to don the famous black and white in a positive, recreational setting.
The Academy will maintain the same values of the club's youth sector, as is the case at the Juventus Soccer School in Turin. In Shanghai, coaches from Italy will be present to lead the activities, while workshops and training sessions for local instructors will also be taking place.
All in all, the far-reaching project aims to accommodate over 1,000 youngsters within three years.
The first Juventus Academy in China will be located in an innovative sports centre to be built in the coming months. It will feature over seven pitches – including one indoors – as well as leisure areas. Training activities are expected to begin in September.
Juventus Academy sporting director Gianluca Pessotto, who is also out in the Far East to promote the Juventus Legends friendly match on 25 March, will meet local institutions and footballing bodies to officially launch the project, in collaboration with Awesome Sports and the Lingang Group.
He said: "I'm convinced that sport, and football in particular, is a crucial tool for spreading fundamental life values. Our job is to enable kids to bring out the best in themselves. I'm proud to include China in the list of countries where Juventus' ambitious educational J-Academy project is operating, and for the fact that it starts in Shanghai, one of the country's most modern and iconic cities."
Yesterday saw Pessotto and the Bianconeri delegation meet with Shanghai vice mayor Zhao Wen, who expressed her best wishes for the project's success.