J Women Rewind | Juventus - Como
J Women Rewind | Juventus - Como
J Women Rewind | Juventus - Como
Starting the second half of the Women's Serie A regular season tomorrow 27 November at 14:30 CET is a visit from an opponent that has yet to set foot at Vinovo, Como.
The team from Lombardy are enjoying their first top-flight campaign and in fact kicked off their Serie A adventure against the defending champions in August. The Bianconere did not hold back against the newcomers, running out 6-0 victors.
A Cristiana Girelli first-half hat-trick was added to by Lisa Boattina and a double from Lineth Beerensteyn on her Serie A debut.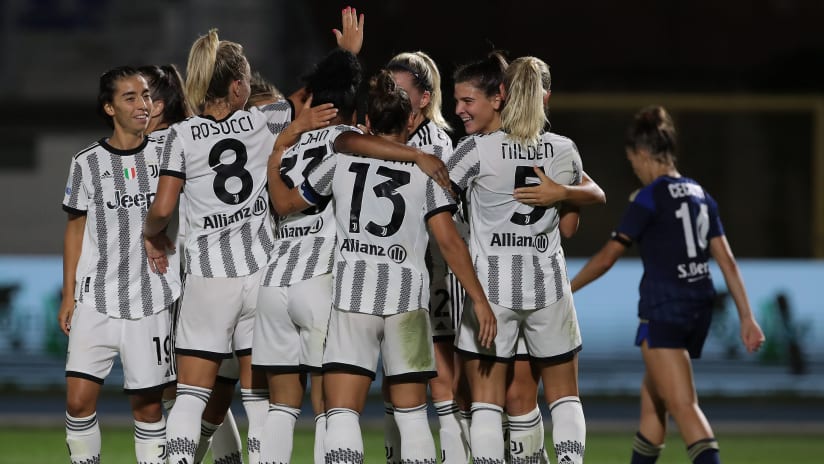 Women | Highlights Serie A | Como - Juventus
FROM AUGUST TO NOVEMBER
That victory in the late August heat extended the Bianconere's impressive run over newly promoted sides to 25 wins from as many matches, having scored 90 goals and conceded only nine, adding a 16th clean sheet.
On the other hand, Como have yet to register a clean sheet from their nine outings so far, but they have picked themselves off the foot of the table after a difficult start.
Winless with just one point from the opening five games, the Azzurre have since collected five points from the most recent four matches after claiming a debut win against Parma in Matchday 6.
LATE SHOW SPECIALISTS
The most recent Juventus victory also came against Parma thanks to two goals in stoppage time. The Bianconere's never-say-die spirit is emulated by the Azzurre, who have clinched crucial results thanks to goals in time added on.
In fact, the last two matchdays have seen Como draw with 2-2 Sassuolo and 3-3 with Milan with the equalising goals arriving in the 93rd minute. Against Sassuolo it was Greta Di Luzio who found the net beyond regulation time, while it was Giulia Rizzon that salvaged a point at the Rossonere.
With two late show specialists in action this Sunday no one dare take their eyes off the action until the final whistle.