Juventus and Ganten renew until 2028!
Juventus and Ganten renew until 2028!
Juventus and Ganten renew until 2028!
Juventus is proud to announce that the partnership with Ganten, which began in 2017, will continue another five years, with a renewal signed until 2028. This therefore confirms eleven years of collaboration between the Club and one of the biggest Chinese mineral water brands.
The renewal of the partnership was announced during a special event in Shanghai China on 15 September, in the presence of John Cheng, President of Ganten Italia Srl, Wang Meihua, General Manager of Ganten Brand Center, Federico Palomba, Managing Director of Juventus APAC and a special guest, Juventus legend Andrea Barzagli.
The collaboration between the two brands has always been inspired by the search for excellence and respect for tradition, values that Juventus has always perfectly embodied in its unique history in Italy, and which Ganten fully embraces, together with the constant pursuit of quality.
The partnership is further strengthened by the presence and importance of the Juventus brand in Asia, as demonstrated by the large (and growing) numbers on Chinese social media and confirmed by the endless passion of millions of fans towards the black and white colours.
Furthermore, Juventus has joy, emotion and attention to health as its values: all values dear to the Chinese brand, which has always been attentive to sport and which has our Club as its great testimonial in the world of football.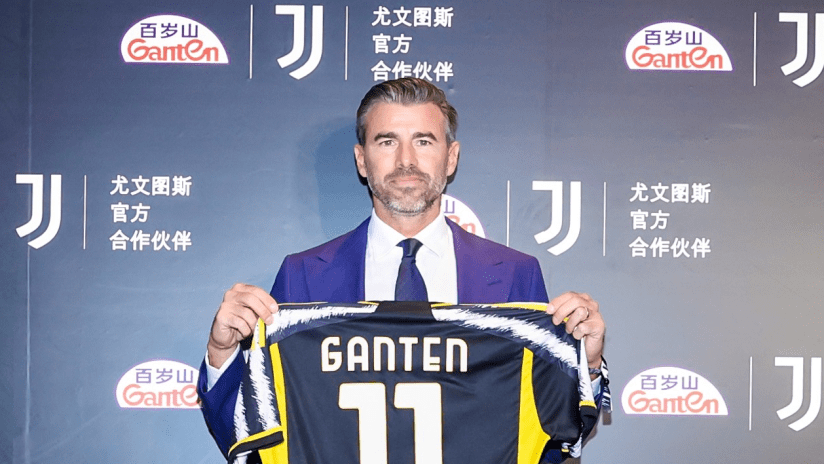 SIX YEARS OF EXCELLENCE
 Over the past six years, this partnership has allowed both Ganten to strengthen itself in Italy and Europe, and Juventus to expand its presence in China: water bottles are one of the most present objects in the daily lives of athletes, and this has given our partner great visibility.
AND NOW
And now we continue in the name of the growing presence of Juventus in Asia. In fact, the partnership will allow us to continue to activate and involve Chinese fans, and not only that: a major football event is being planned, in China, during the 2023/2024 season.
THE STATEMENTS
"The strong partnership between Ganten and Juventus demonstrates once again the recognition and trust of the Juventus brand on a global level, as well as Ganten's support for the development of football," said Tiziana Di Gioia, Chief Commercial Officer of Juventus. "Thanks to the partnership with Juventus, Ganten was able to strengthen its relevance in the world of sport, and on the other hand, Juventus was able to count on a partner who accompanied the training sessions and matches of all the Juventus teams."
"We are happy to renew the partnership with Juventus for another five years," said John Cheng, President of Ganten Italia Srl. "It is a long-lasting collaboration which has been further strengthened and which will allow us to support the sales and presence of Ganten mineral water on the Italian market". Wang Meihua, General Manager of Ganten Brand Center, added, "Renewing this partnership serves to further highlight the values that Juventus and Ganten share and further strengthens quality research and development in Italy and China respectively."