Bonucci: "Delighted to be back"
Bonucci: "Delighted to be back"
Bonucci: "Delighted to be back"
It was an emotional Friday afternoon at Allianz Stadium as defender Leonardo Bonucci held his press conference at the place he will once again call home after a season away.
Here's a selection of what he had to say to the press:
"Juventus wins because there's planning, talent, the right players and the right club structure. It's very solid and very well organized. I'm delighted to be back and enthusiastic to start this new adventure with my old team-mates and the new ones. The objective is to improve on the field.
"I wanted to come home. I really missed Juventus. It feels like home to me. As I wrote online, every journey has a return home. I'm very grateful to the club, the coach, my agent and Milan who allowed me to come back."
"[Massmiliano] Allegri and I have had many chances to talk and mend bridges. We have a great relationship. As intelligent people, we have shaken hands on many occasions.
"Last year, I went to London to get an award for being in the World 11 and I dedicated my achievement to Allegri because he's improved my game so much."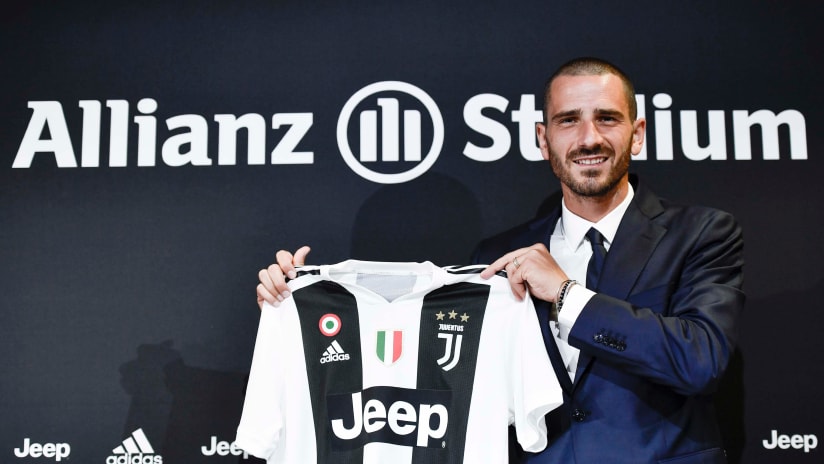 "I understand the fans' emotions and I have always respected them. When I was at Juventus and Milan, at the end of every game I was the first to go thank the fans. My decision last summer was very emotional and was dictated by how I felt at the time. I took that decision in the heat of the moment because I didn't feel at ease.
"I didn't feel like I was in the right place and I couldn't be myself at the time. I wanted to make a change and I thought that change could give me something extra. However over the course of the season, things went differently and I left my heart in Turin with my family who continued to live here.
"I left my house where I lived every day of my life. I took a step back and, despite numerous requests I had from other teams all across Europe, my only derire was to return to Juventus. I understand the fans' reaction, the boos and whistles and I will accept the same from our opponents. It is my job now to convince the fans to support me."
"Every year in the past, Real Madrid had an advantage with Ronaldo in their ranks, but now he's on our side. Training with him is a fantastic challenge that pushes you to always raise your game.
"He leaves nothing to chance and is completely focused for every single second in training. He will surely increase the level of the whole team. A player like him can really improve all of us so that we are completely ready every weekend and midweek to do our absolute best."