Match Stats | Juventus - Roma
Match Stats | Juventus - Roma
Match Stats | Juventus - Roma
LA SUPERCOPPA
Questa sarà la 26ª finale di Supercoppa Italiana, la prima in assoluto disputata nel mese di novembre.
Con un successo, la Juventus diventerebbe la quarta squadra capace di vincere la Supercoppa Italiana in almeno quattro occasioni, dopo la Torres (7), l'AGSM Verona (4) e il Brescia (4).
In generale, le bianconere hanno vinto quattro delle sei partite giocate in Supercoppa Italiana (1N, 1P) - l'unica sconfitta risale alla prima di queste gare, in finale contro la Fiorentina nell'ottobre 2018.
La Juventus può diventare la terza squadra capace di alzare il trofeo in quattro edizioni consecutive, dopo la Torres (cinque, tra il 2009 e il 2013) e il Brescia (quattro, tra il 2014 e il 2017).
La Roma è la 16ª squadra differente a disputare una finale di Supercoppa Italiana, tuttavia può diventare la prima formazione laziale in assoluto ad alzare il trofeo.
La Roma ha perso le due partite giocate finora in Supercoppa Italiana, entrambe per 2-1 in semifinale: la prima contro la Juventus, nel gennaio 2021; la seconda contro il Milan, lo scorso gennaio.
Solo due delle precedenti 25 finali di Supercoppa Italiana sono terminate ai rigori: nel 2014 e nel 2015, in entrambe le occasioni con un successo del Brescia.
Barbara Bonansea è l'ultima giocatrice capace di realizzare una doppietta in una finale di Supercoppa Italiana (nel 2021 v Fiorentina); con una marcatura può diventare la terza giocatrice in assoluto con cinque reti all'attivo in questa competizione, dopo Chiara Gazzoli (8) e Patrizia Panico (7).
L'ULTIMO TRIONFO BIANCONERO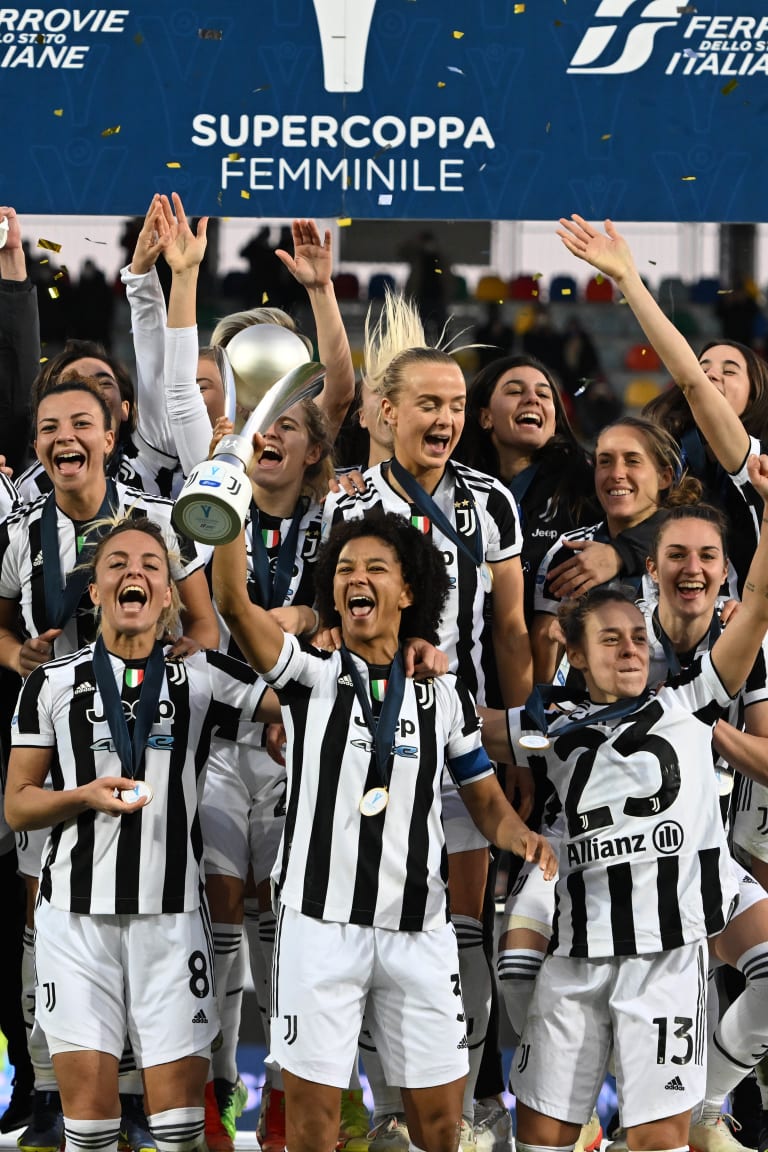 SECOND SUPER ENCOUNTER - Juventus and Roma face each other for the second time in the Italian Super Cup after the semi-final on 6th January 2021, won 2-1 by the Bianconere.
OUR ROMA RECORD - Overall, Juventus have won 10 of the 12 games played in all competitions against Roma (one draw and one defeat) and have always found the goal in each of these matches (26 goals in total, 2.2 per-game average).
BIANCONERE GOAL THREAT - Juventus are the team against which Roma have conceded the most goals in all competitions (26) and the only opponent, among those faced more than twice, with whom they have always conceded at least one goal.
GIRELLI GOING STRONG - Cristiana Girelli is the player who has scored the most goals against Roma for Juventus in all competitions: six (three in Serie A, two in the Coppa Italia and one in the Italian Super Cup), at least three more than any other Bianconera. She has already scored eight goals this season in all competitions (more than any other player between Juventus and Roma) and six of those goals have came away from home.
CASE OF THE EX - Benedetta Glionna scored 13 of her 33 Serie A goals for Juventus between 2017-2019.