Meet the history makers
Meet the history makers
Meet the history makers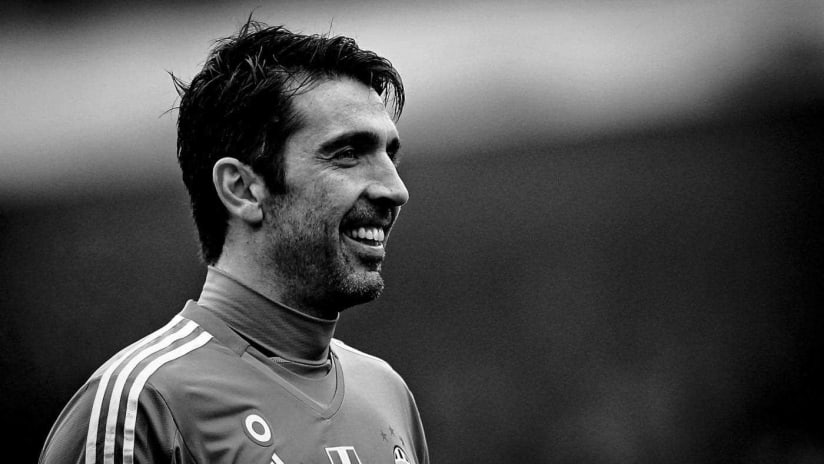 Scudetto number nine for an irreplaceable Numero Uno and the first of the Magnificent Eight.
The unflinching desire to win, the record breaking consistency, the unrelenting leadership of the dressing room, save after save after save of peerless quality, what else is there to say about Gianluigi Buffon that has not been said already?
Think about it, how many players could captain their side to four consecutive Scudetto titles and then lay the foundations for the fifth, arguably the greatest of them all, by not conceding a goal for a period equivalent to the running time of the entire Star Wars saga?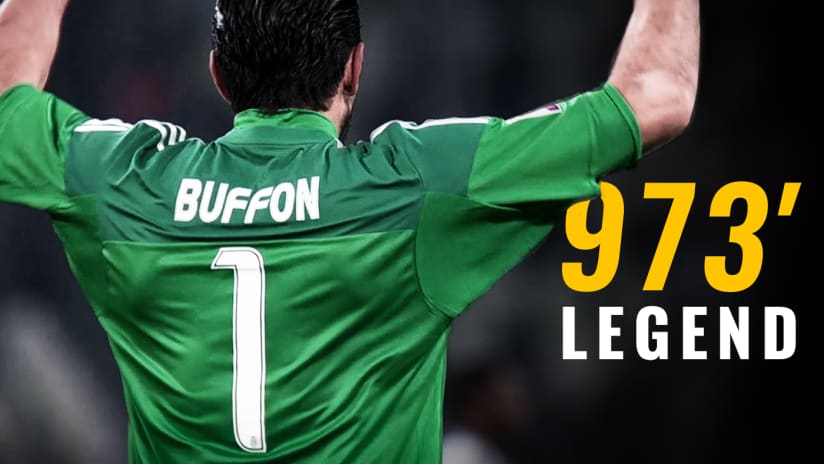 How many goalkeepers could even visualise that save against Milan in April's vital 2-1 victory at the San Siro or those in the early stages of the season to earn September's player of the month award when his team-mates needed him most?
How many players would stay with their team at its lowest ebb, stand as a pillar of its reconstruction and then find the right words to turn a worrying start to this season into one that makes history?
How many players could sustain the same levels of performance over a 20-year period and still show no signs of easing up at the age of 38?
What's more, how many players could discuss the finer arts of their trade and how best to fool a goalkeeper in inimitable detail with an audience of admiring five and six-year olds?
The answer? Just 1. Grazie mille, Gigi.
Norberto Murara Neto provides perhaps the most striking proof that every title-winning squad must possess strength and depth in abundance for every position on the field.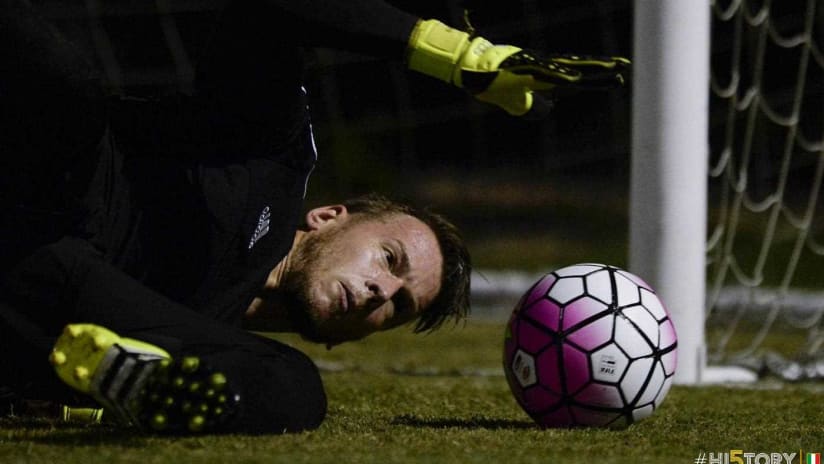 Though limited to just one league appearance against Frosinone in September, Neto has been a mainstay in the Bianconeri's run to the Coppa Italia final and, injury pending, may yet be the man to stand tall between the sticks at the Stadio Olimpico in May.
Don't be surprised if this is the first of many Scudetto triumphs for the agile, athletic and amiable Brazilian.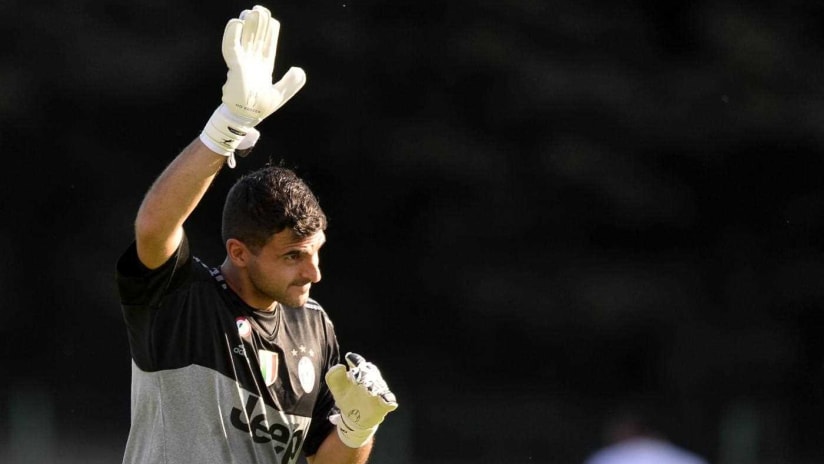 Rubens Fernando Moedim, commonly known as Rubinho, will be collecting his fourth Scudetto winners' medal since arriving at the club from Palermo in the summer of 2012, just missing out on the cut for entry into the Magnificent Eight.
This latest triumph gives the Brazilian the unique quirk of winning more league titles than he has made top-flight appearances for the Bianconeri. A lucky charm!
Perhaps the only downside to Juventus' historical surge to the finish line in recent months has been the absence of long-serving warrior and rearguard stalwart Giorgio Chiellini.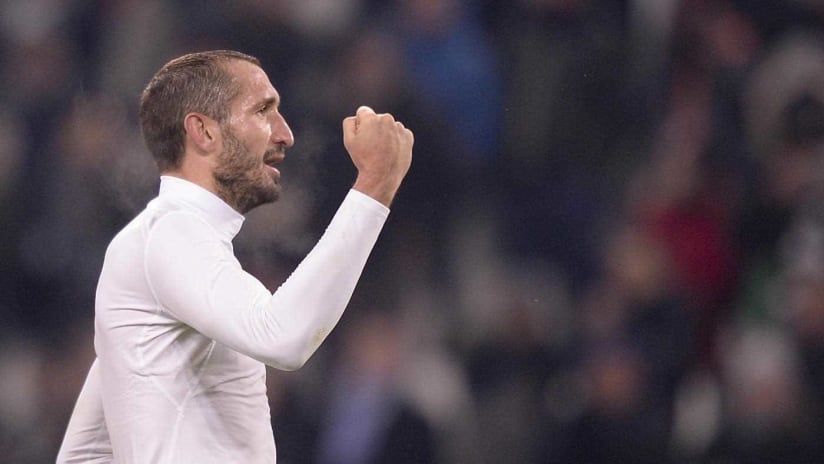 Despite making fewer appearances than his longstanding partners in crime Leonardo Bonucci and Andrea Barzagli, the soon to be legendary defensive trio would not be as celebrated as it is were it not for the consistently crucial contributions of the C in BBC.
As part of that three or not, Chiellini is still regarded as one of the game's finest defenders and though he has not featured as much this year relative to the previous four Scudetto-winning campaigns, the no-nonsense centre-back's showings in the first five months of the season only served to confirm that status.
If anything else, the overwhelming response of the fans to big Giorgio's 31st birthday in August was indication enough of his popularity among Bianconeri everywhere.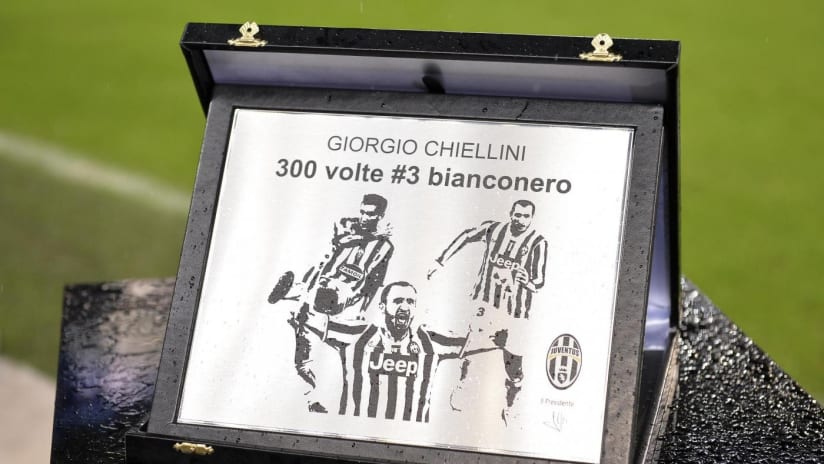 Already a member of the illustrious 300 club since 2014, this fifth consecutive triumph for Chiellini cements his place as a true Juventus legend.
At about 15:31 CEST on Sunday 17 April, you may have noticed this animation appear on your Twitter news feed:
Relevant at any point of the season but none more so than after Andrea Barzagli's goal-line clearance to keep Juventus in front against Palermo, the Wall's telling intervention was the latest proof that, like team-mate Buffon, he has enjoyed yet another age-defying campaign.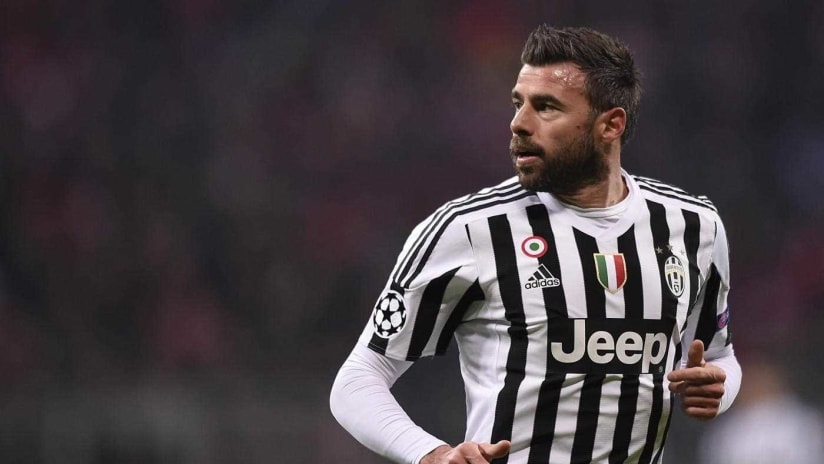 Missing the opening of the season through injury, Barzagli's return to full fitness would play no small part in the Bianconeri's resurgence in Serie A - a superb showing against Inter at the San Siro shortly after his restoration to the starting XI sticks in the mind – a spell rewarded with the thoroughly deserved October MVP award.
Thinking about it, on performances alone from November through to May, the big man could have easily scooped the monthly prize a further five or six times were it not for the equally stellar impressive showings of his team-mates.
With Andrea back to his best as the Juventus revival roared into January, it should come as no surprise that a record-breaking run of consecutive league clean sheets followed suit as the Wall formed the most formidable partnership in European football with captain Buffon behind him and Leonardo Bonucci by his side.
Member number three of the Magnificent Eight and easily one of its most unsung heroes.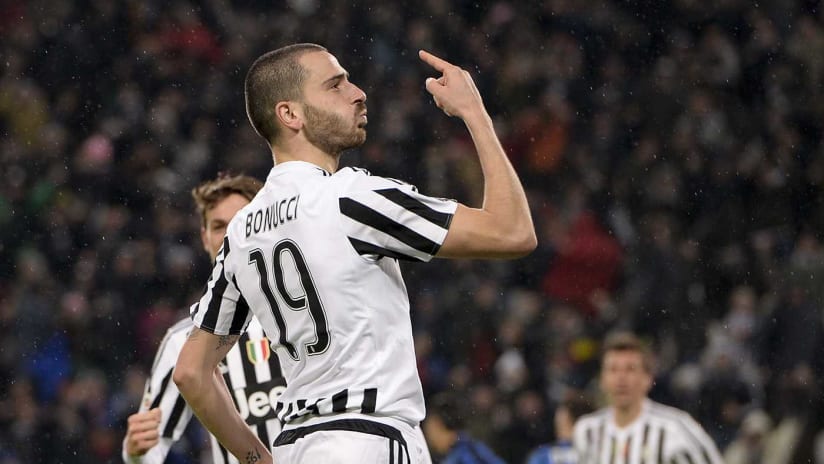 A season that began with a contract renewal ends with a fifth Scudetto in as many years for Leonardo Bonucci and in a busy July and August of transfer activity, who's to say that the extension of Leo's stay in Turin wasn't one of the most important moves of the summer?
Whatever way you look at it, there can be no doubting that Bonucci's performances this term more than merit such praise. Even donning the captain's armband in the absence of skipper Buffon, our number 19's effortless composure, calm and concentration at the back have confirmed his reputation as one of the most complete defenders in world football.
But it isn't just in his base rearguard duties that Leo has excelled this season.
A thumping header against Verona in the first match after the winter break and an Oscar-winning show at Juventus Stadium for the visit of Inter in late February showed his inherent penalty box prowess at the other end of the field.
All that, even before considering his unrivalled talent in building the play from the back: at the last count, no other Bianconero has completed as many passes as the ice-veined Bonucci.
2011/12, 2012/13, 2013/14, 2014/15, 2015/16…2019/20?
Signed from Empoli in the summer to extend Juventus' defensive legacy even further into the future, the absences of fellow rearguard colleagues at varying stages of the season parachuted Daniele Rugani to the frontline of the Spring Scudetto fight. As you might expect, it was a challenge that the richly promising youngster seized with both hands.
After a steady conclusion to 2015 with appearances limited to the cup competitions, Daniele featured for the full 90 in all six vital March and April victories over Sassuolo, Torino, Empoli – arguably his finest performance in a Juventus shirt so far – Milan, Palermo and Lazio, demonstrating just what the future may hold for Juve.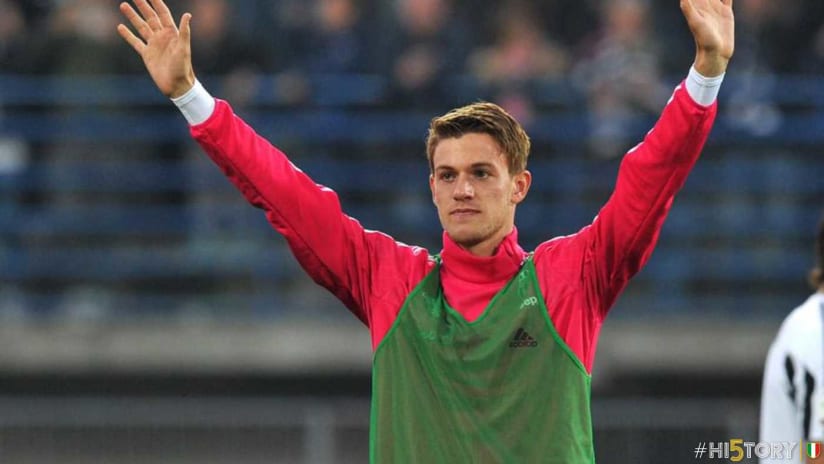 There wasn't a cooler head in the house as the Bianconeri closed out those crucial set of wins and it is exactly that calm and composure that will make the Italy U21 international a Juventus Stadium star for years to come.
Limited to just 449 minutes of action, fans and fellow players alike will have been rightly saddened by the lengthy injury lay-offs inflicted on Martin Caceres in October and February this season.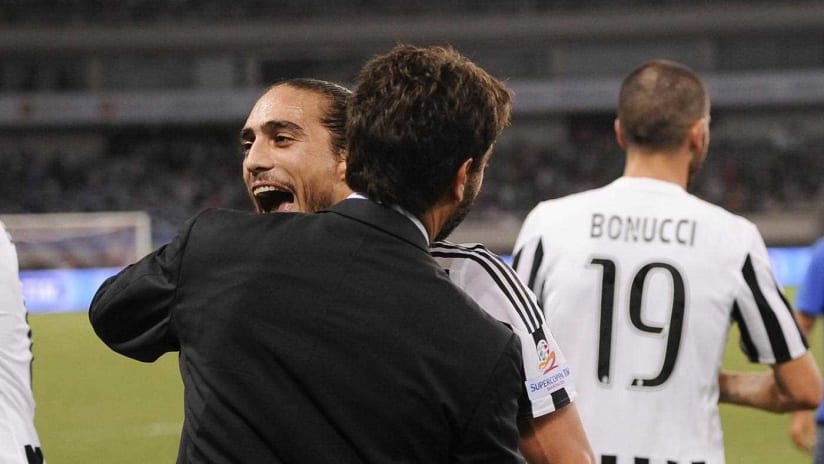 This year's Serie A triumph is still the Uruguayan's fifth in a row for the Bianconeri who haven't looked back since his addition to the squad in January 2012, a remarkable achievement nonetheless for a player who has enjoyed nothing but success throughout his career to date.
A popular figure in the dressing room, the sight of Martin collecting his winners' medal on 15 May will warm the hearts of the Juventus Stadium faithful.
When a player wins the league title every year since arriving at a club, it says a lot about his consistency, quality and importance to the team.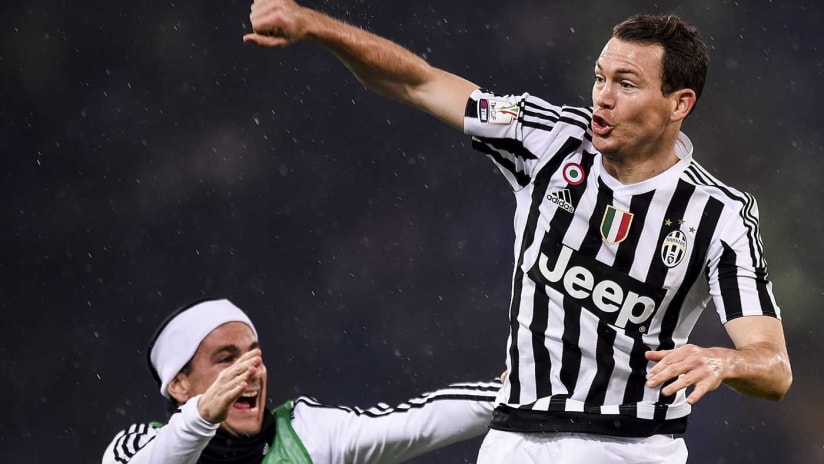 When you lose track of the number of times that player has surged to the byline and delivered a telling assist and then sprinted back up the pitch to make a crucial interception at the other end, you begin to realise that you have an exceptional professional on your hands.
The above describes a standard season for Stephan Lichtsteiner but this Scudetto triumph may be the sweetest yet for the tireless wing-back.
Returning to first-team action just one month after undergoing heart surgery with a fabulous goal against Borussia Monchengladbach, Lichtsteiner confirmed the notion that there is no keeping a good man down for long.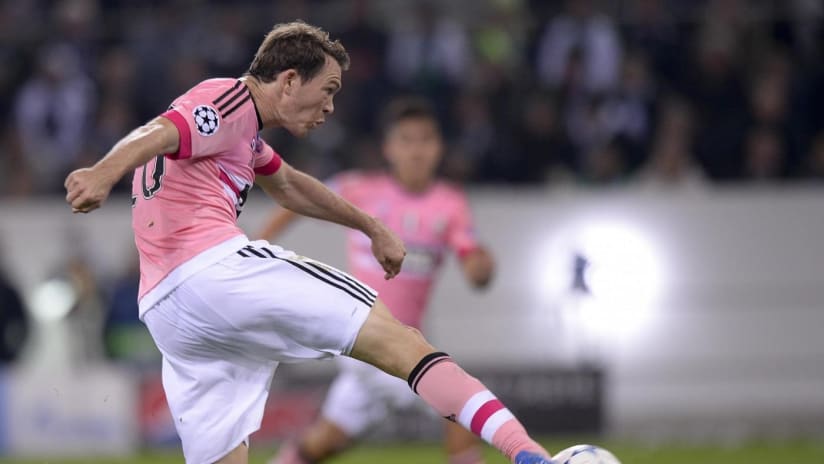 Providing the crucial offensive and defensive balance to Juventus' right side for the fifth season on the trot, few will have expended as much energy in reaching this historic landmark than the Swiss Express. Hats off to Magnificent Eight member number six.
Such is his attitude on and off the pitch and the respect he commands in the dressing room, you wouldn't know that Patrice Evra has only been here for two seasons.
A self-confessed lover of the Italian game, the veteran Frenchman (who fittingly turns 35 on the very day of the final game of the season) slotted seamlessly into the Juve backline last year and his consistency, focus and determination have ensured that this second consecutive title-winning campaign has been no different for Patrice.
Evra's brutally honest rallying call following defeat to Sassuolo in October and full-blooded celebration following his crucial header away at Empoli the following month demonstrated "Uncle Pat's" commitment to the cause in a way that no one else could.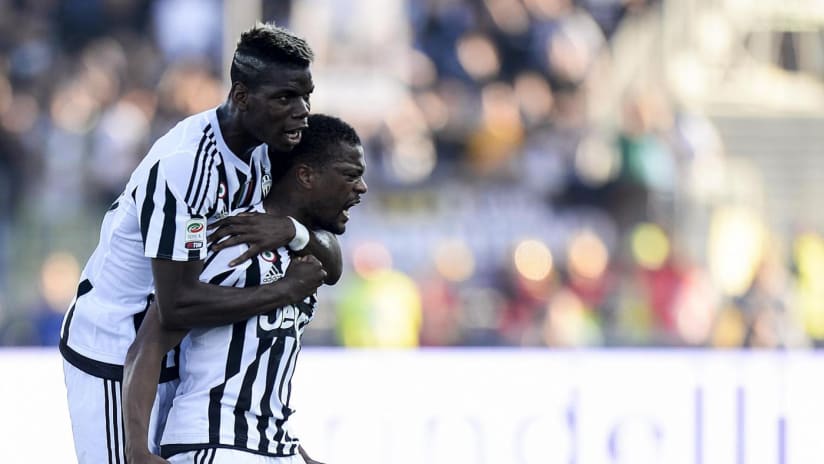 Rarely seeking the spotlight, the excellent season of summer signing Alex Sandro could easily be forgotten amidst the title delight and celebration of more attacking players.
Doing so though would mean overlooking the Brazilian's match-winning assists for fellow South Americans Juan Cuadrado and Paulo Dybala in the crucial autumn victories over Torino and Milan or his magnificent curling strike against Udinese in January.
The story of the flying wing-back's campaign in black and white isn't just limited to goals and assists, however. Ruthless in the tackle, unstoppable in his charges forward and unerringly accurate in his crossing from the left, Alex Sandro immediately became a key part of this Scudetto winning side even while acclimatising to the Italian game.
Fortunately, the Brazilian's first campaign in black and white will end with its just reward.
Whoever you ask in the squad they will probably tell you that Juan's sliding, frenetic finish was the defining moment in the season that set the champions off on an imperious run of wins and they would never look back from that Halloween evening victory onwards.
That crucial derby winner alone would have sufficed in order to consider Cuadrado a Bianconeri hero, but the wing wizard was far from done there.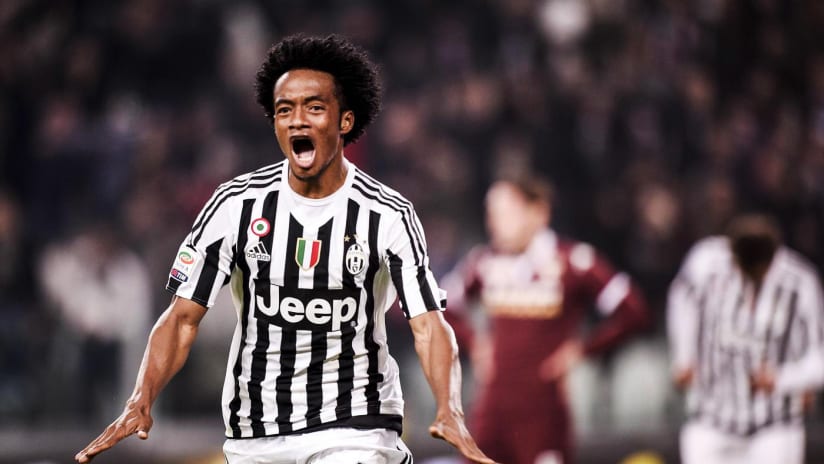 Crucial interventions against Fiorentina, Genoa and Bayern Munich would follow but the best goal would be saved until last: the snake-hipped shimmy, scoop and superb finish against Palermo in April's 4-0 thrashing was pure Cuadrado.
For a man who always wears a smile on his face, he has given us all plenty of reason to do the same whenever our number 16 takes to the field.
Oh, and did we mention he's quite good at dancing?
At approximately 22.10 CEST on 19 August 2006, a fresh-faced youngster arose from the bench at Bari's Stadio San Nicola to make his first senior appearance for the club he had dreamed of representing as a boy.
Just under ten years later, homegrown hero Claudio Marchisio has five consecutive Scudetto titles to his name and is the final member of our Magnificent Eight.
Playing a little deeper than he did as a 20-year old with a now outstanding tactical and positional intelligence but the same velvet first touch, Claudio's metronomic presence in the Juventus midfield has once again been the cornerstone of this latest domestic triumph.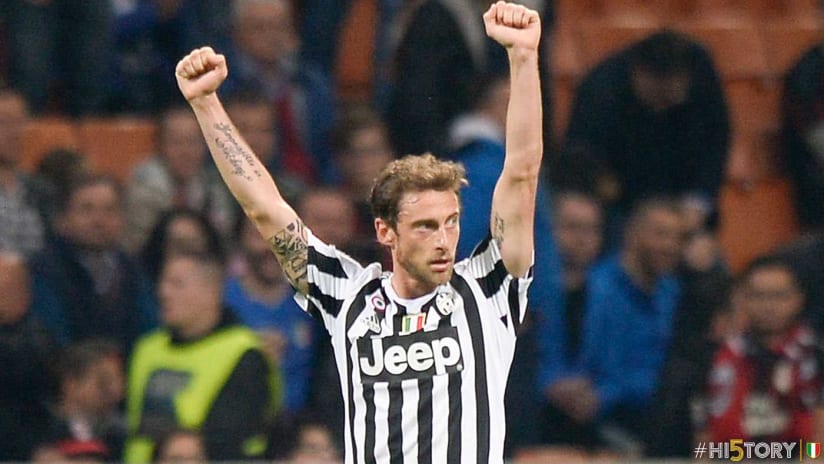 It was no coincidence that results began to improve once he had returned from early season injury and the partnership formed with Paul Pogba and Sami Khedira made the Bianconeri's midfield trio one of the most well-balanced and imposing in the European game.
The saddening knee injury sustained in one of the last home games of the season against Palermo was felt by fans, colleagues and fellow professionals everywhere and should do nothing to detract from what has been a majestic season for Juventus' Little Prince.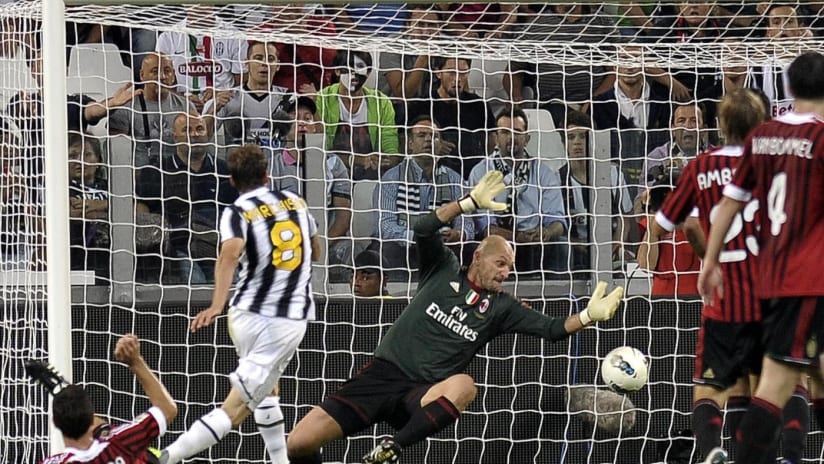 The only important thing is that he will be there on 15 May to lift a trophy that will be adorned with black and white stripes for the fifth time in a row, a feat that surely would not have happened were it not for Marchisio's continued excellence.
As requested by midfield colleague Simone Padoin in the closing stages of the season, the final push against Lazio and Fiorentina was well and truly for Claudio.
A fourth consecutive Scudetto, a personal best for goals and assists in a league season, spots in the FIFPro World XI and UEFA Team of the Year, king of the DAB team: not a bad 10 months for Paul Labile Pogba in his continued, unstoppable rise to the top.
Always eye-catching both on and off the field, Pogba will be able to look back on another impressive campaign, one that saw him step up to the plate following the departures of big-name midfield colleagues over the summer to become an indispensable cog in the Juventus machine.
Needless to say, everything the number 10 has done this term has been spectacular – various haircuts included – and that's how it should be for a player like Paul who doesn't do things in half measures.
When we attempt to pick out a goal of the season in a couple of weeks' time, the Frenchman will undoubtedly have more than a few nominations on the shortlist, a trio of ridiculously good goals against Torino (always a surefire route to Bianconero hero status) and a mazy dribble against Chievo coming quickly to mind.
Naturally, "The Octopus'" own personal highlights reel without his goals would be gripping viewing itself with his superb assists, cheeky flicks and mesmeric quick feet providing more than enough entertainment.
The moment Sami Khedira sat down at Juventus Stadium for his unveiling press conference in July and addressed the media confidently in Italian, it was clear that we had a true professional on our hands.
If that wasn't enough to get his new supporters on side then netting on his full debut almost certainly did.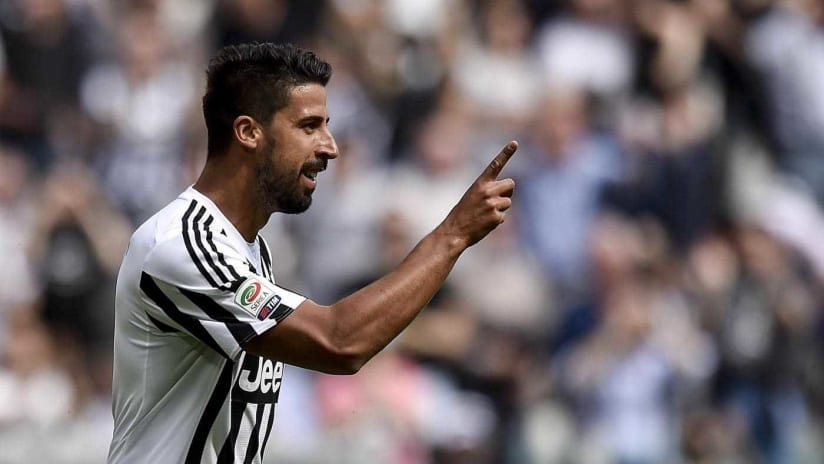 One simple statistic though will demonstrate beyond doubt just how important Sami Khedira has become to Juventus since arriving from Real Madrid on a free transfer in the summer: the Bianconeri are unbeaten in the league with him on the field, winning 18 and drawing one. When Sami's fit, Sami starts. When Sami starts, we win!
Facts and stats can only describe so much of what the German brings to this team however. Always incisive in possession, intelligent in his movement and sturdy in the challenge, the speed with which Juventus fans have taken Khedira to their hearts should come as no surprise.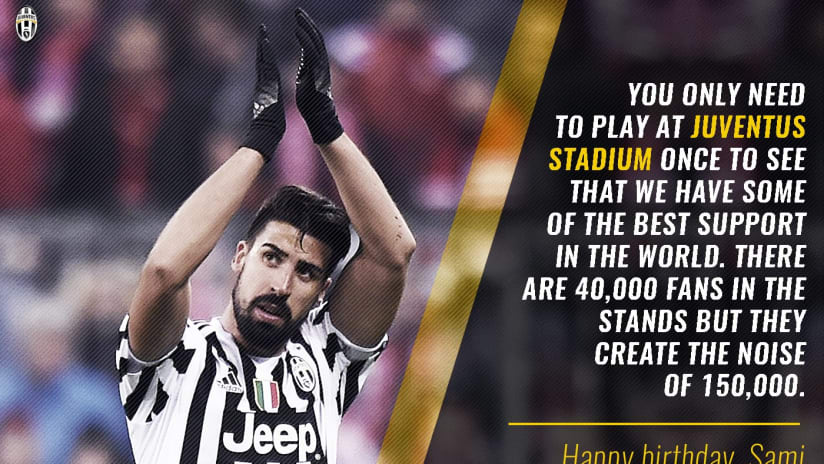 With no shortage of goals and assists to his name this term, the world champion has been a genuine star both on and off the field.
Bursting onto the scene with a string of late season performances in 2014/15, natural born fighter Stefano Sturaro has consolidated his position as a key squad player this time around with more characteristically committed and full throttle showings in midfield.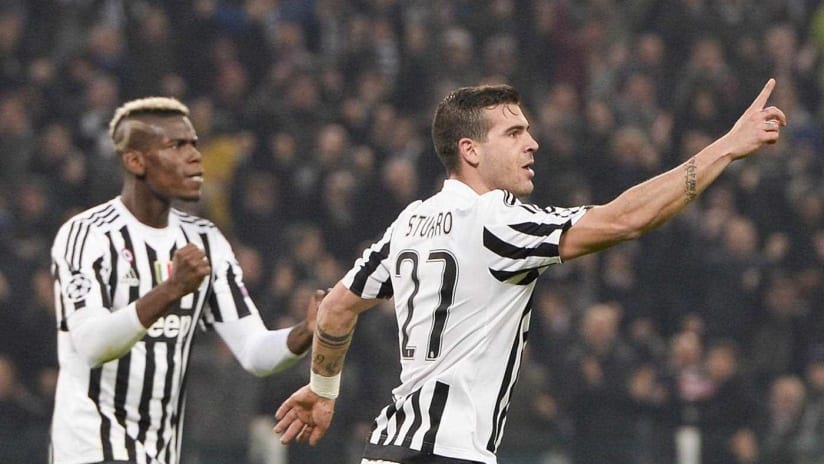 A central figure throughout November and December in a Serie A spell which included a very well taken first league strike of the campaign away to Palermo, Stura's finest moment would come unforgettably in the Champions League thanks to his spine-tingling equaliser against Bayern Munich just moments after the coming off the bench.
The drive to reach the ball, the deft touch required to turn it home and the passionate celebration afterwards captured everything that is admired about Stefano in a matter of seconds.
This is the second and surely not the last Scudetto to go into the Italian's trophy cabinet.
A cerebral, thoughtful player with an eye for a pass, it should come as no surprise that Anderson Hernanes de Carvalho Viana Lima is just as pensive and perceptive off the field as he is on it with the ball at his feet. You see, no one has compared playing for Juventus to cellular biology before...
Yet it was based on his determination, drive and strength in the tackle that Hernanes produced his finest cameos of the season in February's 2-2 draw with Bayern Munich at Juventus Stadium and the subsequent 2-0 victory over former club Inter in the league.
Operating in varying roles in midfield this season, the Brazilian has added valuable depth to the Bianconeri squad and no shortage of spiritual and scientific wisdom!
Defensive dirty work, tough tackles, timely interceptions, classy finishes, Mario Lemina has shown that he can do the lot in a promising season in the black and white of Juventus.
Consistently reliable when called upon, the midfield deputy has provided excellent cover for central positions and has proven that, with time, one of them may well become his own.
Two goals this season for the Gabon international, the first an example of great timing to tap home at the Stadio San Paolo in September, the second a superb show of dribbling, balance and inch-perfect finishing to wrap up the points against Atalanta in March.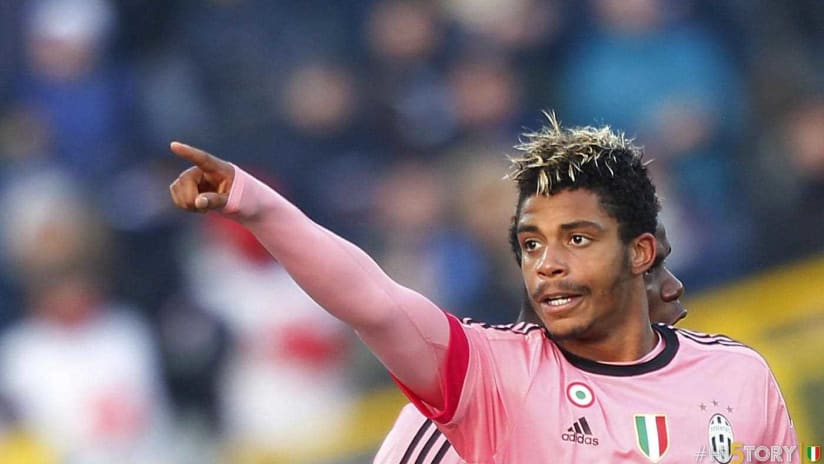 The response of fans and players alike to substitute Simone Padoin's excellently taken late goal against Palermo in Sunday's 4-0 victory at Juventus Stadium should tell you everything you need to know about the Bianconeri's number 20.
Hard-working, humble, devoted to his team-mates and a player and personality that every successful squad needs in its dressing room, you will struggle to find more universally respected and appreciated Bianconeri than Simone.
Filling in admirably for injured colleagues during a difficult start to the season, this year, like the previous four, has been another example of the 32-year old's unique versatility and air-tight game.
A right-back, an anchor man, a box-to-box midfielder, a winger, a ball-winner… a five-time champion and undoubted Juventus hero.
Fit, strong, quick, versatile, modest, and hard-working, every squad would be happy to have a Kwadwo Asamoah in their ranks. Luckily, for the last four seasons we've had the real thing.
Key to the second and third Scudetto triumphs thanks to his boundless energy and multi-purpose qualities, the last two seasons have been tough for Kwadwo whose spells in and out of the starting XI in the closing stages of this campaign will at least give Bianconeri fans hope that he will soon be back to his very best.
The terrific reception to his first full 90 minutes of the season against Udinese in January more than demonstrated the amiable Ghanaian's popularity among the fans who will no doubt be looking forward to seeing much more of him next season.
When you score the goal that wraps up a trophy 14 minutes into your debut, you probably know that it is going to be your year.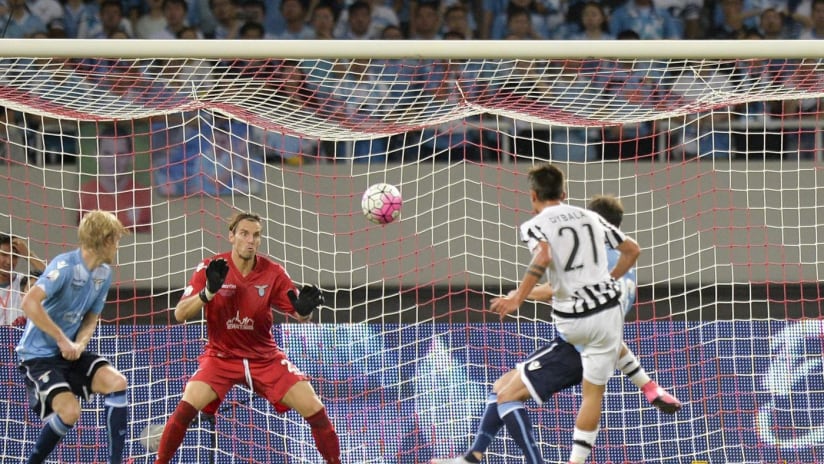 And what a year it has been for Paulo Dybala who ends the campaign as the Bianconeri's leading scorer and second-highest assist maker. Not bad for a first season in the black and white!
But it hasn't just been the quantity of the talented number 21's goals that have endeared him to the home faithful, it has been the quality of them.
The elastic control and clinical volley against Milan, the inch-perfect drive against Lazio, the ice-cool dummy against Fiorentina, the instinctive no-look finish against Roma, the increasingly trademark curlers against Verona, Frosinone and Sassuolo, not to mention the barnstorming braces against Udinese and Lazio, all strikes of staggering technical ability and huge importance to this year's title triumph.
These goals are, however, just a part of what has made Dybala such a key figure for the Old Lady. On the rare occasions when he doesn't tee up a team-mate or produce a moment of magic for himself, La Joya has relentlessly hounded down defenders, run the hard yards to make space for others or acted as the important link between the midfield and the final third.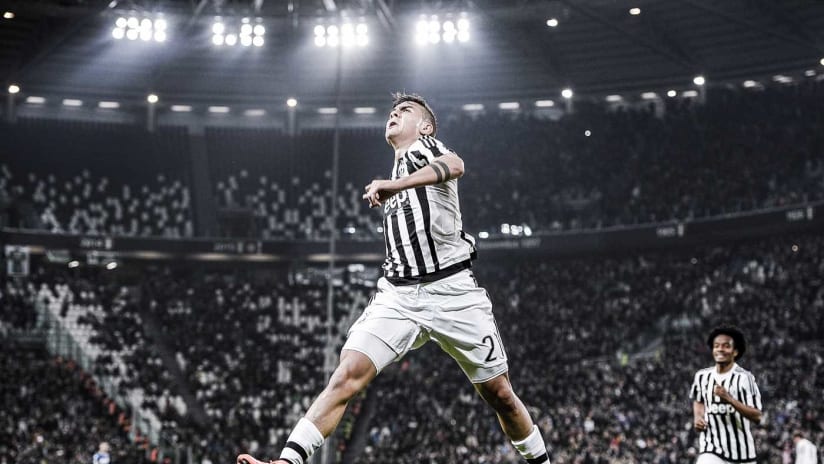 A two-time MVP of the month and key contender for goal of the season, Paulo Dybala is now a worthy champion of Italy.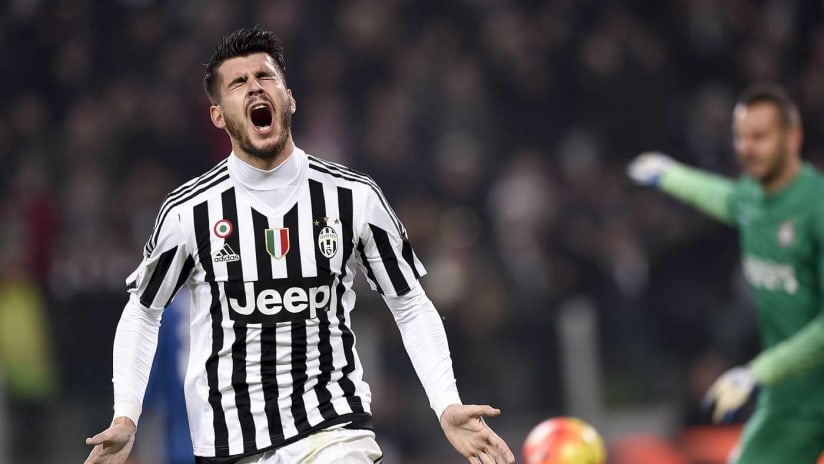 Ever the golden boy of the Champions League after equaling Alessandro Del Piero's run of scoring in five consecutive European matches and supplying the extraordinary assist for Juan Cuadrado in Munich, Alvaro Morata's year has been yet another of memorable goals, personal landmarks and trademark lung-busting dribbles.
On the domestic scene, Alvaro's doubles against Inter in the cup and Chievo and Torino in Serie A reconfirmed his status as of the division's most lethal finishers and cool-headed penalty takers.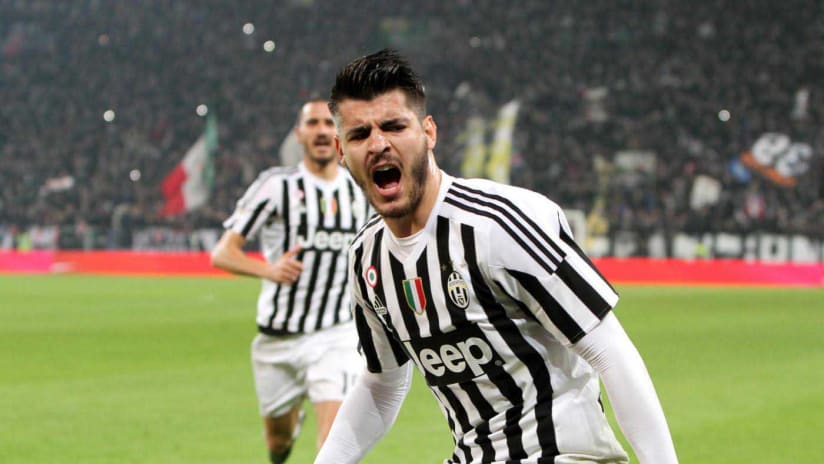 With no obvious flaws in his game, the Spaniard has shown that he can excel both as a target man as he can between the lines, making him one of the division's few complete forwards.
Whether it's roaring to victory in our Chinese New Year quiz, expertly fielding the questions of our Junior Members in Vinovo, joining fans for dinner or driving good friend Simone Zaza to work, Alvaro has shown that he can do just about everything off the field too.
VamosAlvaro.
On being presented as a Juventus player, Mario Mandzukic said that one of the best things about joining the Bianconeri was that he wouldn't have to play against them anymore.
Eight months on, defences up and down the country are wishing that they didn't have to face off against the bruising Croatian anymore.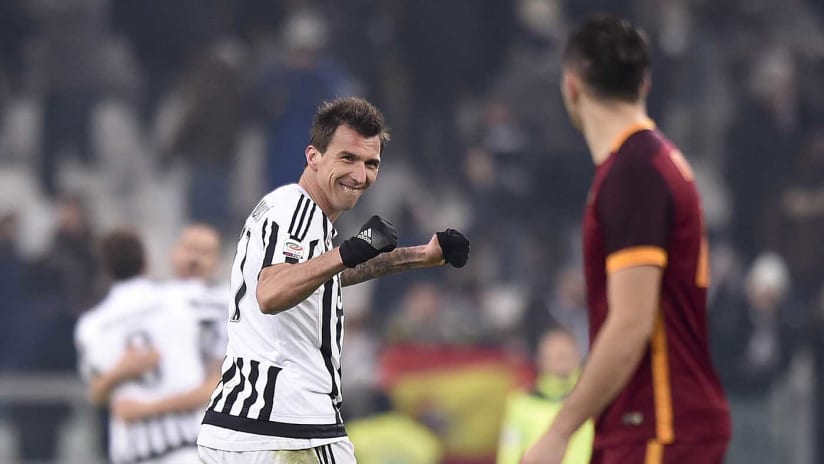 A hit with the home fans for his traditional no-nonsense style, Mandzukic's aggression, physicality and penalty box prowess have made him the perfect focal point of Juve's attack this term and the experienced striker has a host of crucial goals to his name to show for it.
Kicking off the term in style with a thumping header in Shanghai, Mario threw his body in where it hurt to net against Manchester City, Atalanta, Empoli, Carpi and Fiorentina in similar style to keep the Bianconeri marching on through the autumn but would save his best for the start of this very month against Milan.
The flick-on for Morata from Buffon's kick, the spin into space to receive the return pass and the firm finish to round it off was classic Mandzukic and typically one of the most important goals of the season.
From the cups to Christmas, it's been a year to celebrate for big Mario!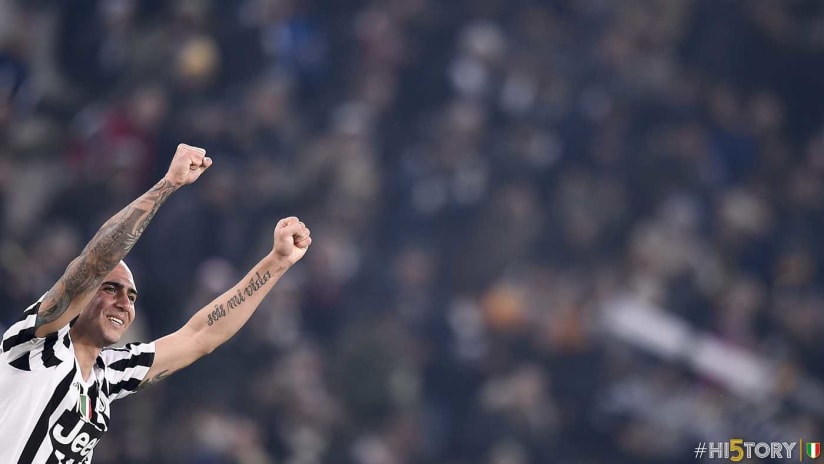 Juventus vs. Sevilla. Minutes on field: 10. Goals: 1.
Palermo vs. Juventus. Minutes on field: 7. Goals: 1.
Juventus vs. Torino. Minutes on field: 54. Goals: 2.
Juventus vs. Hellas Verona. Minutes on field: 11. Goals: 1.
Juventus vs. Napoli. Minutes on field: 32. Goals: 1. 
There is just one suitable word with which to describe Simone Zaza's Scudetto-winning season: explosive.
Explosive for his finishing, explosive for his on-pitch mentality, explosive for his impact from the substitute's bench, explosive for his stunning long-range effort against Napoli with two minutes remaining that put Juve top of the table for the first time in one of the most memorable Juventus Stadium nights ever.
Supplying the pace, power and passion to Juve's attacking quartet, Zaza has been an inspired addition to the Bianconeri squad and his now famous late goals have epitomised the never-say-die attitude that has characterised the Old Lady's fabulous five Scudetto-winning years.
For all of the above reasons and more, with particular focus on that screamer against the Partenopei, Simone's high-octane first season in a black and white jersey deservedly made him an instant hit at Juventus Stadium.