Pirlo: "Thrilled to be back!"
Pirlo: "Thrilled to be back!"
Pirlo: "Thrilled to be back!"
Andrea Pirlo faced the media for the first time since being appointed new Juventus Under 23 coach. The former Bianconeri midfielder outlined his vision, style of play and what it means to him to return to the football world: "First of all, I want to thank everyone, I'm very thrilled to be back in this world, and I cannot wait to start this new adventure."
THE PRESIDENT'S WORDS
"We're proud to welcome back Pirlo and to rediscover his characteristics as a man. Andrea starts his adventure on a project in which we're extremely proud. It's a journey, that of the Under 23's, that has found a strong identity in the past two seasons. Pirlo will be measured in a strongly competitive environment. Welcome back, Andrea, good luck for the next season and for your future.
"It was an extremely difficult year, for many reasons: a team is made up of dynamics, interpersonal relationships, expressions. We changed 13 people in our technical staff, and we continued to win. I have to congratulate Pavel, Fabio and Federico. We have a new big objective ahead of us and we are focused on the Champions League, starting from the very difficult match against Lyon."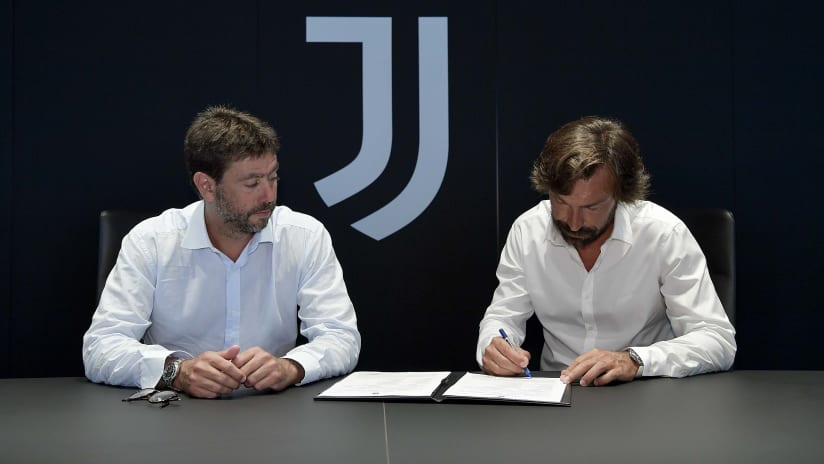 PARATICI REVEALS WHY PIRLO WAS CHOSEN
"The first year was a challenge, for which I thank everyone; in this season we have strengthened an identity. Now we have chosen Pirlo, for what he can convey to the players."
CHERUBINI TALKS U23 PROJECT
"In this project there's a both a sports and educational scope. Years ago we saw how many players would get lost along the way: thanks to the Under 23 we gave players to the first team but also to the transfer market. We're respecting a journey, and we don't hide our competitive ambitions either; Pirlo can help us take that further step. I was struck by his knowledge of our players and the humbleness with which he approached this world: he started well."
PIRLO: "I'LL ASK MY TEAM TO PLAY GOOD FOOTBALL"
"All the coaches that I've had gave me a lot, but everyone has their own style of play. I will ask my team to play good football, to win and to take control of the game. The playing systems are not fundamental as there can be many of them: the most important things are to fill the spaces on the pitch efficiently, the ideas of play and managing to express the characteristics of the players at your disposal to their fullest potential.
Also, I would've happily played with today's Juventus as I really like Sarri's football and it would've been perfect for my way of playing and characteristics."
VISION AND AMBITIONS
"I never thought about entering the Club's management: I like to be on the pitch, I have dreams and I want to reach them in person. I will explain to the lads what it means to play for Juventus and the work that they will need to be put in, game after game.
"I enjoy taking on responsibility: it makes me feel alive. The journeys of Guardiola and Zidane? Everyone would like to have their same journey but you need to earn it by gaining experience; the path I'm about to embark on is the right one for me.
JUVENTUS AND UNDER 23
"I felt immediately at ease within the Juventus family: even during the years away from the club, I kept the relationships. It was normal for me to live in Turin and it feels normal to return to work here.
I followed the growth of the Under 23: they've improved a lot also thanks to Sarri and the training sessions with the First Team."
IL MAESTRO'S GENERATION
My generation? It had a lot of desire to play football; a lot of them became coaches. We're good people with ambition, and with a desire to work-hard, rejoice and suffer. With that same passion that makes you keep moving forward."