Press Room | Comments from Allianz Stadium
Press Room | Comments from Allianz Stadium
Press Room | Comments from Allianz Stadium
Three important points for Juventus, who found their fourth consecutive victory by defeating Roma 1-0 at the Allianz Stadium thanks to a goal from Moise Kean. At the end of the match Mister Allegri, Mattia De Sciglio and Moise, author of the winning goal, commented on the success.
MASSIMILIANO ALLEGRI
"It's a good result, for the third time in a row we didn't concede and this is positive. Roma are a physical and technical team and we played a good match. At the beginning we tried to press them high up the pitch, but they were good. The goal was a good goal, built up with good action. It was an important game, we made a good step in the standings and now we are thinking about the Champions League, even if it was more important to win today and we did. Szczesny today, as in the other matches, showed his value and now he is playing with continuity. We played as a team, with a great spirit of sacrifice, also showing good dribbling in some places, but we need to improve in the passages over the last thirty meters, because sometimes we get too caught up in a frenzy. In this we will improve slowly. Roma today would have deserved a draw for the match they played and I think they are one of the best teams in the league, but these are games that are played on episodes, which today went to our way which happens when you work and play as a team."
MATTIA DE SCIGLIO
"This victory is of great value. The main objective today was to start again from where we had stopped before the break: we played a good match, all united against a great opponent. It was a difficult game, but the team worked well and now we have to continue on this path. We had some difficulties at the beginning, but the important thing now is to remain united: we are also transmitting the values ​​of this club to the youngsters, and we are becoming a good team. The Coach gives me great confidence, but I feel the confidence of the whole team and for me tonight it was important to play this match. The championship is still long, our goal is always to get back to the top."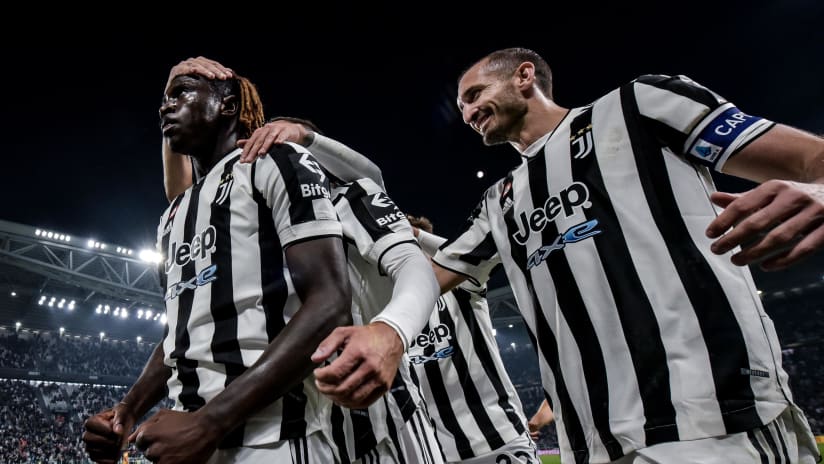 MOISE KEAN
"The goal? The ball went in, that was the only thing that mattered. Today it was important to win and bring home the three points: we did well. I can play anywhere, and I always make myself available to the Coach. The experiences I have had have helped me a lot and now I am here to give my contribution and give my best to reach our goals, which we can only achieve through hard work."