Press room | Reaction from La Spezia
Press room | Reaction from La Spezia
Press room | Reaction from La Spezia
The Bianconeri got the win they needed with a gritty display to come back from 2-1 down at Spezia. Match-winner Matthijs de Ligt hailed Juve's resilience when he spoke to the media afterwards, where he was joined by Leo Bonucci and Massimiliano Allegri.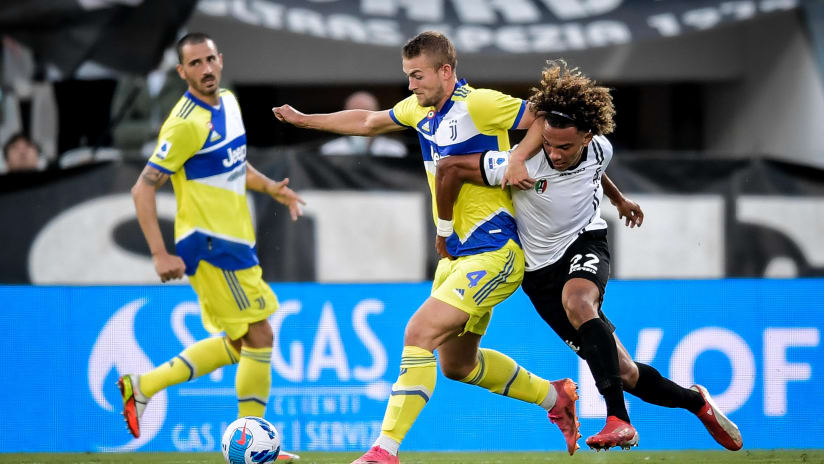 Matthijs de Ligt
"It was a tough match. We played well in the first half and scored a good goal but then they equalised with their only chance. The second half began terribly but we managed to come away with the three points today by playing with real character. When you're Juventus you have to win every game and two points from four matches is not what you expect from Juve. We need to go on a decent run now, taking things one game at a time, and see where it gets us. It's crucial we play as a team, all together – both those on the pitch and those off it. The guys who came off the bench today were a massive help."
Leonardo Bonucci
"It was important to return to winning ways to ease a bit of the pressure that's built up with results not going our way. We've got the win and that's the main thing tonight but we must do better, starting on Sunday, when we have a very tricky match against Sampdoria. We must keep working away, believe in what we can achieve and show we deserve to wear this jersey day in day out."
Massimiliano Allegri
"The most important thing was we won and I'm pleased because we had to dig in to get it. Spezia play good football. We weren't able to go 2-0 up but after Spezia took the lead we responded well. We were a bit tense because we've lost or drawn games in quite incredible fashion but we managed to limit the danger today. The lads who came off the bench did really well, entering the fray with the right mentality. We'll savour this win now and from tomorrow we'll concentrate on trying to win our first game at home. We need to hone our focus levels and enjoy ourselves a bit more too but we defended the right way today. It's hard to maintain the same line-up with so many games back to back but one thing we do need to work on is improving our ball circulation."