Ronaldo & De Ligt secure victory over Fiorentina
Ronaldo & De Ligt secure victory over Fiorentina
Ronaldo & De Ligt secure victory over Fiorentina
Cristiano Ronaldo converted two penalties and scored his 50th goal for the club, as Juventus beat Fiorentina 3-0 at Allianz Stadium in what was an early Serie A kick-off on Sunday afternoon. Matthijs de Ligt bagged the third and final goal on the stroke of the 90 with a powerful header!
GOALKEEPERS KEEP THE SCORES LEVEL
The first chance of the game fell to Fiorentina in the eighth minute: Pulgar received ball on the edge of the box, he to swing from distance only for Szczesny to smother his curler away. The Bianconeri pulled off an excellent move when Dougla Costa played Cuadrado, who then crossed the ball in for Pjanic. He went down to ground after going for the ball alongside Cutrone, no penalty was given upon VAR review as the Fiorentina didn't make any contact with him. Tek was called into action in the 22nds minute and he did not disappoint as he fingertipped away Chiesa's backheel. Next up it was Dragowski's turn to make a save, as he beat away Bentancur's rocket from distance to keep the scoreline goalless.
RONALDO FROM THE PENALTY SPOT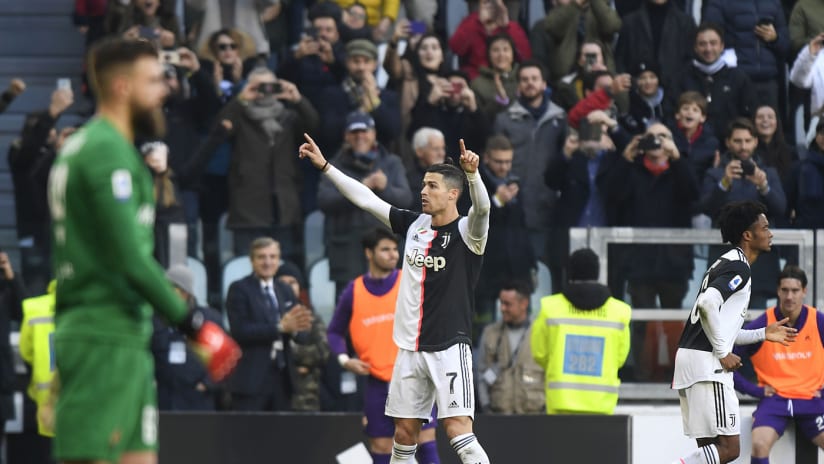 Juventus took the lead in the 39th minute after a penalty was awarded to the hosts following a consultation with VAR on Pezzella's handball inside the box from Pjanic's shot. Cristiano Ronaldo stood up and converted with precision, despite Dragowski having gone the right way. His goal makes it nine games in a row in which he has found the back of the net.
The start of the second half was a rather slow one, with both teams not managing to really test the opposition's goal by the hour mark. Benassi was the first to have a real chance at goal through his right-footed effort that went out by inches at the far post. That sparked a Juventus attack and they came so close to doubling their lead if it wasn't for a fingertip save by Dragowski to deny Pipa's effort from three yards out. Dybala was brought on in place of of his fellow countryman, while Rabiot's shot from distance was smothered away by the Viola goalkeeper. Juventus made it 2-0 with ten minutes remaining after the referee awarded a second penalty for the Bianconeri following a foul on Bentancur: Cristiano Ronaldo stood up to take the effort and he slotted it low into the bottom left-hand corner to score his 50th goal for the club. The result was put beyond a doubt when Matthijs de Ligt made it 3-0 with a powerful header that rattled the back of the net in the 90th minute.
Juventus: Szczesny; Cuadrado, Bonucci, De Ligt, Alex Sandro; Rabiot (Matuidi 87'), Pjanic, Bentancur; Douglas Costa (Bernardeschi 83'), Higuain (Dybala 67'), Ronaldo
Substitutes: Buffon, Pinsoglio, De Sciglio, Rugani, Coccolo, Ramsey, Matuidi, Bernardeschi, Dybala
Fiorentina: Dragowski; Ceccherini, Pezzella, Igor; Lirola, Pulgar, Benassi, Ghezzal (Vlahovic 60'), Dalbert; Chiesa, Cutrone (Sottil 73')
Substitutes: Terracciano, Brancolini, Badelj, Sottil, Agudelo, Venuti, Vlahovic, Terzic, Dalle Mura