Sarri: "A difficult match awaits us in Genoa"
Sarri: "A difficult match awaits us in Genoa"
Sarri: "A difficult match awaits us in Genoa"
Juventus will be back on the pitch at Genoa's Marassi Stadium tomorrow evening for Matchday 29 in the Serie A calendar. An important match, which was today previewed by Maurizio Sarri at Allianz Stadium in his briefing to invited journalists. "Playing away at Genoa is difficult for everyone, in home games in recent years they have always done well. The game is a complicated one, as are the games against teams that are fighting against relegation. We have to be aware of this difficulty, the players know that."
MATCH PREP
"Now we are still in the phase where we are still looking for our best physical condition, and that is valid for all of the teams. As the days go by, the reverse problem will arise with the accumulation of matches. We are changing the management of the post-game routine, we don't have the opportunity to do intense workouts, it is all about recharging and preparing for the next game. The five substitutions is something to be handled with care, but it is also a new and stimulating experience."
PLAYERS' CONDITIONS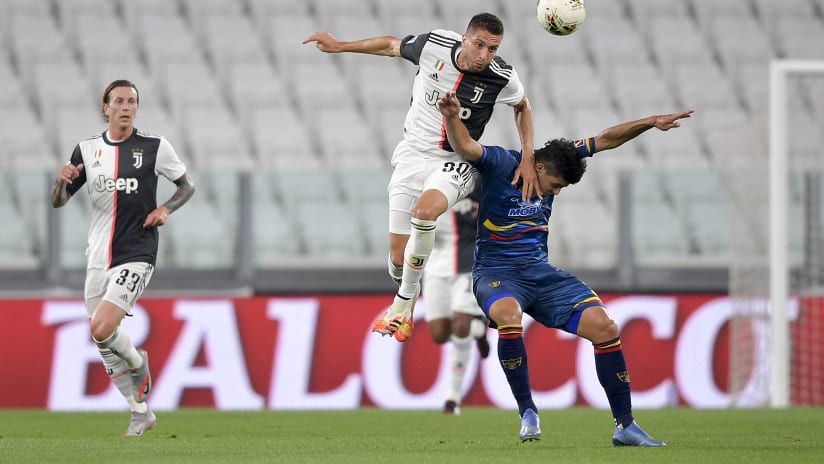 "Right now we cannot afford to alternate more than two-three players, in the last game we had three Under 23 players and three goalkeepers, we don't have many variables. I hope to have some players back within the next week or so in order to give me some more options. Higuain is better, I only have an uncertainty about his playing time. Bentancur is growing really fast and is even stronger than what I expected. He has acquired personality and conviction, is gaining more experience and still has room for improvement. Ramsey is also better, I saw him more lively in the match against Lecce than against Bologna. I haven't yet decided if Buffon will play tomorrow, but the day of the record will arrive sooner or later this season."
THE EMPTY STADIUM FACTOR
"The empty stadiums continue to be a small factor, whilst it's true that there are no fans, those who play at home can rely on small certainties, there are usual habits that reassure the players."