Thanks for everything, Maestro
Thanks for everything, Maestro
Thanks for everything, Maestro
Andrea Pirlo has ended his magnificent four-year stay at Juventus after officially completing a move to MLS outfit New York City.
The mercurial midfielder represents the beginning and, until now, the progression of a cycle that has seen the Bianconeri return to the top table of football in Italy and Europe. His visionary passing, pinpoint assists, spectacular goals and masterful free-kicks have been instrumental in the club's continued rise.
Pirlo arrived in Turin in the summer of 2011. It was an exciting time for the club, with Juventus Stadium officially opening on 8 September that year. And in the first league game at the new arena it was Pirlo who set a precedent for the triumphs to come: on 11 September, just three days after the opening ceremony, it took a mere 16 minutes for the Italian to provide an ingenious assist for Stephan Lichtsteiner to fire home against Parma - a clear sign of glorious things to come.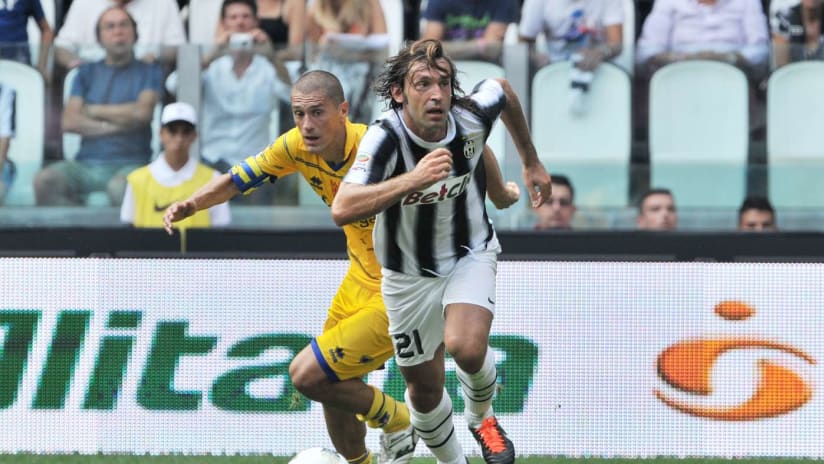 Bianconeri supporters may have had to wait until February 2012 for Pirlo's first goal in the fabled black and white of Juventus, but it was more than worth it. Awarded a free-kick on the edge of the area against Catania, Andrea stepped up to take it and – sure enough – had the net billowing and the stadium in raptures. It was the first of 19 goals he would score for Juventus, each one a thing of beauty, each one a jewel in his Juve crown. Pirlo has always been renowned for his ability from set-pieces and more than lived up to his reputation as he scored five of them in the 2013/14 season. Indeed, whenever the Old Lady won a free-kick in the Italian's favourite position – central, a few yards outside of the penalty box yet not too far away from goal – the whole stadium knew what was coming next. Whether it was a curling shot, a low strike under the wall or a dipping, swerving effort, the result was often the same. Although predominantly an architect, a creator of chances for his team-mates, Pirlo was never one to shy away from a chance to shoot. He regularly stepped up with important, match-winning goals.
In March 2014, Pirlo scored two stunning free-kicks in the space of five days to strengthen his Bianconeri legend. On 16 March, an 89th-minute set-piece against Genoa at the Stadio Luigi Ferraris gave Juve a 1-0 win and helped them on their way to that year's record-breaking Scudetto triumph. Then, on 20 March, Pirlo fired home another late free-kick to send his side into the Europa League quarter-finals at the expense of Fiorentina.
You see, there's not much that rattles Pirlo (lest we forget the #PirloIsNotImpressed craze). He certainly kept a cool head in the final throes of the thrilling Turin derby at Juventus Stadium in November 2014. With precisely six seconds of added time remaining, Pirlo drifted undetected into a prime shooting position, received the ball from Arturo Vidal and guided an unstoppable strike towards the bottom corner of the net and into the Derby della Mole history books.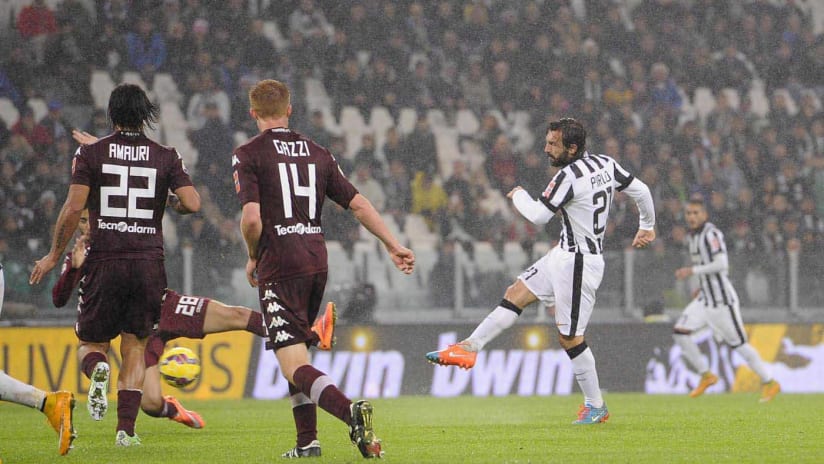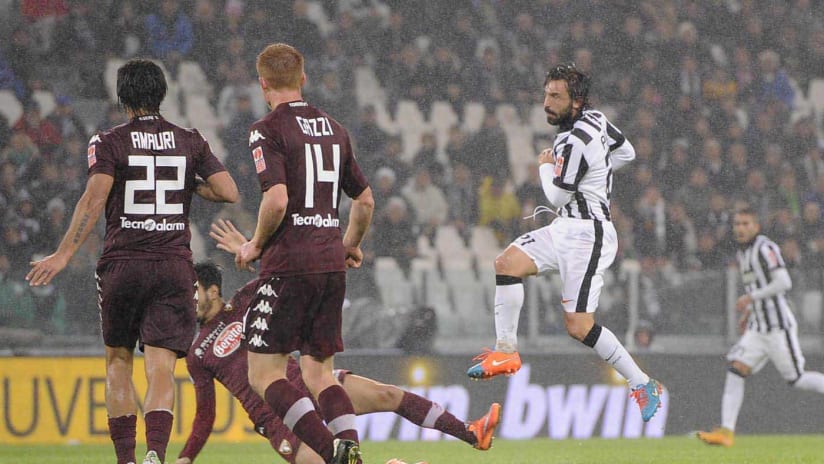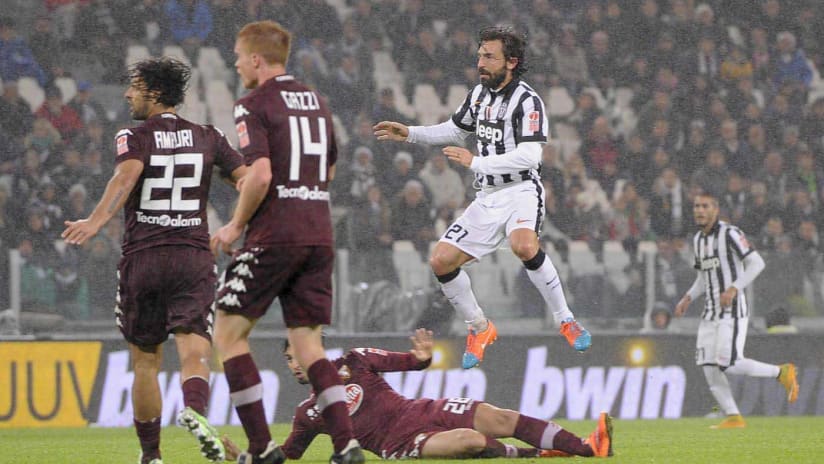 Yet despite all of this, despite his 164 appearances, 19 goals (15 of which were free-kicks) 35 assists and seven trophies, Pirlo is a player – a man – who could never be summed up with mere statistics.
Pirlo is silent charisma, the steadying hand in the middle of the park, the dummy that undoes the opposition defence. He's that unexpected ball that splits the game wide open, the lofted pass that brings a team to its knees.
It has been an honour and a privilege to have shared these four fantastic seasons with Andrea and all associated with Juventus Football Club wish him the very best for the future.
Thanks for everything, Maestro, and good luck.