Welcome to Juventus Nation
Welcome to Juventus Nation
Welcome to Juventus Nation
Four years ago, with the creation of the official Juventus Facebook page, we set out together on the beginning of a new era for all things black and white.
With the likes ticking past one million, on to five million, and then to ten, the level of your undying support on the world's most popular social media network got us thinking about how best to honour your efforts.
So today, as that figure reaches a remarkable 20,000,000, our plans can finally come to fruition. With a population dwarfing that of many countries around the world, the time has finally come for the creation of our very own Juventus Nation.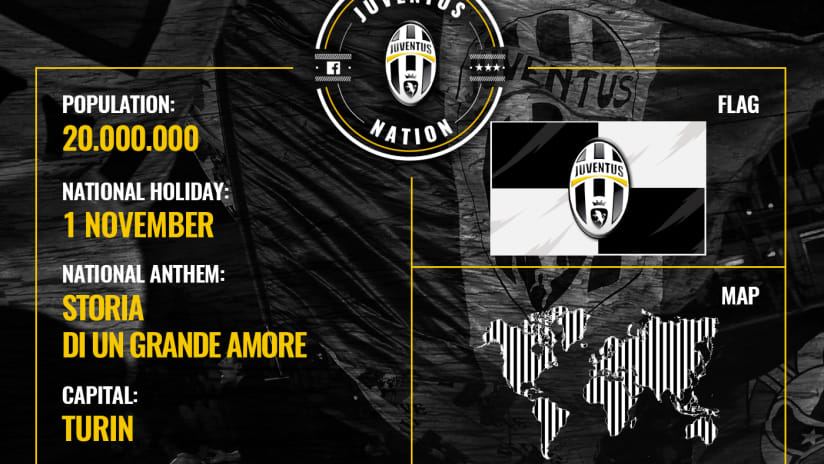 While such a landmark figure speaks for itself, the basis for the foundation of a state devoted entirely to you, our Bianconeri public, goes far beyond numbers on a page. Think about it, we've got all the necessary trappings of a country: we have our own flag, national anthem and capital city and soon we'll even have our own constitution.
With devotees to the Old Lady scattered all over the globe, the borders of our lands matter little. Even less so since every Juventus Nation citizen will have the opportunity to ratify their love of the black and white jersey by signing up for an official JPassport - all with the simple click of a button.
If the pride of pocketing your own piece of Juve history wasn't enough, we've even got a rather special prize up our sleeves for the lucky Juventino selected to represent their new country in an official capacity for the visit of Milan in November.
With a 20 million following behind us and now with the backing of the powers that be, we're more unstoppable than ever before.
Welcome to Juventus Nation.