Allegri & Rabiot: "A must-win match"
Allegri & Rabiot: "A must-win match"
Allegri & Rabiot: "A must-win match"
Massimiliano Allegri and Adrien Rabiot were at the Allianz Stadium today to present the Champions League match against Maccabi Haifa at the Sammy Ofer Stadium in Israel. The game is scheduled for an 18:45 CEST kick-off tomorrow, Tuesday 11 October.
Last week in Turin the Bianconeri won 3-1 with a brace from Adrien Rabiot and a goal from Dušan Vlahović - the aim is to repeat that end result also in Israel and bring three important points back to Italy.
MASSIMILIANO ALLEGRI
"Tomorrow will be a complicated game because they are a team that showed some good football here at the Allianz Stadium. They shoot well, so in the passionate atmosphere, we will have to be careful not to repeat the mistakes we have made up to now. We need a compact performance.
"The important thing will be to show great attention in certain moments of the match, especially in defence. We must mark them well to deny them shooting opportunities, an aspect we have failed to well at so far. The details will make the difference. I've asked the players to be more compact, to eliminate the mistakes we have been making, mistakes a team that aims to win must not make.
"We have the opportunity to take the field and get back on our feet straight away. We need to think about what our path holds in store for us and what must be done day after day with passion and desire to achieve our objectives. We must be aware of the importance of this game and go out on the pitch and do our best from every point of view."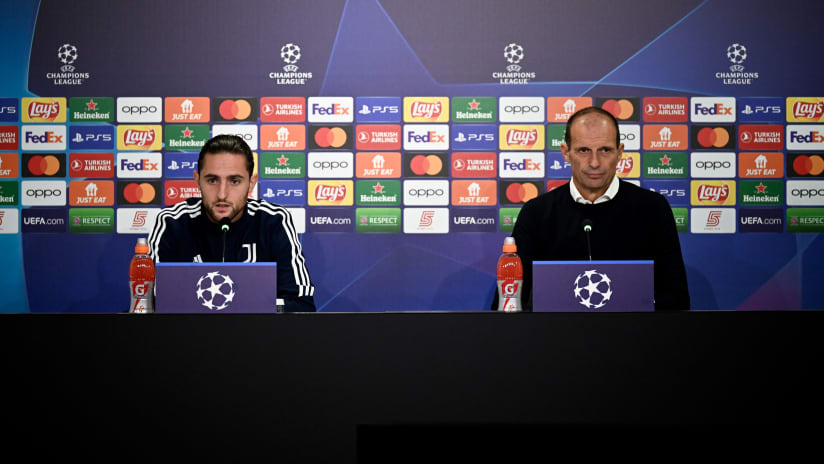 ADRIEN RABIOT
"Our goal must be to take three points from the home of Maccabi Haifa to continue our quest for qualification. There is a great desire on the part of all of us to do exactly that. We have been looking to each other to identify the problems and solve them. As a group we are training well but we must be able to produce what we do in training in the actual match.
"I feel important for the team, but each of us has an important role and we all want to help the team get through this period. The World Cup? Right now I'm not thinking about it, there are many matches before then and we have to do well in them. When the time comes we will focus on the World Cup."