Dani Alves signs for Juventus
Dani Alves signs for Juventus
Dani Alves signs for Juventus
Juventus Football Club can today confirm that Dani Alves has agreed terms on a two-year contract with the club until 30 June 2018 with an option for an additional year.
The unrelenting success and remarkable consistency of the second most decorated player in UEFA competition history has seen the Brazilian deservedly be considered among the greatest wing-backs of his generation.
Having played a key role in one of the most trophy-laden spells of any club over the course of the game's existence, including a history-making pair of domestic and European trebles at Barcelona, Alves' transfer to Juventus marks the arrival of a natural-born winner and a true master of his trade.
Explosively athletic, sharp in the tackle and possessing the sort of vision and weight of pass that normally characterise attacking midfielders, the 33-year old fits the mould of the modern full-back and continues the Selecao's tradition of producing exciting and dynamic wide players.
Starting out at local side Bahia in his native Brazil, a string of impressive performances and a subsequent switch to Spain and Sevilla ensured that the then 19-year old would not have to wait long to showcase his talents on the world stage. It was throughout that richly successful five-year stay in Andalusia that Alves' potential and remarkable hunger for silverware took off.
Peaking between 2006 and 2008 with back-to-back UEFA Cup winners' medals - the first of nine European trophies - a Copa Del Rey crown and a permanent place in the Brazilian national side, it was only a matter of time before Barcelona swooped to make him the third most expensive defender in history in July 2008.
Becoming an integral part of an all-conquering Barca side, a staggering 23 major trophies - including three Champions League triumphs - would follow for a player who ended his Blaugrana career with the second highest number of league appearances for a foreigner (239) and a sixth La Liga title in eight seasons in Catalonia.
The Brazilian showed no signs of dropping his peerless standards in the most recent campaign and makes a first step into Italian football on the back of yet another productive past nine months on the field. Alves made a total of 29 league appearances for the Spanish champions and as the chart below demonstrates, boasted superior figures to his defensive colleagues in the division over the course of the 2015/16 season.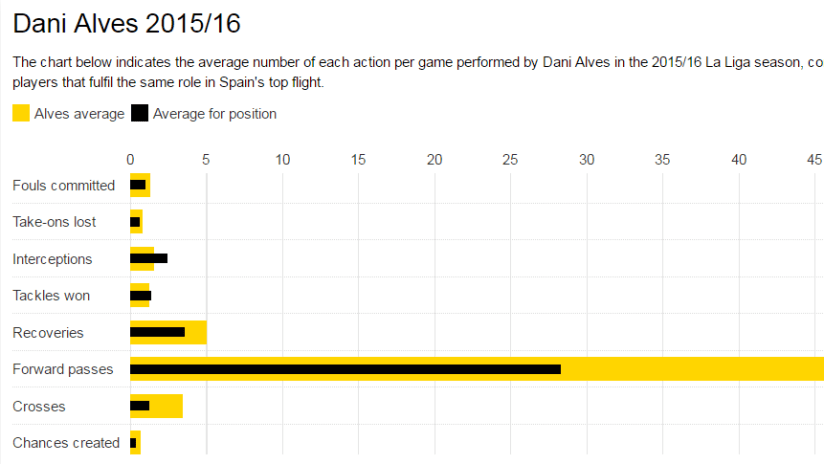 Unsurprisingly, the South American excelled particularly in his offensive duties, completing almost double the average number of forward passes compared to any other full-back in La Liga (50.31 per game vs. 28.34) while supplying just under three times as many crosses (3.45 vs. 1.25).
Add to that his high rate of recoveries (5.07 vs. 3.62) and it is clear that the Bianconeri are acquiring a defender of immense aggression, drive and extraordinary technical quality, who promises to provide an added angle of attack for Massimiliano Allegri's outfit down the right side.
Three UCL crowns, two UEFA Cups, five Copa del Rey trophies, five Spanish Super Cups, four UEFA Super Cups, three FIFA Club World Cups, six La Liga titles: such has been the course of Alves' career so far, who would bet against adding to that astonishing tally in the coming two years?