Bem-Vindo, Douglas Costa!
Bem-Vindo, Douglas Costa!
Bem-Vindo, Douglas Costa!
Juventus Football Club is delighted to announce the signing of Douglas Costa from Bayern Munich. The Brazilian arrives on an initial one-year loan deal with an option to buy.
AGREEMENT WITH BAYERN MÜNCHEN FOR THE TEMPORARY ACQUISITION OF THE PLAYER DOUGLAS COSTA
Turin, 12 July 2017 - Juventus Football Club S.p.A. announces that the agreement with FC Bayern München AG for the temporary acquisition, until 30 June 2018, of the registration rights of the player Douglas Costa de Souza has been finalised for a consideration of € 6 million to be paid within seven days of the FIGC registration execution.
The agreement also provides Juventus the option right, to be exercised before 30 June 2018, for the definitive acquisition of the player at a price of € 40 million to be paid in two financial years. The consideration may increase of € 1 million on achieving given conditions in the course of the duration of the contract.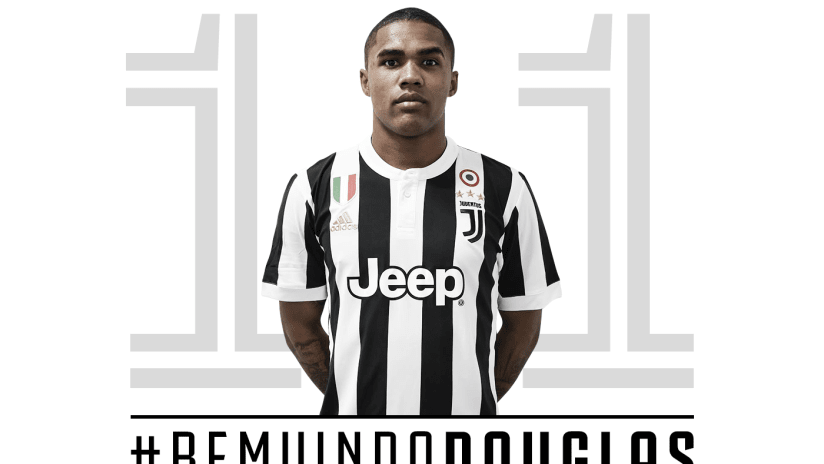 Speed, skill, stamina, assists and scoring ability. Douglas Costa has shown he has all of the above in his locker wherever he has played, from Brazil, via Ukraine to Bavaria, making him an addition of real quality to the Bianconeri's ever more fearsome forward line.
Ever since crowning his professional debut with an equalising goal for Gremio – in a 2-1 win over Botafogo on 4 October 2008 – Costa's career is littered with moments in which he made the desired impact at the perfect time.
An impressive first season in Porto Alegre saw the winger called up by Brazil for the South American Under 20 Championship held in Venezuela. His three goals propelled the Selecao to the title and subsequent qualification for the U20 World Cup in Egypt in 2009.
Netting against Australia in the group stage and converting his penalty in the final against Ghana – Brazil ultimately lost on spot-kicks – it was at this tournament that Costa caught the attentions of clubs around the world and it would not be long before he switched South America for eastern Europe.
In January 2010, Shakhtar Donetsk swooped for Costa's services to boost their title bid and that's just what he did. Five goals in 13 league games wrapped up not just the Ukrainian Premier League, but also the national Super Cup.
This was just the start of a trophy-laden spell in Donetsk. In five and a half seasons at the club, he would get his hands on five league championships, three national cups and four Super Cups.
With assists aplenty as well as an eye for goal, Costa was also making waves in the Champions League. His two strikes in the 2010/11 campaign – against Braga and Roma – saw Mircea Lucescu's men reach the quarter-finals.
These were heady days for the Donetsk outfit, who he helped exit the UCL group stages on a further two occasions in 2013 and 2015, whilst maintaining their status as Ukraine's top club in the process.
Costa had accumulated an impressive total of 38 goals from the wing by the time Bayern Munich came calling for his signature in the summer of 2015.
DOING THE BUSINESS AT BAYERN
In Bavaria, the Brazilian's blistering pace added a crucial dimension to a high tempo side – then managed by Pep Guardiola – where he instantly held down a starting role.
Playing 23 out of 27 Bundesliga matches from the first minute during 2015/16, Costa scored four goals and set up a further nine, as Bayern stormed to their fourth consecutive league title.
He would soon make his mark too in the Champions League, netting against Dinamo Zagreb and Olympiakos, whilst providing three assists, including two against Juventus in the round of 16.
Costa registered precisely the same statistics in his second European campaign for Bayern (two goals, three assists), with Rostov and Arsenal the latest to concede against the Brazilian, while he would hit another four goals in the league to help Carlo Ancelotti's men to a fifth straight Bundesliga title.
Since making his international debut on 12 November 2014 against Turkey, Costa has appeared a total 21 times for Brazil, scoring three goals in the process – against Peru in the Copa America and a World Cup qualifier, and against Uruguay in the Selecao's successful qualifying campaign to reach Russia 2018.
The 26-year-old featured in both of his country's friendly matches against Argentina and Australia this June, playing just in front of new team-mate Alex Sandro down the left.
Naturally left-footed, Costa typically hugs the left wing, but is more than capable and willing to do damage down the opposite flank as well. He scored one of his four league goals last season with his right foot.
The Brazilian is among the best in the world when it comes to one-on-one situations: he completed 148 dribbles over two years for Bayern – more than any other Bundesliga player – showing outstanding acceleration and an unpredictability in the way he surges towards the 18-yard box.
He also boasts impressive numbers when it comes to crossing. In 2016/17, he whipped in 2.78 on average per match in the league, creating a total 35 goalscoring chances for the Bavarians.
Now, Bianconeri fans can look forward to watching one of the world's most talented wingers at work in the black and white stripes of Juventus.