Emery and Llorente predict tough tie
Emery and Llorente predict tough tie
Emery and Llorente predict tough tie
The experience and inside knowledge of former Juventus striker Fernando Llorente and the in-depth analysis into Italian football conducted by coach Unai Emery both point to one conclusion for Sevilla: Tuesday night's Champions League tie will see the Andalusians come up against "one of Europe's best."
Addressing the media ahead of tomorrow's encounter, critical for the Spanish club's chances of qualifying for the Europa League via a third-place finish in Group D, Emery and Llorente were in agreement as to the challenge facing their side.
The pair however were confident nonetheless that the Andalusians could cause plenty of problems for their visitors.
With subjects ranging from El Rey Leon's reunion with his old team-mates, pipping Borussia Monchengladbach and recent victories over Real Madrid and Barcelona, here is a selection of the key quotes from the duo's pre-match press conference, beginning first with the ex-Juve forward:
A "magnificent" two years in Turin
"Tomorrow's game will be a special one for two reasons: the first is that there is still a Europa League place to play for and we don't want our European involvement to end just yet.
"The other is the fact that I will be facing opponents who were my team-mates up until just over three months ago. It will be an emotional occasion for me, I spent two magnificent years in Turin with Juventus.
"The most important thing however is to win and seal our place in the Europa League. Achieving that is unfortunately out of our hands but there's still a chance that Manchester City (who face Sevilla's rivals for third place Borussia Monchengladbach) will pull out the result we need in Tuesday's other game."
"Juve's defence is one of their most important qualities and they've always been so strong in that department. From front to back, they have an excellent squad, one of the best on the continent in fact.
"While I was there, they reached the Champions League final so that shows you just how tough tomorrow night's game will be.
"Having said that, we have some great attacking talents of our own that can cause trouble for anyone in this competition."
"Everyone is well aware of the importance of the match and we're chomping at the bit to go out there and show the world what we can do.
"Add to that the enthusiasm passed on to us from the boss, we're feeling extremely motivated. Any Champions League fixture is always a massive occasion for any player."
While concurring with his compatriot, Blanquirrojos boss Emery was keen to stress the fact that his Sevilla side were still yet to reach the peak of their powers this season and are well aware of the qualities possessed by their Italian opponents.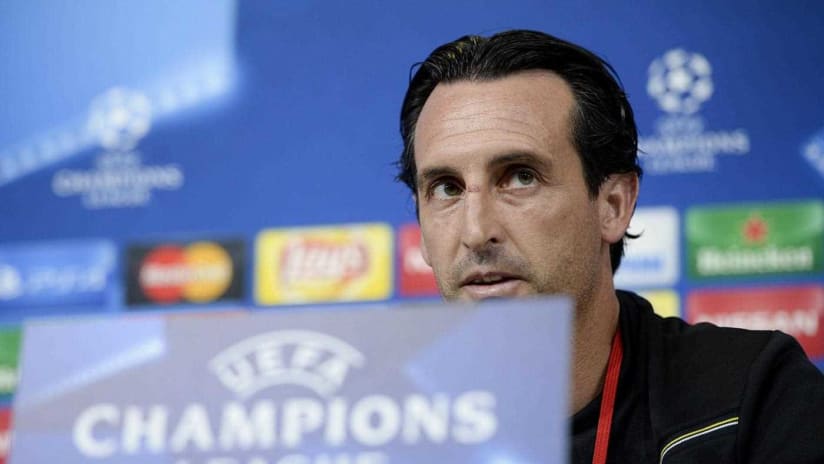 "We still have players bedding in at the moment, both on and off the field and that's a process that doesn't occur overnight. The issues that we've had to face have been tough and I think that explains our disappointing start to the campaign.
"We were among the Group D favourites, of course, but so were Manchester City and Juventus. What we need to do now is make sure that we beat Borussia Monchengladbach to third place so we can compete in the Europa League, a competition that is very important to us."
Juventus, "one of Europe's best"
"To get a result tomorrow we have to believe in ourselves, just as we did when we beat Barcelona and Real Madrid earlier in the season here.
"Juventus are a team of similar stature to Barca and Real so we'll need to produce the same quality and intensity levels tomorrow night as we did then.
"I've studied Serie A in great depth and the quality of Juventus' defence is truly unique for its organisation, discipline and consistency. They have three superb centre-backs in Barzagli, Chiellini and Bonucci.
"Whether they play with a three or a two-man defence they are always solid and that kind of reliability is difficult to come by at any level.
"Naturally we need to improve all over the field but particularly in the final third since we pride ourselves on our offensive philosophy. There's work to be done in forward areas, not only in terms of our finishing, but also in the delivery of the final pass and our movement off the ball.
"Our performances in that department at the moment are below-par compared to last season.
"This is my fourth season at the club and we've played with two strikers on many occasions, even when we were criticised for a lack of balance.
"Obviously losing a player like Ivan Rakitic meant we had to change our system and deploy a lone striker and a five-man midfield instead.
"We've earned some good results playing with one man up front and it's a setup with which we are equally as comfortable. We're under a fair bit of pressure at the moment to put points on the board so the most balanced formation is the best one for us.
"Having said that, there is a possibility that we will play with two strikers tomorrow night."