Fans flock to Juventus Village Jakarta
Fans flock to Juventus Village Jakarta
Fans flock to Juventus Village Jakarta
A familiar face kicked off the special event organised by Juventus at Lippo Mall Kemang in Jakarta between 27 and 29 January. 
"It's a fantastic feeling to be here in Jakarta with Juventus," explained Dutchman Edgar Davids, who played for the club between 1997 and 2004. "I'm thrilled to spend time with Bianconeri fans in Indonesia, a country that I've visited many times and where I've always left with happy memories."

The event was launched with an opening ceremony on Friday followed by a range of activities geared towards the numerous Juventus fans in attendance, who had the chance to get a close-up look at the trophies won by the club, experience the emotions of sitting at the desk in the press conference room, take a photo of a replica Juventus dressing room and sit in our players' seats, view our range of merchandise, play FIFA in a dedicated area and test themselves at a station for football drills and football pool. 
During the meet and greet events over the course of the three days, the fans got to rub shoulders with club legend Edgar Davids, who was more than happy to take selfies, videos, sign autographs and interact with all in attendance, including media representatives.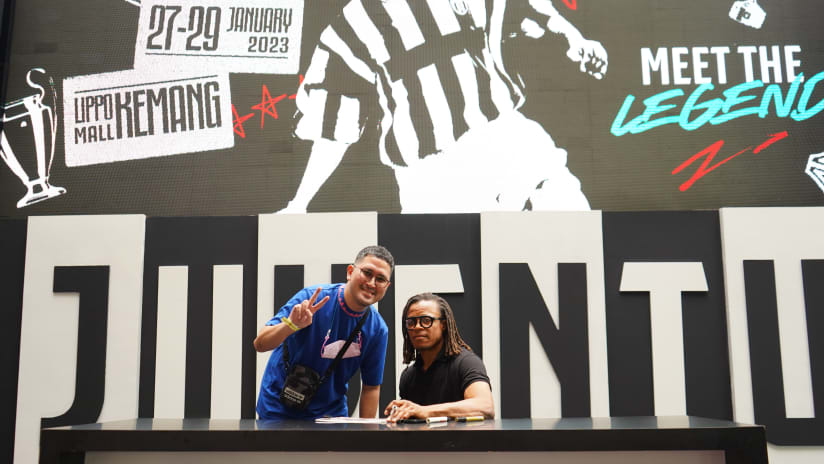 The brand-new Juventus Academy Indonesia with headquarters in Bali was also unveiled to the many fans at Juventus Village.
The Academy has a five-year partnership in place and besides all the services that the club offers its international academies, the Bali one will include on-site training courses with professionals from Juventus, local camps and a launch event for the new training centre in Bali featuring a Juventus Legend.
Managing Director Juventus APAC Federico Palomba explained the reasoning behind opting for Bali. "It's because the club believes it's one of the most fascinating places in Asia and it's the ideal location to bolster our brand. Every year, more and more children grow up in Asia with a passion for football, which simply has to be fantastic news for us. Besides this factor, which is important in itself, there's also the crucial fact that we've found a partner that shares our vision and passion, so we couldn't ask for anything better."
The event in Jakarta can be swiftly summarised as a roaring success. Over 5,000 visitors headed to Juventus Village over the three days and more than 2,500 attended the watching party for the Serie A fixture against Monza before final farewells were exchanged.