Legend's Corner | FROM JUVE TO THE WORLD - SEBASTIAN GIOVINCO'S JOURNEY
Legend's Corner | FROM JUVE TO THE WORLD - SEBASTIAN GIOVINCO'S JOURNEY
Legend's Corner | FROM JUVE TO THE WORLD - SEBASTIAN GIOVINCO'S JOURNEY
Who knows if the child that pulled the Juventus shirt over his head for the first time would have imagined having achieved so much in the black and white stripes and in the world. Who knows if he would have imagined that at 36 he'd be telling us about it from his home in Toronto.
I remember my first steps at Juve. I was playing with a small local team in the Turin suburbs, where everyone had the dream of joining a big club. So, imagine the thrill when I managed to do it! Yet, at first I wasn't fully convinced - I didn't want to leave my friends, the ones I had always kicked a ball around with. Let's say it wasn't a fairy tale start. At first everything seemed too big for me. But I dug in and adapted, two abilities which later have come in extremely useful throughout my life, and of course I did it thanks to my family.
My family have been fundamental to me and have never stopped supporting me. How many sacrifices they made! Anyone who has a son or daughter with the same dream I had knows exactly what I mean by sacrificies. My dad Giovanni travelled kilometre after kilometre to accompany me. He would leave work early - and he also had to divide his time between my brother and me since we had different schedules. My family were there also during the most difficult moments, moments that are part of growing up. That said, I cried only once as a child, I don't even remember the reason anymore, perhaps because I hadn't been picked for a game or two. My parents were the ones that gave me the strength not to give up.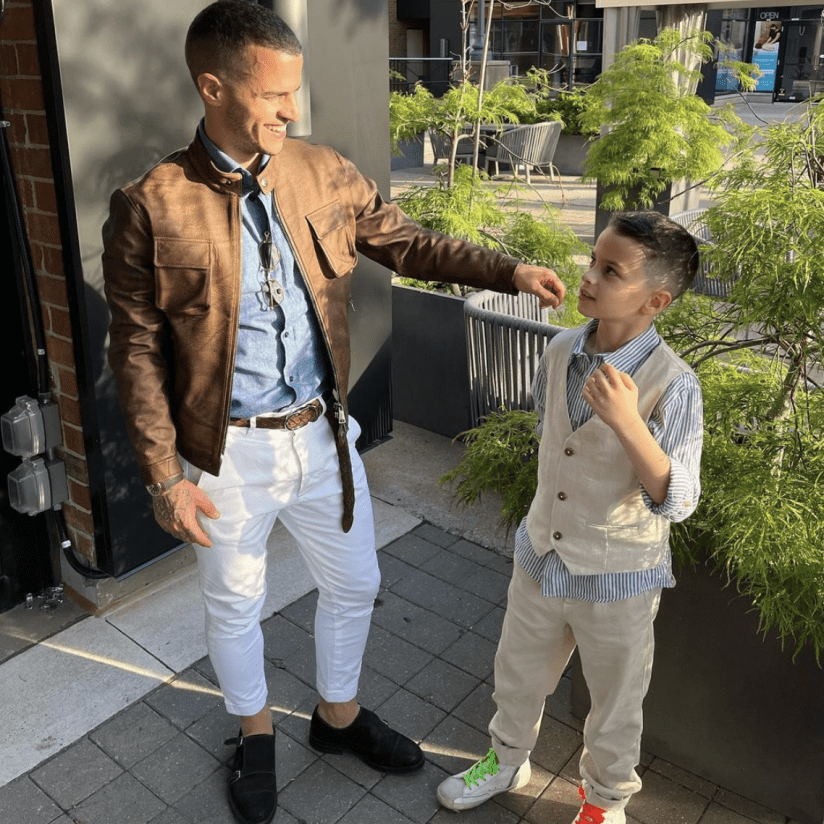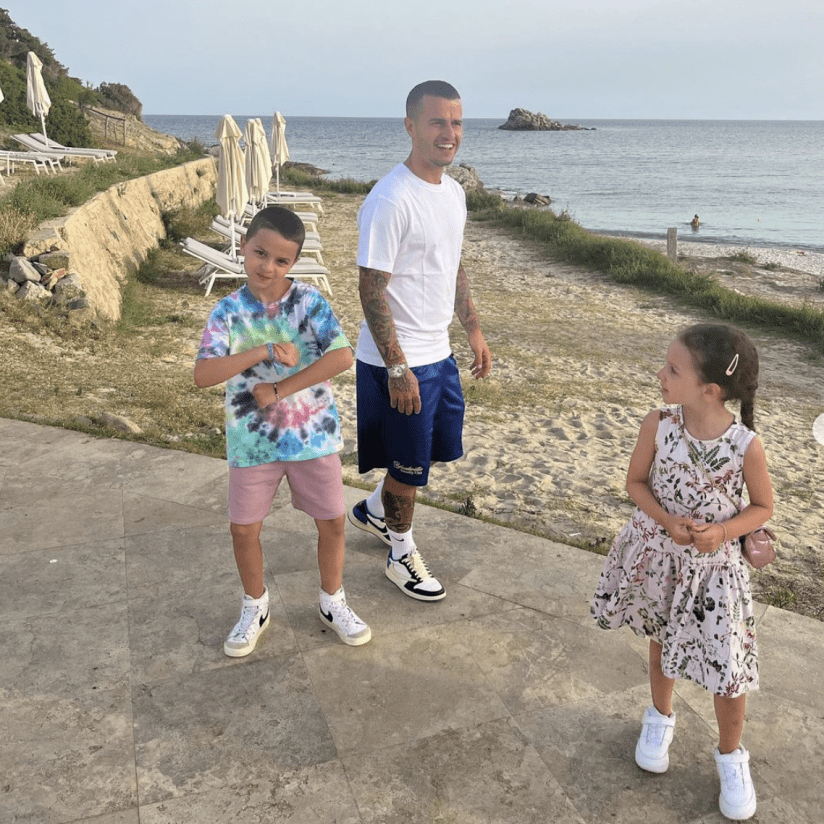 That's what I'm trying to pass on to my son Jacopo. He plays football here in Toronto, and I want him to be aware of the true value of things and never think that he can take anything for granted because of his surname. He now plays for the Academy B team because to step up to the A team he needs to work harder. He is intelligent, he's quick to understand and he's working on improving. Above all he enjoys himself and this is what makes me happy.
One of my first days at training, Ibra walked passed me and quipped, "You're a stupid boy" even if I hadn't done anything. Then, I understood it was his way of testing me.

Sebastian Giovinco
Getting back to Juve, which was the key move in my career. My path from the Primavera to the First Team is common knowledge. The first time I got called up was to be part of Fabio Capello's Juve, an immense team. At training, everywhere you turned you saw a top act. I remember Ibra needling everyone, cracking jokes and winding people up all the time. Once, it was one of my first days at training, he walked passed me and quipped, "You're a stupid boy". I was gobsmacked. Stupid? Why? I hadn't done anything. I said nothing and kept on training. Then, having got to know his character, I understood - it was his way of testing me, he wanted to see how I reacted to the pressure. If you let him get you down and or if you took the huff, evidently, you weren't ready. If, though, it was like water off a duck's back, it meant you could withstand the pressure of stadiums and opponents.
That lesson, together with all those learned at Juve, I took with me everywhere. If I think about it, I've spent practically half of my life at Juve, and you learn more than just how to play football there. I can't forget the support of my family then as well, even at the risk of sounding boring, but I owe everything to them. But then, when my family weren't around, I had to stay in line with the team and with the club rules. You learn the importance of respect at all levels, punctuality, precision, a proper work culture. Without these things I would not have been able to do anything that I achieved after.
Also because stepping up to mix it with the big boys was difficult - maybe not everyone feels the difference that much, but I certainly did. Especially in terms of pace and power. What's more, I had often been told that I was too short to reach the grade. I didn't care though. I let other people's doubts just slide over me. I think it's very important not to allow others to make us lose confidence in ourselves or diminish our desire to achieve. I managed to make the grade. I made up for it with intelligence on the pitch, being able to read situations in advance, focusing on my own qualities. And in the end, with Juve I fulfilled the dream of winning the Scudetto. It was so special I'm not able to find the words to describe it.
Before that, I was sent out on loan. I faced that moment as a challenge rather than with a sense of rejection. It's worth bearing in mind that a lot of players went on loan in the lower divisions, while I was loaned out in Serie A. The club wanted to see if I could cut it with the best and I wanted to see what I was capable of too. It was the perfect opportunity to test myself. I gained experience, made my mistakes, certainly demonstrated a thing or two and matured. When Conte called me back I couldn't say no. He really wanted me back in the fold and I did everything I could to repay that trust. At Juve there's no time to think, you just have to put your head down and work. Every day you have to do better than the day before, the environment leads you to continually raise the bar. The coach used to pushed us to the maximum.
Then there was the radical change when I threw myself into another world. Whenever people talk about my move to Canada, the first thing they mention is money. I understand that but it disappoints me slightly because there was much more behind it. It was a choice that fit perfectly with my approach to life and how I think. And I can proudly say that when I left to move to Saudi Arabia, in terms of football Canada was very different from how I had found it when I arrived. It had grown, evolved, improved.
When I landed in Toronto, the team hadn't made it to the Finals in 10 years and about 10 thousand people would go to watch the team at the stadium. After six months they were 15 thousand, then that number reached 25 thousand. The second year they upgraded the stadium, making it a 32 thousand seater. I would say that the perspective of the game has changed, the value of the club has risen from 30 million to 350 million. It has been an honour to be part of it.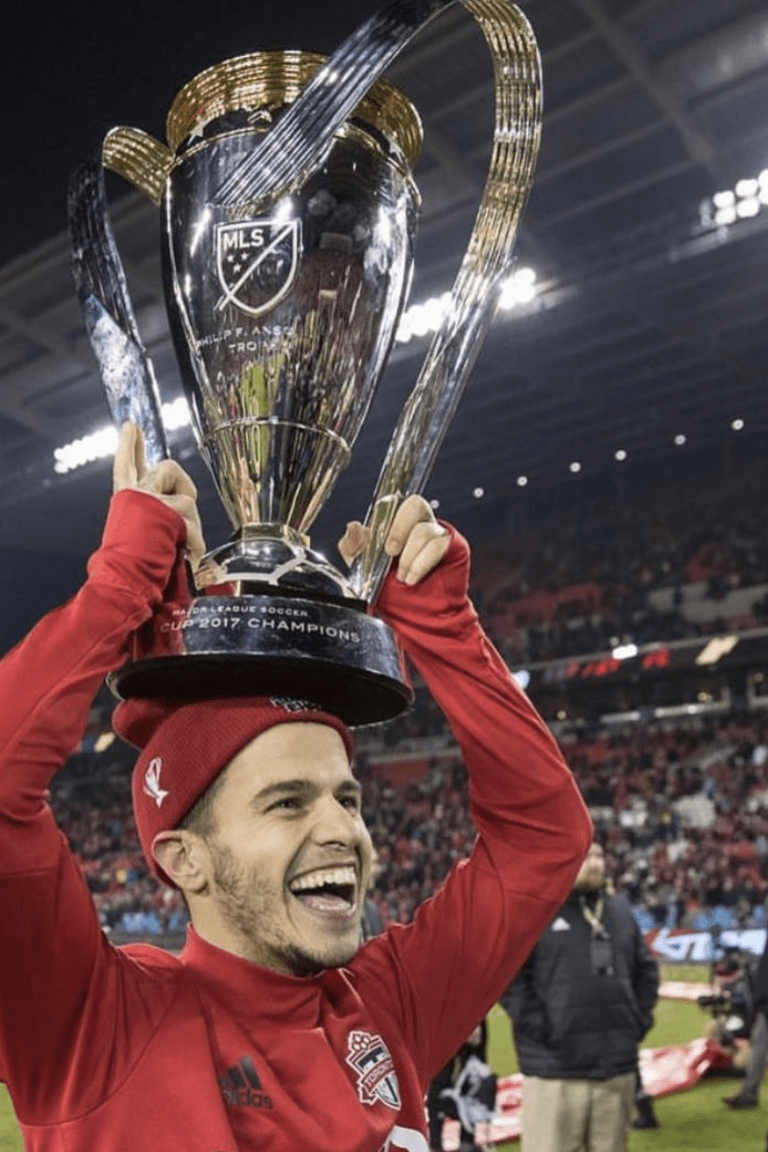 In Canada, beyond the success on the pitch, I was amazed by the difference in sports culture. In Italy you live purely for the competition, any mistake is never forgiven. Here instead they let you make mistakes and football is seen more as a game. Let's say they are two extremes and trying to bring them together is one of the reasons that prompted me to embark on the adventure with Juventus Academy Toronto. Before talking about that, though, I'd like to touch on another phase of my life that allowed me to reach this sense of awareness I have now, my experience in Saudi Arabia.
Football has gone global. There are no more easy matches

Sebastian Giovinco
There I gained a greater understanding of how much football has gone global. It might sound obvious but those who have gained a certain experience know it to be the truth - there are no more easy matches or inferior leagues. Saudi Arabia has become headline news due to the choice of Cristiano Ronaldo. Again most of the talk is about the economic aspect, but when you are there you discover that the championship is competitive and nothing can be taken for granted. The World Cup also proved it when Saudi Arabia were the only team that beat eventual winners Argentina. There you have to change your lifestyle, your habits, even in the simplest way. For example, for a lifetime I trained in the morning, there we had to train in the evening because it's too hot. They are small things, but it becomes essential to adapt, and every day there's a lesson to be learned.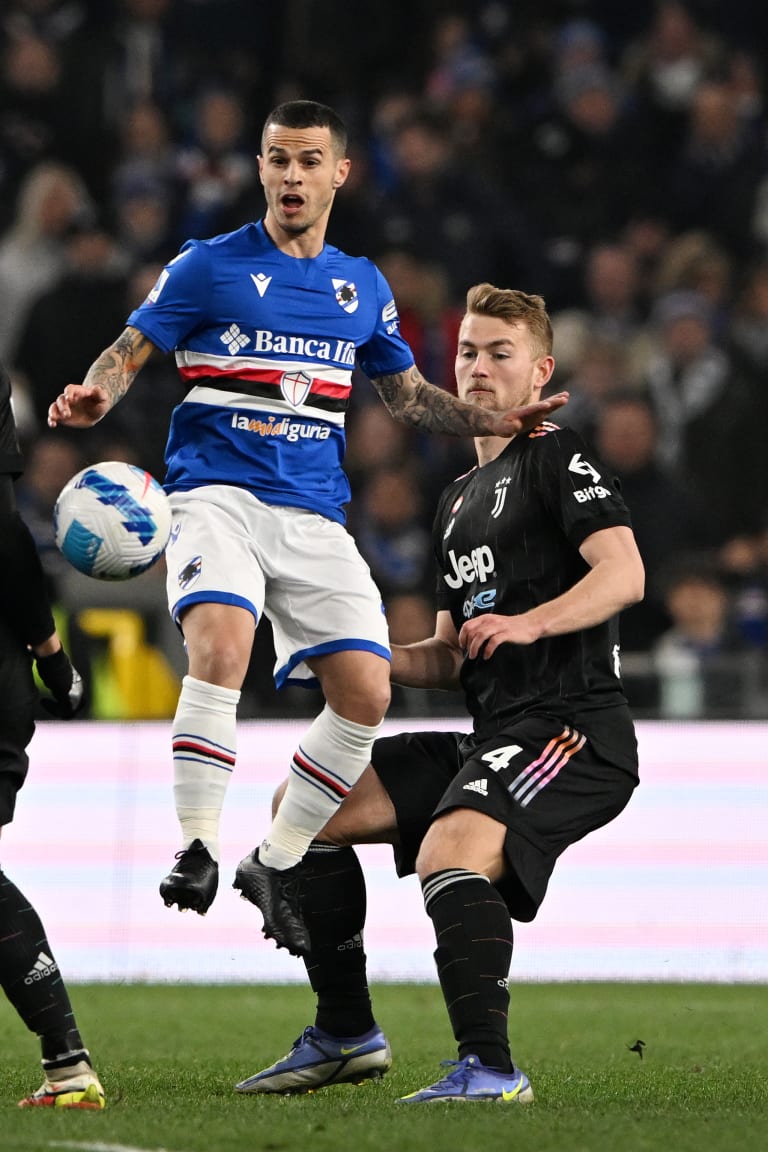 On my travels around the world, I have continued to follow Juve, rooting for my former mates without obsessing or regretting anything. I say without regrets because I was convinced of the choices I made. Perhaps the only regret ever was losing out on the national team. If I had stayed in Europe maybe it would have gone differently, but that's how it turned out. I faced Juve in Canada in an exhibition match. It was nice to see them all again. Then I faced them as an opponent in my spell at Sampdoria, although I must admit that I hoped my return to the Allianz Stadium would have been different. I made my only appearance for the Blucerchiati against Juve, I was injured, practically standing on just one leg, but I wanted to be there for Sampdoria. I picked up a knock on my first day there and I tried to force the situation to repay their faith in me, but I should have given myself more time to get in good shape instead of setting off at a thousand miles an hour out of a sense of duty.
After that experience I took some time to reflect and made my choice. Juventus Academy Toronto brings together who I am and what I love. I'm just a normal guy who loves talking, working, giving advice and learning from other people. Doing it with kids, bringing Juve's methodology and trying to combine Italian and Canadian sporting culture is a splendid challenge. When you play football all your life it becomes important to know how to reinvent yourself and the adventure with the Academy is perfect. We have big plans and obviously helping the children grow is the most important thing. There is already a girl from here that has gone on to wear the Juve shirt, Irina Talle. When you see results like this, you can't help but be proud.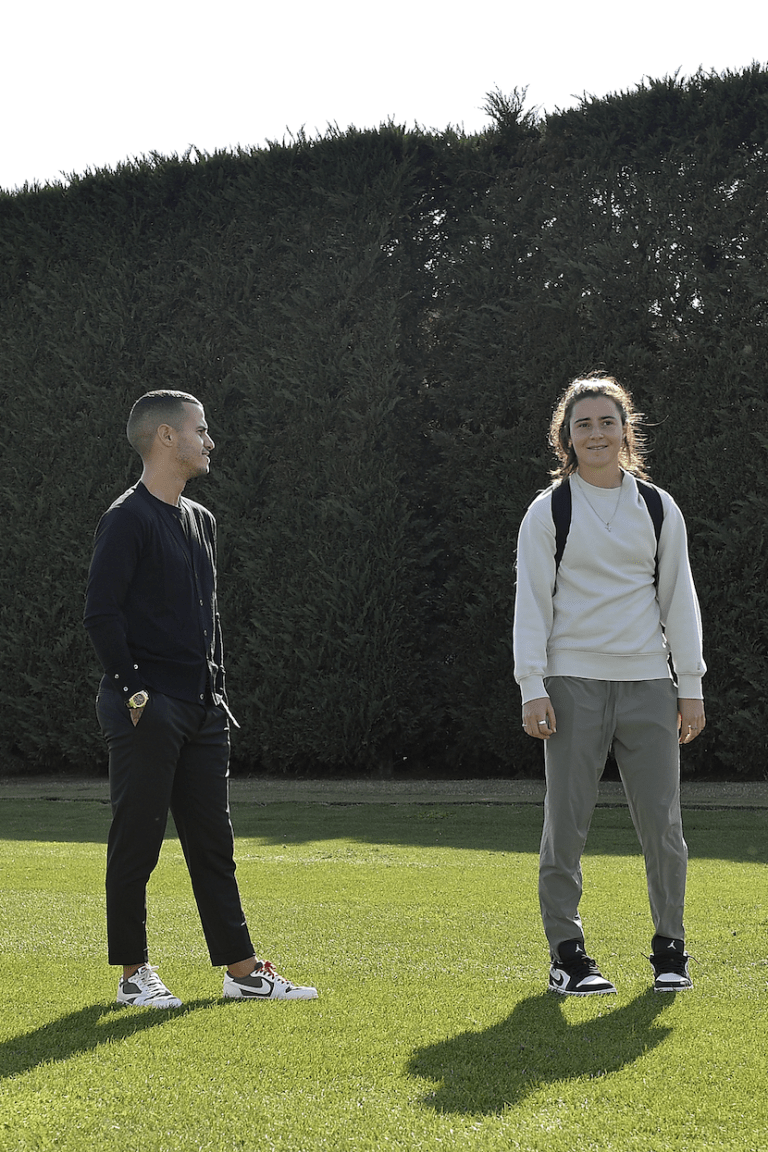 SEBASTIAN GIOVINCO AND IRINA TALLE AT VINOVO
Now we are working for them and, after having brought Juve's teachings with me around the world, I'm trying to pass it on to them here.