MATCH PREVIEW | JUVENTUS - BOLOGNA
MATCH PREVIEW | JUVENTUS - BOLOGNA
MATCH PREVIEW | JUVENTUS - BOLOGNA
No Easter surprises at the Allianz on Saturday would make for the perfect holiday weekend for the Bianconeri world when Bologna visit.
Juventus have won all of the most recent 11 encounters with the team from Emilia. The aim is to extend the Lady's longest open winning run against a single opponent in the game that kicks off at 18h30 CEST on Saturday for the seventh match on the Serie A fixture list. The Easter weekend sees the schedule spread from Friday to Monday but without matches being played on Sunday.
The first meeting between the two sides was played in the December fog and was decided through an early goal from Alvaro Morata, who returns to the set-up, like Mattia De Sciglio, after sitting out last weekend's win at Cagliari through suspension. The second goal came from Juan Cuadrado, in sparkling form then as now, and who has just extended his stay at Juve until 2023.
By the way, Mattia Perin has also signed on the dotted line for his contract renewal.
Bologna coach Sinisa Mihajlovic will be missing from the dugout as he undergoes treatment to pre-empt any resurgence of the leukaemia that has afflicted him over recent years. The Serbian tactician is the figurehead of the project at the club from Emilia, and his absence will be used by his players as a source of motivation, just as they did on Monday in the 2-0 victory over Sampdoria.
Their players will aim to put on a show for Sinisa, who'll be absent and who we wish all the best on his road to recovery.

Massimiliano Allegri
Bologna currently sit in 12th place on 37 points having won two and lost two of their last seven league outings. In the second half of the season, the Felsinei have collected just won victory on their travels. Click here to found out more about Bologna.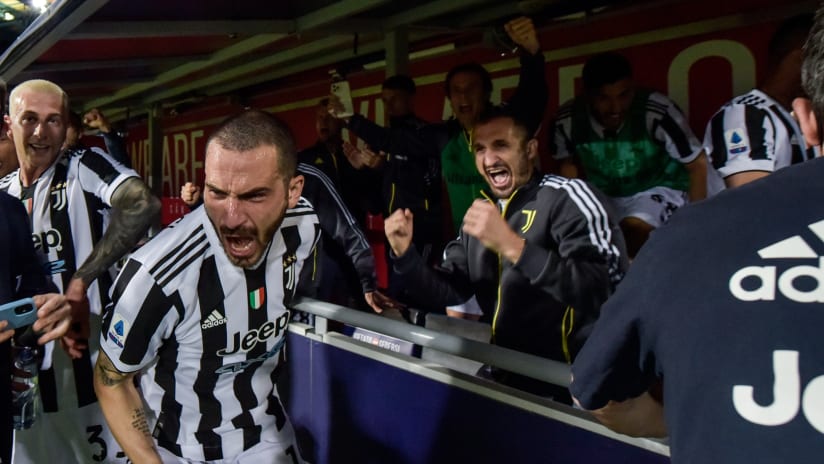 Last season the second match with Bologna arrived on the final day of the season, when at the Dall'Ara Juventus leapfrogged Napoli to clinch qualification to the Champions League. This time around the Bianconeri are in the driving seat for a top-four finish but have to continue their push to ward off the chasing teams with a makeshift midfield. Manuel Locatelli was joined on the sidelines this week by Arthur. The Brazilian had already left his mark in this contest, with one of his rare goals in the corresponding fixture one year ago.
Talking about shooting technique, Massimiliano Allegri made a barefoot appearance in training on Thursday before tackling today's press conference.
What is sure is that it will be a colourful spectacle at the Allianz Stadium tomorrow, thanks to the creative work of Brazilian street artist Kobra in conjunction with Juve and adidas.