Montemurro & Gama: We can't wait
Montemurro & Gama: We can't wait
Montemurro & Gama: We can't wait
The final round of UEFA Women's Champions League Group Stage fixtures are upon us, with Juventus Women eyeing a place in the quarter-finals of the competition as they prepare to host Swiss side Servette.
Ahead of Thursday night's clash, kicking off at 21h00 at the Allianz Stadium in Turin, coach Joe Montemurro and captain Sara Gama shared their thoughts ahead of the highly-anticipated encounter in the pre-match press conference.
JOE MONTEMURRO
"We must be humble, prepared, respectful and be ready to do our best. The start will be important, there will be many emotions and we will have to be calm with the will to control the game from the start.
"There's a bit of mental fatigue after so many matches and it's normal, but we are working on being as fresh as possible.
"Are we at risk being favourites? Maybe for the first few minutes, because there can be a bit of anxiety, but that's why it will be important to control the match.
"Every time we play at the Allianz Stadium it is an experience not to be missed – for us, but also for the fans, who can see how this team gives everything to represent Juventus.
"I think for everyone this is an opportunity not to be missed.
"Today is the 15th anniversary of the passing of Ale and Ricky, we want to remember them and we hope to play a great game for them too."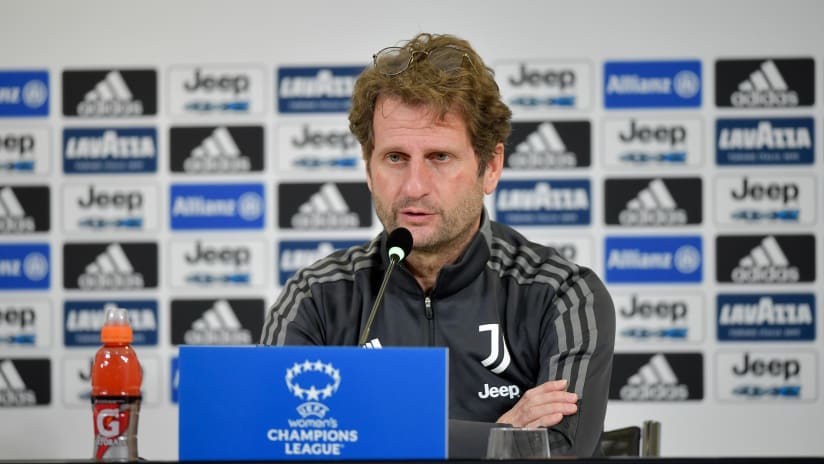 SARA GAMA
"We are excited, yet very determined ahead of tomorrow. We can't wait to take the field.
"We've grown a lot and that's what we wanted. For me, these haven't been easy weeks, but tomorrow I'll be with the team to make my contribution.
"Our goal was to reach the group stage and grow. Now we are playing for a chance to enter the top eight in Europe and it would be something extraordinary. There have been many turning points, but the difference was the belief in ourselves.
"There are no simple teams to face, no one gives anything away and we will show our desire. We know we have to be humble, but be aware of our potential."