Pedersen and Salvai present 100th appearance shirts at J|Museum
Pedersen and Salvai present 100th appearance shirts at J|Museum
Pedersen and Salvai present 100th appearance shirts at J|Museum
It has been a special day for Juventus Women and in particular for Sofie Junge Pedersen and Cecilia Salvai. The two Bianconere presented the matchday shirts worn on the day they reached 100 appearances with the club to the Juventus Museum.
Present at the Juventus Museum with the two players were Chief Executive Officer Maurizio Scanavino, Chief Football Officer Francesco Calvo, Stefano Braghin, Women's Team Director, and Paolo Garimberti, president of the Juventus Museum.
Salvai reached the century in the Supercoppa on 5 November 2022, while Pedersen against Inter in Serie A on 3 December.
MAURIZIO SCANAVINO'S COMMENTS
"Juventus Women is a project we believe and invest a lot in, a successful project that can drive the entire movement of women's football in Italy," commented Maurizio Scanavino. "We are proud to add the shirts of Cecilia Salvai and Sofie Pedersen, players who have left their mark with class, professionalism and, indeed, their appresences."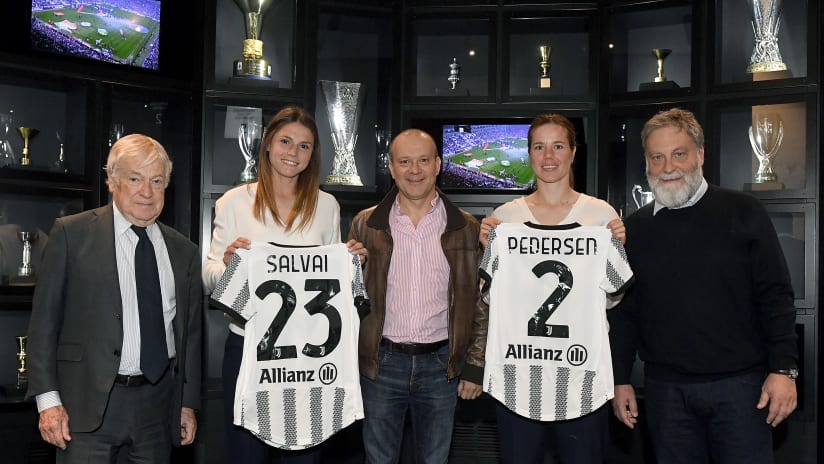 THEIR JUVE STORY
Cecilia Salvai has been part of Juventus Women since day one and having exprienced every season up until now, she has put her hands on all the trophies the club has won. One of the leaders of the team, she has also had to deal with two lengthy injuries. The first occurred in March 2019 when the Bianconere played for the first time at the Allianz Stadium, the second in December 2021 in the Coppa Italia tie against Pink Sport Time Bari. Cecilia has put both injuries behind her and is once again an irreplaceable cornerstone in defence.
Sofie Pedersen, on the other hand, joined Juventus halfway through the second season of the Juventus Women project. Since her arrival in January 2018, the Dane has cemented her place in the centre of the Juve midfield, proving fundamental in all the success over these years. One of her 13 goals stands out above the rest - in fact, she was the player that decided that Juventus-Fiorentina spectacle at the Allianz Stadium.
THE CENTURY CLUB*
Arianna Caruso
Lisa Boattin
Barbara Bonansea
Martina Rosucci
Cristiana Girelli
Valentina Cernoia
Sara Gama
Cecilia Salvai
Sofie Junge Pedersen
Tuija Hyyrynen