TIKTOK, WE ARE 20 MILLION!
TIKTOK, WE ARE 20 MILLION!
TIKTOK, WE ARE 20 MILLION!
On 9 July 2020 Juventus landed on TikTok and in just these two and a half years, the Bianconeri channel has climbed the rankings and achieved extraordinary goals.
Just eight and a half months ago, it was May 14, 2022, we announced the achievement of ten million followers.
Today, Saturday February 4th, we want to share another impressive result - our TikTok community has now reached 20 million. Twenty million people who every day, from every corner of the world, let us feel their support by interacting and commenting on our videos and content. Numbers that have allowed Juventus to consolidate its Top Italian Brand position on the platform, just like on Instagram where it generously tops the ranking of the Italian teams.
Since the summer of 2020, the club's presence on TikTok has been ever-present with content ranging from memorable plays, exquisite tricks and spectacular goals to emotional moments, but also hilarious behind-the-scenes outtakes from the Training Center. This, but also much more is the Bianconeri's TikTok channel.
And the speed that the @Juventus account is travelling at is confirmed by the numbers.
One of the most telling examples of this exponential growth, if not the most telling, is the number of followers of the channel. The beginning was simply breathtaking, reaching the one million mark in just over a month after being launched. Then, another important milestone - five million after approximately a year, in October 2021, quickly became the astonishing figure of 10 million in May 2022. Five million more in just seven months. Difficult to beat? Not at all. Not even nine months later we are here to tell you that the number of followers has doubled in record time to 20 million.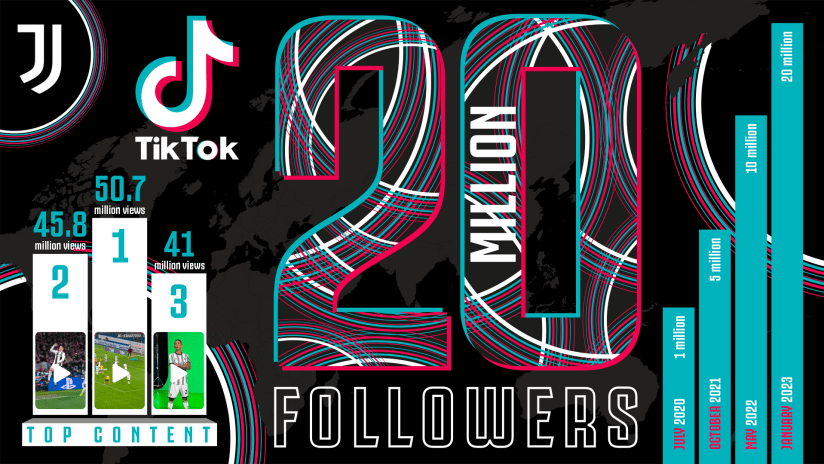 In more detail, there were over 238 million likes for the posted content and among football clubs in Europe we are in fifth place for views generated in the 2022/2023 season. And the almost 150 million views obtained by our top three content went a long way to achieving this result.
Here below, instead, you can find a selection of the best Bianconero content on TikTok.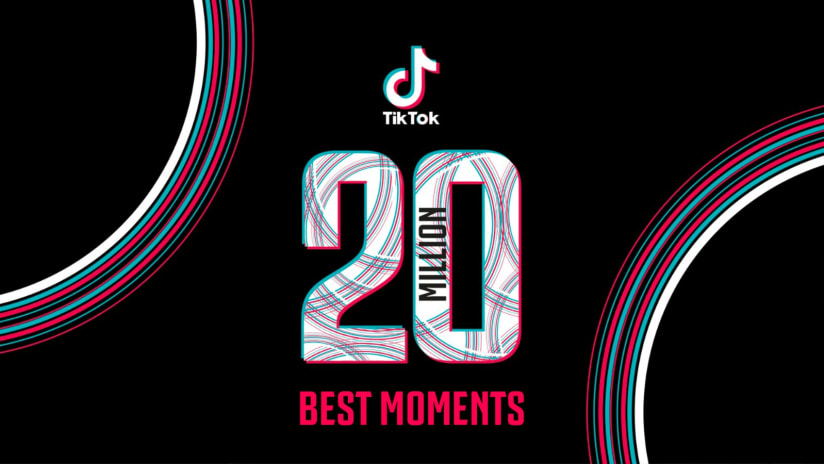 This continuous growth in the month of December 2022 alone allowed us to reach 212 million total views of the content published on TikTok and YouTube.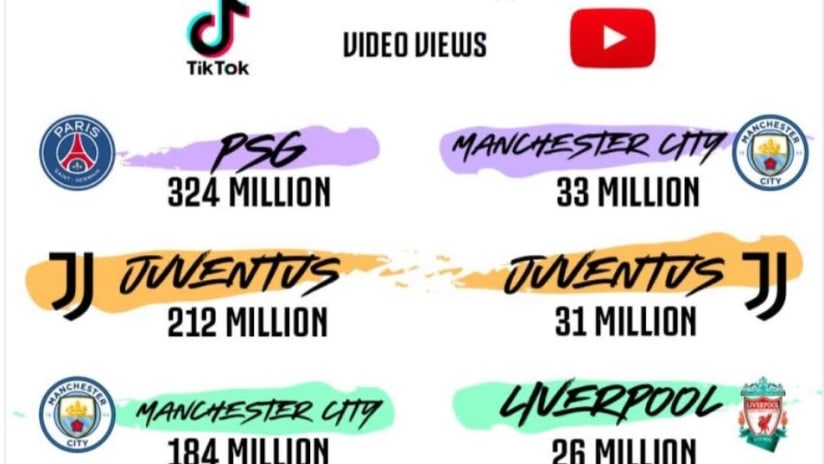 All this was possible thanks to your huge display of affection. Together we have reached, then exceeded, mind-blowing numbers. Numbers we don't want to stop adding to. Always with you!
And if you are not yet a follower of our official account, now you really have no more excuses.
...AND THAT'S NOT ALL!
Another remarkable result was also the 10 million followers on our Italian Twitter account.
We are clearly talking about different digital platforms, with different languages, but united by one great goal - to tell our fans about Juventus, making them feel even closer to our universe.
But also here we are talking about a constant growth that has allowed our club to be positioned among the top Italian brands on this platform as well.
Broadening the horizon to the whole world, meanwhile, all the Juventus Twitter accounts combined boast a fanbase that exceeds 15 million.
You have shared a lot with us.
The story continues, let's live it together. United!