VLAHOVIC JOINS JUVENTUS!
VLAHOVIC JOINS JUVENTUS!
VLAHOVIC JOINS JUVENTUS!
Twenty goals in 24 appearances, between Serie A and Coppa Italia, in the first part of the 2021/2022 season. Those numbers rise to 41 in 64 appearances if totalled with those from the 2020/2021 season.
Any player boasting stats like these can be summed up in two words: lethal finisher - or, if you prefer, Dušan Vlahović, now officially at Juventus - what better way to celebrate your 22nd birthday?
It would be reductive to describe Dušan as simply a force of nature. In addition to his physical prowess, he displays outstanding technique, power, class, and all-importantly, a clinical coldness in front of goal.
Born in Belgrade on January 28, 2000, at 16 he became the youngest ever player to appear for his local club, the legendary Partizan Belgrade. He left Serbia for Italy in the summer of 2018, when he agreed to join Fiorentina.
In less time than expected, he grasped the demands of football in Italy and adapted his individual playing style to the rigours of calcio. Although officially a member of the U-19 squad, he was immediately promoted to the first team, making 10 appearances, in addition to scoring 20 goals in 22 games with the Viola U-23 side.
The following season, 2019/20, he was promoted to the first team proper. Glimpses of raw talent in his eight goals from 34 appearances between Serie A and the Italian Cup had football followers wondering just how far this player could go.
Season 2020/21 was the year Dušan definitively exploded onto the scene. No other striker has scored as many as his 38 goals over the last two seasons combined, one more than Ciro Immobile and at least ten more than any other striker still playing in our league.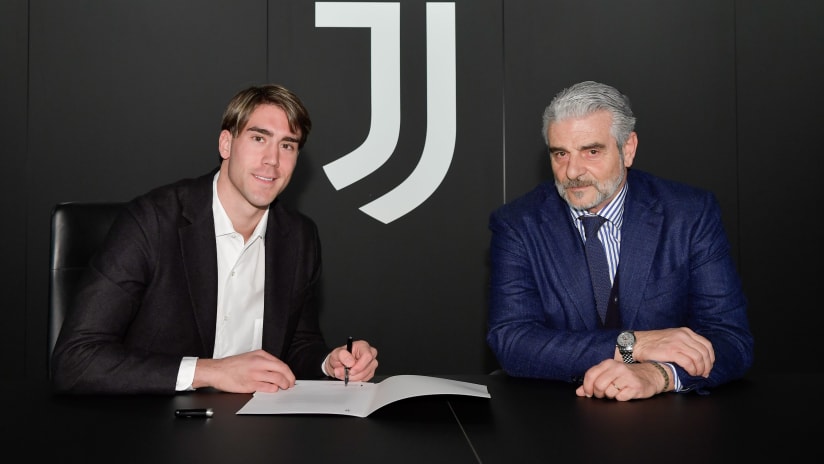 He finished the 2021 calendar year with 33 Serie A goals. In the history of the Italian top-flight, only Juventus legend from the 1930s, Felice Borel (41 goals in 1933) and Milan's Swedish scoring machine Gunnar Nordahl (36 goals in 1950) have scored more in a single calendar year.
And his climb to the top has not been limited to club football alone. After making his way through the ranks for his native Serbia, he was called up to the full national side in September 2020. A goal in his fourth appearance, his first from kick-off, proved what he does best: score. He now has seven goals to show for from his 14 international caps - six of which contributed to Serbia's qualification to the 2022 World Cup.
With 44 goals, Dušan is also one of only two footballers born from 2000 on, alongside Erling Haaland, to have scored at least 40 goals in Europe's top-5 leagues.
A penalty box predator, 93% of his goals in Serie A, 41 out of 44, were scored from inside the penalty area, and already this campaign, he is the player who has attempted most shots, 75.
These are numbers of this lethal striker. These are numbers to be updated together, game after game.
Welcome, Dušan! And happy birthday!