A chat with "The Best": Gigi Buffon
A chat with "The Best": Gigi Buffon
A chat with "The Best": Gigi Buffon
Juventus fans around the world knew it already, but Gigi Buffon was honored on Tuesday night in London as "The Best" Goalkeeper of 2017 at the FIFA Football Awards as well as being named to the FIFPro "World XI."
It's an award that today Buffon talked about in an exclusive interview with the Sky Sports microphones.
"I was really happy and proud to receive the recognition that was well-deserved for what was done last year," said Buffon. "I felt a mix of emotions: the greatest joy lies in the awareness that this could not have been achieved without such an important club and strong teammates. Sharing the pain and joy of the game is undoubtedly the most beautiful aspect of team sports."
UDINE? ALL IN A DAY'S WORK FOR GIGI
Once again, "Super Gigi" was back in Udine last weekend with two huge saves at the end of the first half that kept Juve in front. It was apparently a simple but complicated match.
"My characteristics as a goalkeeper are trying to keep things simple. I don't necessarily have spectacular acrobatic skills, which could be a fault of mine, so in Udine I did what I should always do because it's my job. If I have the ambition and aspirations to stay at the level I'm at and want to be at, it's what I have to do in each game."
STRENGTH AT THE MOST DIFFICULT MOMENTS
It was a tough match on Sunday, especially with the home side having the one-man advantage for much of the match.
"Surely it was a great test for us. The match had plenty of difficulties and the sending off only made it tougher. We recovered well to overturn the [1-0] deficit and then Mario's red card happened. In the most difficult times, however, we were able to find our spirit that would allow us to win at complicated game with lots of determination."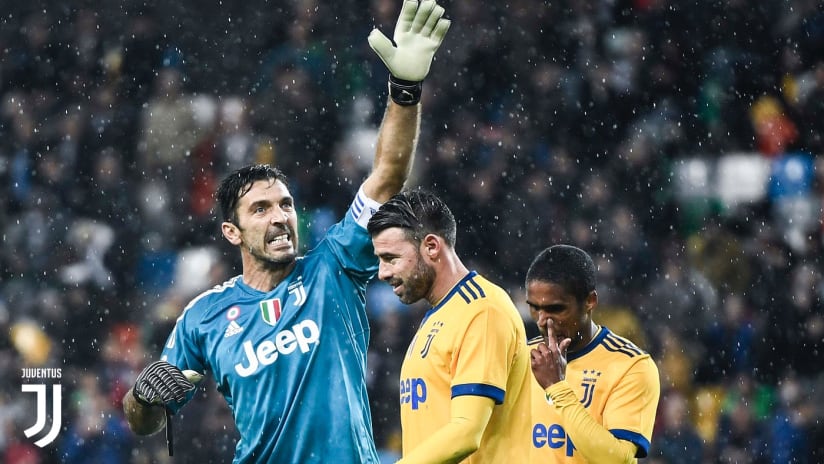 TIME TO "PULL UP MY SLEEVES"
Now begins another crucial time both for Juventus and Gli Azzuri.
"I have approached this season with great enthusiasm and a certain degree of serenity. You always expect in life that things will get simpler as you go on and come to the end even in life.
However, I have never liked the simple things on both a personal and professional level and pull up my sleeves in times like this. Already in October we are playing a lot both with Juve and the national team."
CONTENT WITH THE FUTURE
So is this really the last season for the captain of the Bianconero?
"I am quite convinced of the choices I make and feel very serene about things. I'm not afraid of the future, indeed. I will face my next test with enthusiasm. A year or two wouldn't add anything to what I have already done and it would make sense to move on.
The only case could be if we win the Champions League and play in the Club World Cup. In that case, I think Szczesny and I could split time...but with a goalkeeper like him behind me, I think it's normal that I'll be stepping aside next year."