#JuveVerona press conference: Mister Sarri
#JuveVerona press conference: Mister Sarri
#JuveVerona press conference: Mister Sarri
After the draw at the Wanda Metropolitano against Atletico Madrid, we plung back into the league. Tomorrow, at 6 pm, Hellas Verona will arrive at the Allianz Stadium. In his press conference, Maurizio Sarri had this to say. "We only have today's training to prepare for the game and to understand who I'll let play. We have to be strong when it comes to our organisation and at this stage, we can reach it by giving continuity to our positions on the field. I am very happy with the players I have available.
THE CONDITION OF THE TEAM
"Dybala is not in top condition, he arrived only in late August, but is able to play and help the team. Bernardeschi has not yet played up to the quality he has, we will try to make him grow and become better. His specialisation in the future will be more like a midfielder than an external striker.
"We always expect a lot from Ronaldo: my feeling is that he can grow, just as the team can grow. For this cycle of games, there will be space for both Ramsey and Rabiot. These are two players who came from two different leagues who do not yet speak Italian. They need time to adapt to a new reality and new league.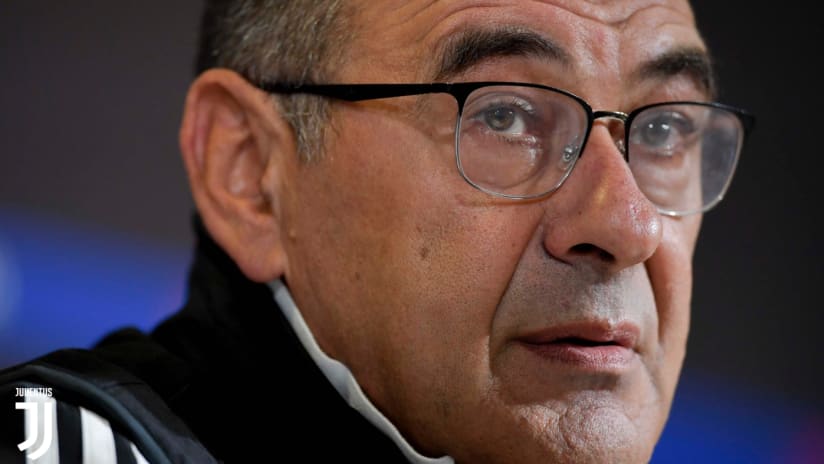 "Douglas Costa made a start to the season at the highest of levels after he returned from a very long period of inactivity. In the coming days there will be a first check to understand his physical condition, but since the injury is of a muscular nature, he will forced out for a few games.
"We have prepared videos to show to the team. Against Atletico there were 2-3 moments where we lost concentration and we have to fix this. On high balls, it was a lapse in attention and aggression that we can solve."