Juventus, the top Italian brand on TikTok! 
Juventus, the top Italian brand on TikTok! 
Juventus, the top Italian brand on TikTok! 
It was July 9, 2020. With the hashtag #CiaoJuve, TikTok quickly began to take on a black and white tint. Less than two years later, the Juventus fanbase has now reached the impressive ten million follower mark.
Ten million followers from all over the world who engage with, comment on and interact with Juventus videos and content on a daily basis.
Great goals, fun moments, behind-the-scenes footage – this, and more, is the Black & White world as told through the language of TikTok. Juventus keeps a constant presence on the platform, which continually collects impressive numbers thanks to its vast and global audience.
It's an expectant audience, and one which continues to grow: even though the 2021/22 season is not yet over, the Juventus account has already smashed the numbers from the previous campaign, doubling last season's interactions. Confirmation that the @Juventus account is travelling at an electrifying pace.
And the account's impact was seen right from day one, with the hashtag #CiaoJuve. With a special filter launched in 35 countries (a "special effect" added to the videos, obviously with a black and white theme), as well as a popular challenge launched in another 10 countries, the results were off the charts: in just one week, the account gained over half a million followers, over 1 million 600 thousand likes and over 19 million video views, data that made Juve's launch the most effective of any football club on the platform up to that point.
After just a few short weeks, on 24 August 2020, the milestone of the first million followers was reached - no football club had ever hit such numbers in such a short period of time.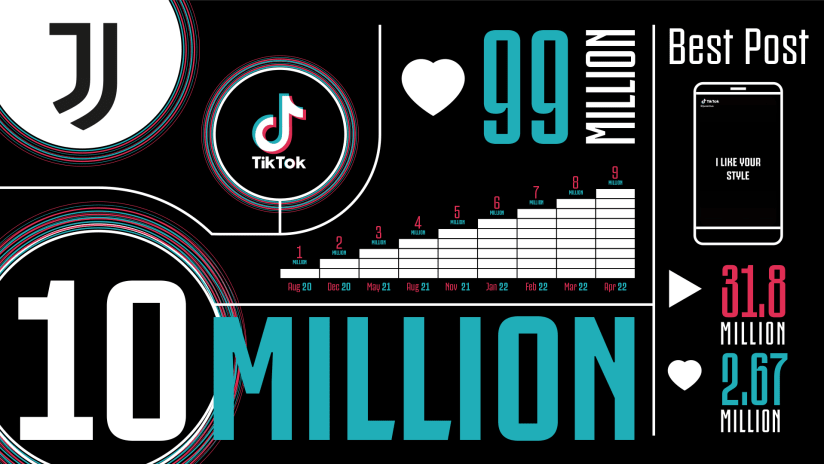 A boom from the start, and constant growth since, if you consider that Juve reached the nine million-follower mark only at the end of March - a sign that the club's TikTok channel is not only followed, but that the content is highly-anticipated, commented on and loved, the numbers making Juventus the top Italian brand on this platform.
Spectacular strikes, in-game tricks and skills, fun moments from the training ground and unseen footage of the club's biggest stars, all combine to form an entertaining Bianconero world on the Juventus Tik Tok channel, which over the months has also been involved in great collaborations, such as those with Khaby Lame, the most followed Italian TikToker (and one of the most renowned TikTokers in the world), or like those, developed on the occasion of the Italian Cup Final, with the ever-popular Ilaria Limelli and Diego Lazzari.