Samsung and Juventus: A winning combination continues
Samsung and Juventus: A winning combination continues
Samsung and Juventus: A winning combination continues
Juventus Football Club has today confirmed a three-year extension to its sponsorship agreement with multinational electronic company Samsung.
The continuation of the club's partnership with the global market leader in consumer electronics derives from a shared passion for football and the joint objective to develop initiatives for supporters.
"The extension of Juventus' partnership with Samsung reaffirms the importance of the collaboration between two innovative companies in their respective sectors," declared Giorgio Ricci, Juventus' Head of Global Partnership and Corporate Revenues.
"The standout technological research towards young people and recent proposal of unique experiences dedicated to Bianconeri fans make for perfect conditions from which to develop and take this partnership to a new level."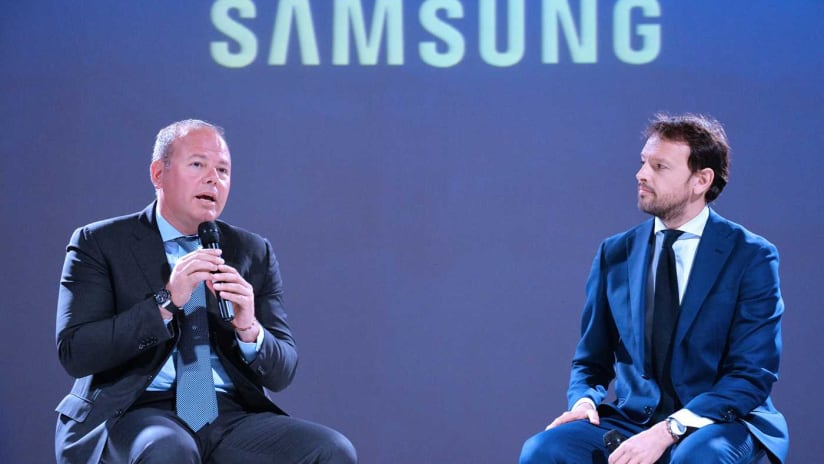 Carlo Barlocco, president of Samsung Electronics Italy, reiterated Ricci's enthusiasm for the two brands' shared objectives for the future.
"We're proud to continue our partnership with Juventus which allows us to plan and develop together a number of activities for consumers and particularly Bianconeri supporters.
"Samsung's passion for sport has long been one of the determining factors in the company's philosophy, namely to support the talent of youngsters across a series of values based around the idea of the company as a close-knit group, such as: teamwork to reach objectives, the appreciation of personal abilities and the desire to accept risks and challenges."
Samsung drives innovation in Italy and across the globe with devices capable of revolutionising personal experiences and making them more engaging in the world of sport. Both brands have today* *confirmed their own commitment to developing innovative projects capable of optimising technology for the benefit of fans.
This renewed partnership also comprises of marketing and communication activities, which foresee Samsung's presence at Juventus Stadium and Juventus Training Center, as well as digital media initiatives for both brands and promotional activities dedicated to Bianconeri supporters.