ALLEGRI: 'CURIOUS TO SEE HOW WE PERFORM'
ALLEGRI: 'CURIOUS TO SEE HOW WE PERFORM'
ALLEGRI: 'CURIOUS TO SEE HOW WE PERFORM'
The Juventus Summer Tour 2022 powered by Jeep has officially started. During the night in Italy, Juve landed in Las Vegas and set foot in the Allegiant Stadium, where the Las Vegas Raiders play and where this evening (early Saturday morning in Italy) the Bianconeri will take to the field against Chivas de Guadalajara.
Coach Allegri addressed the press ahead of the opening pre-season friendly and set the tone for the Summer Tour.
IMPORTANT TEST
"Tomorrow is the first match. We've trained well for these first 10 days and I'm curious to see how we'll perform. They're a good team so it will be a interesting match for both of us to test each other out. We know enough about the high quality of Mexican football. Chivas are tactically well organised, so it is an important game for us especially with the season starting in less than a month."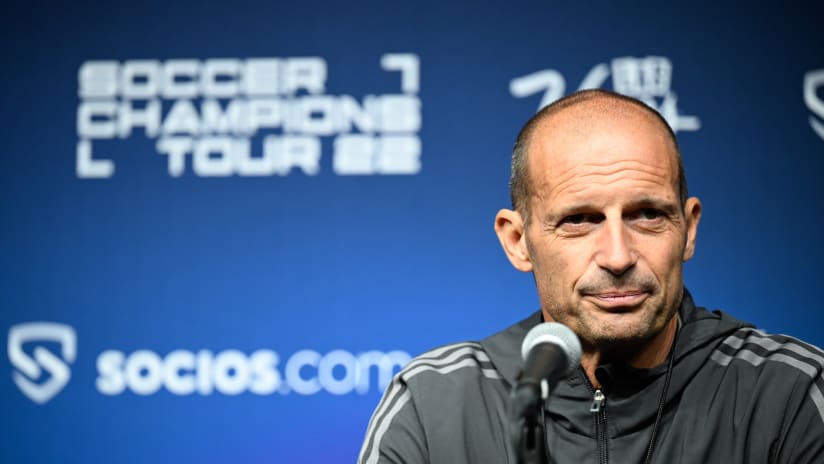 AMERICAN INFLUENCE
"Football has come on a lot here. The stadiums are often full, the fans are passionate, which is good for the growth of the game here. This stadium is wonderful. It will be nice to train here this evening and play tomorrow. Events like this one help football grow even more.
"We have Weston McKennie, an important element in our squad. He's perhaps the best American player in Europe right now, and I think it's important for him to continue showing the high level of football he's capable of at Juve."
UPCOMING SEASON
"Our duty is to win this year. After winning trophies 10 years in a row, last year was our first without, so we obliged to win and we all know that it's an important year for us.
"We have made important signings in Bremer, Di Maria, Pogba and Gatti. Bremer has excellent defensive characteristics. There are not many players like him out there and the club has done well to secure him so quickly. Now it is up to us."